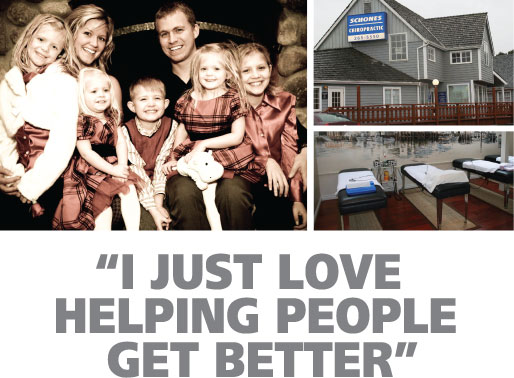 Paul Schones' grandfather is a fisherman, so is his dad, in fact Schones family members have fished commercially in the area for more than 32 years. But at the tender age of 12, Paul spoke with an uncle who had recently graduated from a chiropractic college and decided that someday he'd become a chiropractic physician too.
While attending Newport High School, Paul had the opportunity to work in Dr. Dennis Brittain's Newport chiropractic clinic. That experience made him even more determined to become a chiropractor himself. After four years at the University of Oregon and another four years at Southern California University of Health Sciences, he received his doctorate.
While working at a chiropractic clinic in Pasadena, California, Paul received an offer from Dr. Brittain to come home to Newport, join the practice and eventually purchase it. After much thought, he accepted. One year later, in 2007, Paul and his wife Christi did in fact purchase the practice.
The Schones make a great team. Paul cares for a full slate of patients each day while Christi handles all of the bookkeeping. An additional two staff members keep the offices running smoothly. Schones Chiropractic's Newport office is open Monday through Friday and their Waldport office is open two half days a week.
Patients initially visit Schones Chiropractic for a wide variety of reasons including back pain, joint pain and rehabilitation from injuries, but they soon discover Dr. Shones' holistic approach to wellness, which often includes practical advice regarding diet and exercise. "People typically come into our office in pain. To be able to send them home smiling and laughing is very rewarding," explains Dr. Schones. "I just love helping people get better."
With five children ages 11, 9, 7, 5 and 3, it's hard to imagine that Paul and Christi have time for anything but their family and business. Yet Paul finds time to be the worship leader at South Beach Church and serve as the team physician for Newport High School football and track. He also volunteers his professional services each year at the Newport Marathon.
Looking back, Paul candidly admits that when he left Newport High School, the last place he envisioned owning a chiropractic practice was in Newport. "When you get away for awhile, you start to realize what a special place our home town is. Christi and I truly appreciate the beauty of the area, the pace of life, and having the good fortune to be around people we grew up with. It's also great to be able to raise our family with our parents and grandparents close by."
Dr. Schones is also very appreciative of his community bank. "When we first talked to Oregon Coast Bank about buying the practice, we had very few assets and a lot of liabilities in the form of student loans. They gave us the loan based on our character and business plan – I doubt very many other banks would have done the same."
As their practice has grown, the Schones have made good use of their Oregon Coast Bank line of credit and find it convenient to be able to manage their personal and business accounts online, even when they travel. The bank also provided the mortgage when the Schones bought their Toledo home. "Someday we hope to purchase a commercial building to house our growing practice," adds Paul. "I'm sure it will be Oregon Coast Bank that helps us reach that goal."
Because of the employment and economic vitality they provide, family-owned businesses like Schones Chiropractic are essential to our local communities. If you're doing business on the Oregon Coast, we'd like to be doing business with you.
More Stories
Read the story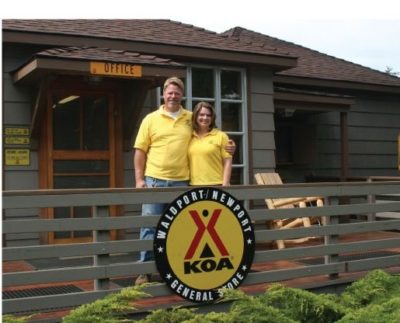 Waldport
KOA – Waldport
The wide smiles rarely leave their faces. Ron and Amanda Remund clearly enjoy raising a family and running a successful…
Read the story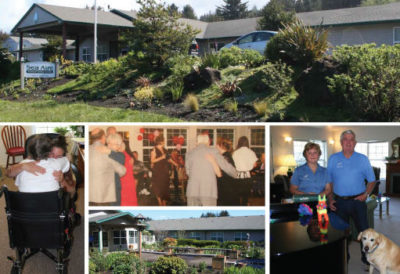 Waldport
Sea Aire Assisted Living
Stroll through the halls of Sea Aire Assisted Living in Yachats and everyone seems to be smiling. Hugs are a…
Back to All Stories