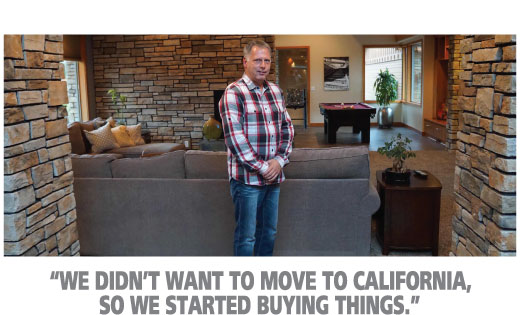 Don Sheeley grew up in Banks; his wife Debbie Boone is from Beavercreek. Hard work got them to the point of relative financial stability, but it was a strong desire to remain Oregonians that put them on the road to entrepreneurial success. It's quite a story, so we'll start early.
Until the age of 38, Don was a butcher, who worked his way up to Supervisor of the Meat Departments for Zupan's Markets. He then accepted a position as an executive at Unified Grocers, but after several years was asked to relocate. Faced with leaving their families and friends or finding another job, Don and Debbie chose an entirely different route. "We didn't want to move to California, so we started buying things," remembers Don.
Borrowing $80,000 from her parents, Don and Debbie first purchased a long-established Roseburg restaurant, The Jersey Lilly. That was in 2003. Two months later they borrowed $100,000 against their beach house to purchase and remodel Paradise Market in Pacific City. During the winters, Don would work Sundays through Wednesdays at the grocery store and then drive to Roseburg to help Debbie at the restaurant Thursdays through Saturdays. In the summers, Debbie made the opposite commute. They held onto the restaurant for six years, eventually selling it to their manager, who's operated it successfully ever since.
During 2006 and 2007, Don and Debbie bought the market in Cloverdale and the Thriftways in Jefferson and Scio, meaning they were now managing four grocery stores simultaneously.
It was also in 2006 that Don and Debbie got into the residential development market, purchasing four lots behind their Pacific City store and partnering with local contractor Ben Johnson to build and sell four townhomes, each of which they were able to sell before the recession. In 2009 Don and Debbie became contractors themselves, building their own home on the Nestucca River.
In 2010, Don and Debbie purchased The Oar House, a restaurant in Pacific City, and remodeled it within 30 days in order to keep the OLCC license. During 2012, they sold the restaurant to Jessica Kliever, one of their first employees, who has managed it successfully ever since.
It was right in the middle of the recession that Don asked Fred Postlewait, the President of Oregon Coast Bank, who had financed several of his prior acquisitions, to meet him at an abandoned unfinished housing development in Lincoln City. Fred asked him which unit he was planning on buying. Don answered: "all of them". With the bank's green light, Don and Debbie purchased, finished and eventually sold all 15 townhomes.
One of those townhomes was traded to purchase North Dallas, a restaurant and lounge in Dallas (Oregon) that Debbie still manages. Since then, Don and Debbie have purchased, remodeled, lived in, and eventually sold several higher end residences, including a former Street of Dreams home in the Oregon City area. Currently residing near Salem, Don and Debbie's latest project is restoring to eventually sell a very large home in Sahhali Shores in Neskowin that had been neglected and foreclosed upon.
In Don's words: "We've developed a trust factor – Oregon Coast Bank always takes an interest in what we're doing and provides the financing to make things happen." Don has a great rapport with Rose Wharton, who manages our Pacific City office, and also consults with Fred Postlewait and Jill Meengs when working on real estate projects.
Now completely out of the grocery business – having sold the Cloverdale building in 2009 and the Pacific City, Jefferson and Scio groceries within the past several years – Don and Debbie continue to work harder than they need to, considering their portfolio of investments. In fact, Debbie's parents keep urging them to retire and smell the roses. That may or may not happen; entrepreneurs seem to have a way of always discovering that next project.
What is definite is the impact that Don and Debbie's projects have had on the communities in which they have invested. At their peak, their ventures provided employment for 95 people. Today they still employ more than 20 and help support many other jobs for independent contractors. In addition, the businesses they have sold to other Oregonians continue to provide valuable jobs.
When you look at all the projects and businesses that Don and Debbie have invested in, it's hard to fathom that it's all happened in just 13 years. But where others see problems, entrepreneurs often see promise. Factor in their persistence and hard work, and Don and Debbie's success becomes a story worth telling. We're just glad they never moved to California.
More Stories
Read the story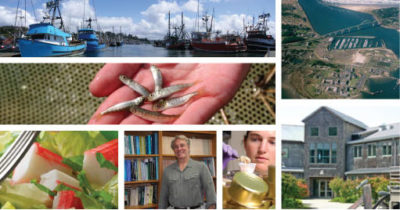 Newport
Coastal Oregon Marine Experiment Station
Few people realize that the largest marine experiment station in the nation is right here on the Oregon coast. Part…
Read the story
Jon M Thompson Excavation & Construction
We'll do this backwards. If you look on the right in the photo above, that's Jon Henry Thompson, part of…
Back to All Stories