Coastal Oregon Marine Experiment Station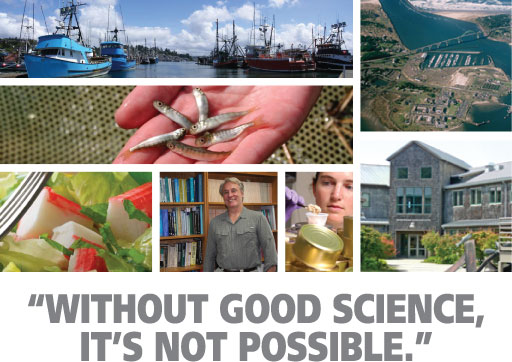 Few people realize that the largest marine experiment station in the nation is right here on the Oregon coast. Part of OSU's College of Agricultural Sciences, the Coastal Oregon Marine Experiment Station (COMES – pronounced with a long "o") incorporates fisheries, aquaculture, and marine mammal research in Newport with seafood science and surimi research in Astoria.
COMES came into existence following a long-term lobbying effort by fishermen for more research in fisheries management and marketing. Now celebrating its 25th Anniversary, COMES is an applied group of scientists, meaning they tackle real world issues.
Working in partnership with the community, COMES uses an advisory board to help focus on the most critical issues. A minimum of 50 research projects are always underway. COMES' achievements have had a profound effect on our coastal economy.
COMES was instrumental in developing a shore-based Pacific whiting industry for Oregon, where the fishermen could be involved in the processing rather than just selling a commodity. As a result, Pacific whiting has become the largest fishery in the state and continues to grow.
Although there are approximately 50 salmon stocks just off the Oregon coast, COMES geneticists are now capable of determining the stream origins of individual salmon. That can be significant whenever a particular fresh water run, such as last year's Klamath run, is having problems.
COMES' Molluscan Broodstock Program has improved oyster breeding stock for heartier, better tasting, more attractive oysters, while its Seafood Microbiology and Safety Program has developed better processes to reduce contamination in raw oysters. An additional Value-Added Program has brought more oyster based products to market, such as prepackaged oyster shooters, which became an immediate hit in grocery stores.
"Fishery managers must accommodate life histories of hundreds of stocks and species through space and time," says Dr. Gil Sylvia, Director of COMES. "Without good science, it's not possible."
Sylvia was instrumental in COMES' development of Fish Trax™, an electronic fishery information platform that helps industry, marketers, and fishery managers collect, analyze, and share information. In addition, the Fish Trax™ system has evolved to become an important tool for consumers who want to know more about the seafood they eat – including the origin and harvest area of a particular fish.
What's next on the horizon? "We're studying harvesting, processing and the preparations of seaweed – we think it's the next kale," remarks Sylvia.
With 11 faculty members, 15 people on staff and about 40 graduate students, COMES has brought a significant number of jobs to our coastal economy. In fact the marine research and education industry is now the third largest industry sector in Lincoln County.
At Oregon Coast Bank we recognize how important COMES has been to our communities. We're proud that Gil and his wife Cathy Donnellan, a Newport CPA, are longtime bank customers, as are many of their colleagues. Fred Postlewait, our bank President, volunteers on the COMES Advisory Board. We also make every effort to do our part to sustain and develop our local seafood industry by providing financing to fishermen, processors, and others in the industry.
Good science can result in great seafood. It's also the key to sustainable fisheries. Congratulations to the OSU Coastal Oregon Marine Experiment Station for 25 years of remarkable accomplishments.
More Stories
Read the story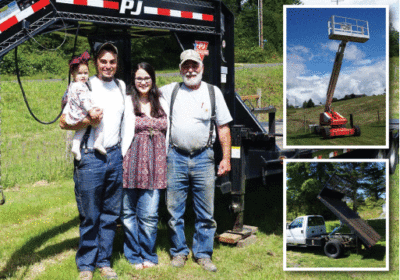 Tillamook
Scholerman Painting
"We come from a long line of workaholics," admits Andrew Scholerman.
Read the story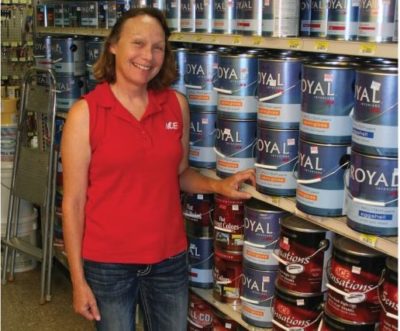 Toledo
Toledo Ace Hardware
When folks move to Toledo, chances are one of the first businesses they'll walk into is the local Ace Hardware…
Back to All Stories