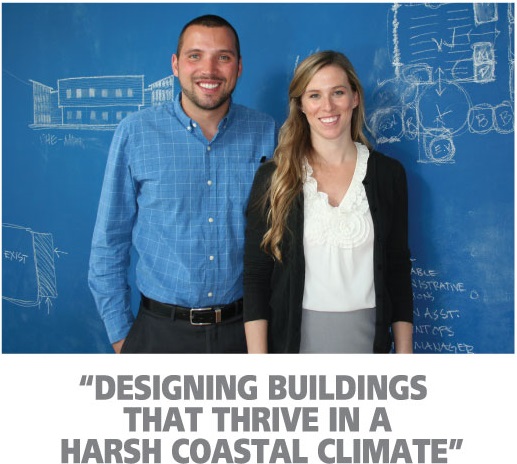 Dustin Capri knew from an early age exactly what he wanted to do in life. "When I'm older I want to be an architect," he wrote in a 5th grade report. At the University of Oregon he studied architecture and fell in love with a fellow student who shared his passions. Amanda Capri had always been fascinated by the blueprints her father shared with her. She also realized at an early age that architecture was a "wonderful combination" of her favorite subjects – art and math.
While most of their fellow graduates wanted to work their way up the ladder at large firms in major metropolitan areas, Dustin and Amanda had other aspirations. "Quality of life was important to us," explains Amanda. "We wanted to build our own practice in a smaller area where we could become part of the community." After examining the pros and cons of various small markets throughout the country, they decided to lay their roots down in the town Dustin had grown up in, Newport.
Unlike many professions, architects can't immediately put out a shingle and open for business. After graduation 5600 hours of work is required in 16 different architectural disciplines. Along the way they must pass seven national examinations and eventually must appear in front of the state review board. "You're practicing architecture that entire period," points out Dustin. "But someone else needs to stamp the drawings." Dustin and Amanda feel fortunate that they were able to learn from and collaborate with their mentor, the well-respected Newport architect Dietmar H. Goebel.
The Capris have amassed a long list of public, commercial and residential projects since 2010, ranging from home remodels to the Samaritan Pacific Communities Hospital Center for Health Education, a collaboration with Goebel currently under construction. "With our practice covering from Astoria to Brookings, we're not forced to specialize," remarks Amanda. Besides its large public and commercial projects, Capri Architecture currently has custom home designs under construction and several in the planning stages.
Our expertise is "designing buildings that thrive in a harsh coastal climate", says Dustin. The firm is also known for incorporating sustainable design into its projects. "Taking advantage of natural light, natural ventilation, optimal materials and technology can noticeably improve energy efficiency, carbon emissions, even physical health," explains Amanda. Both Dustin and Amanda are LEED Accredited Professionals in Neighborhood Development and are affiliated with the US Green Building Council.
Dustin and Amanda believe that architecture should be a collaborative process with clients and future building users continually involved. Through interviews, workshops and feedback, the Capris are able to learn and understand each project's unique requirements and incorporate those needs in the design.
When they decided to start their architectural practice in Newport, Dustin and Amanda felt that it was important to open their accounts at a locally owned community bank. "We can't say enough about the people at Oregon Coast Bank", remarks Dustin. "We can do our banking on our cell phones and computers, but we actually look forward to visiting the branch and just saying hi."
Dustin and Amanda also obtained their mortgage from Oregon Coast Bank. They are currently remodeling the home, which was built in 1885 and overlooks Newport's bayfront. When will it be complete? "Probably never," laughs Amanda. "Architects never stop thinking about new ways to improve a building."
More Stories
Read the story
Toledo
Butter & Lace Bakery
It may not be polite to talk about the odor of a business, but Butter & Lace Bakery in Toledo…
Read the story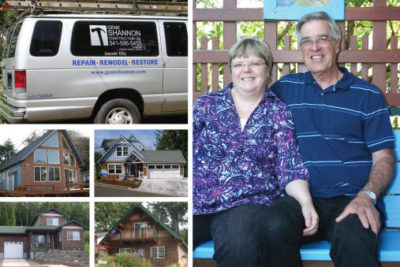 Lincoln City
Gene Shannon Construction
Gene Shannon's first building project was a tree fort in his family's backyard. Fascinated by the process, he soon built…
Back to All Stories