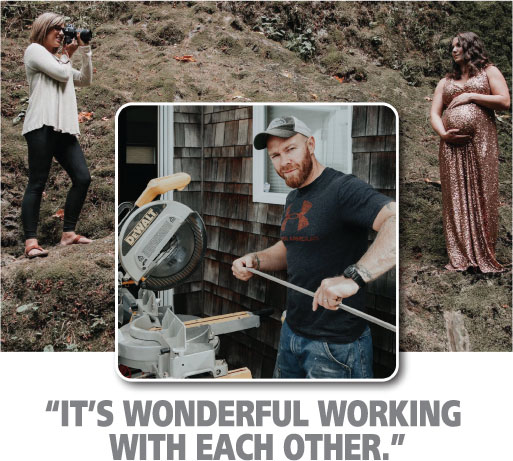 Jeff and Shannon Weiss own a successful family business in Lincoln City. Actually two. They're also raising a family. Somehow it all seems to work.
"My grandfather taught my father and dad taught me," is how Jeff describes learning the flooring trade. Tagging along to jobs at an early age, Jeff gradually developed the skills to work side by side with his father. After returning from college he joined Weiss Install full-time.
Installing carpet, hardwood, laminate and vinyl flooring, as well as Formica counter tops, Jeff is still using many of the tools his father and grandfather originally purchased. But the largest asset of Weiss Install is their reputation. Without advertising, the company has a steady stream of work, thanks to repeat customers as well as referrals from stores and contractors.
"We really care about quality and details," points out Jeff. "The best part of my job is seeing smiles on our customers' faces when we're finished."
Shannon also grew up in Lincoln City. After graduating from Taft High School, she worked at her parent's restaurant before opening Rustic Bloom Photography several years back. One look at the company's website, rusticbloomphotography.com, and you can see why Shannon's skills as a photographer and videographer are in such demand. Whether shooting weddings, senior pictures, newborns, or families, Shannon has a way of capturing subjects and emotions naturally.
Why do her photos look so good? "I haven't had a bad client yet," she says sincerely. But with an attitude like that, it's apparent why her subjects seem so comfortable in front of her camera.
Much of Shannon's work is shot utilizing the beauty of coastal locations, but when she needs a set built it's Jeff who does it. She in turn does the bids and books for Weiss Install. "It's wonderful working with each other," they say practically in unison, and it's obvious that they really mean it.
Jeff and Shannon chose to buy a home and raise their sons in Lincoln City because they have so much family in the area. Their businesses sometimes require long hours, but they've learned to strike a balance. "Free time is family time," explains Jeff. "We hike, we hunt, we fish, together as a family."
The Weiss's have been Oregon Coast Bank customers since we first opened our Lincoln City office. Between their business accounts, personal accounts and children's accounts, things can get complicated, but Shannon manages it all using Oregon Coast Bank online banking. She particularly likes being able to instantly deposit checks with her cell phone.
To Jeff and Shannon, banking at a locally-owned community institution gives them a distinct advantage. "They know us and we know them," she says. "That makes banking a whole lot easier."
More Stories
Read the story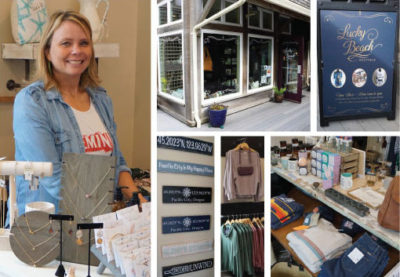 Pacific City
Lucky Beach Boutique
Browse through the fashions at Lucky Beach Boutique in Pacific City and you can't help but smile. There's a…
Read the story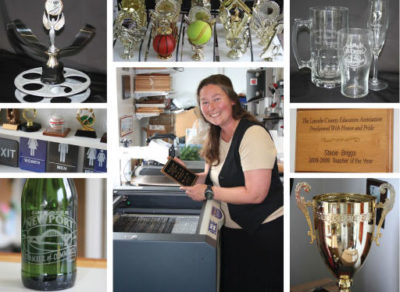 Newport
True-Cut Engraving
It may be the nature of the business, but Newport's True-Cut Engraving certainly seems like an enjoyable place. "People come…
Back to All Stories