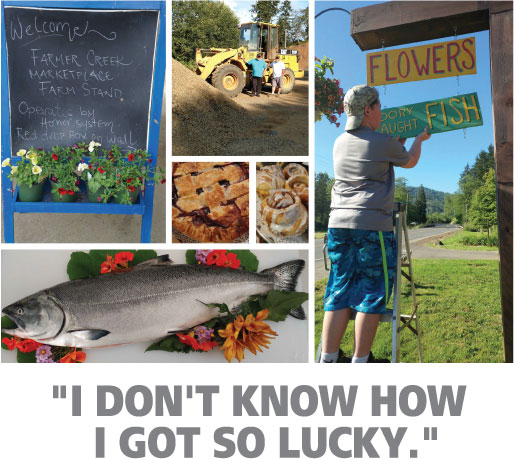 Sandy Porter attributes her work ethic to growing up on a dairy farm in Cloverdale. It's a trait she shares with her husband, Waylon, who typically works sunup to sundown at his family's rock quarry, as an excavator and as a third generation dory fisherman. That's Zach, their son, in the picture above, hanging signs to show what's available that day at Farmer Creek Market, another of the Porter's businesses. Apparently that work ethic seems to be understood by another generation.
The Porters love living in the area where they grew up and wouldn't want it any other way. But making a living in a small town often involves wearing several hats. "It keeps things interesting," explains Sandy. "Whatever needs to be done each day, gets done."
Waylon is a partner with his parents at Little River Quarries on Little Nestucca River Road in Cloverdale. The quarry, which has been in his family since 1932, processes rock in a variety of sizes. He's also an independent excavating contractor, working on jobs throughout Tillamook County and sometimes beyond.
When the ocean is relatively flat Waylon launches his dory boat. His crew will be a friend or sometimes Sandy and Zach. Depending on the season, they'll fish for salmon, ling cod, albacore tuna, black rockfish or halibut. The Porters sell much of their catch fresh at Farmer Creek Market. The rest is freshly frozen, vacuum sealed and sold at the market when fresh fish is not available.
Sandy worked in the foodservice industry before opening her own restaurant, Blacktail Cafe, which she operated successfully for several years until she and Waylon were offered the chance to buy her grandparent's farm in Cloverdale, which had been in the family since 1945. Growing vegetables and flowers on a 42 acre farm would seem to be enough work for anyone, but Sandy is also employed by the school district from 5 am till 1 pm each weekday.
With a strong local clientele and plenty of visitors who notice the sign between Hebo and Beaver along Highway 101, Farmer Creek Market offers whatever is in season. Operating on the honor system, customers may find vegetables, cut flowers, nursery plants or hanging baskets. Sandy provides the pies, scones, cookies and muffins which she bakes in her licensed commercial kitchen on the farm.
The Porters, who do their own bookkeeping for each of their businesses, have a longstanding relationship with Rose Wharton, the manager of our Oregon Coast Bank Pacific City office. On a busy day – which for Sandy and Waylon is most any day – they appreciate being able to quickly check on their accounts through Oregon Coast Bank Online Banking. But they admit to actually enjoying their visits to the branch, where the entire staff always greets them by name.
Living in a small town obviously agrees with Sandy and Waylon. So does hard work. What you'll never hear from them is a complaint. Yes, it does tend to rain rather frequently along the coast. And yes, much of their work is outdoors. Yet after every long day, Sandy looks at her husband and son and thinks the same thing: "I don't know how I got so lucky."
More Stories
Read the story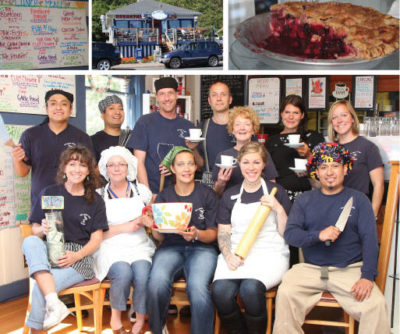 Newport
The Coffee House
Her accent is obvious, but it's her story that is even more fascinating. Judith Lingham grew up outside Melbourne, Australia,…
Read the story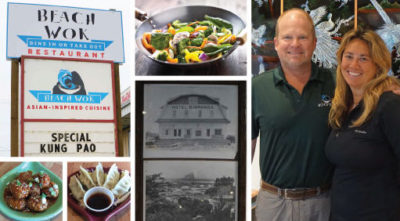 Pacific City
Beach Wok
As popular as it has become, Beach Wok is a relatively new addition to the central coast dining scene.
Back to All Stories