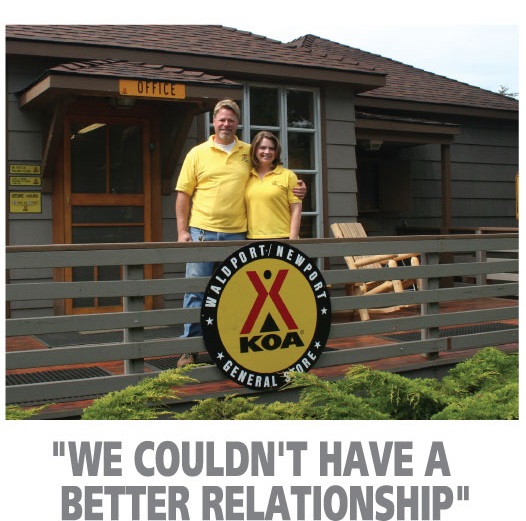 The wide smiles rarely leave their faces. Ron and Amanda Remund clearly enjoy raising a family and running a successful business in Waldport. Apparently, they know what it takes to have a great relationship. And having a good relationship is in fact why they chose to become customers at Oregon Coast Bank.
Several years back, Ron and Amanda were raising their family in Yucaipa, California, close to Ron's job as a banker. Vacations were spent camping. "Camping was a great way to see the country and a safe environment for our children," remembers Amanda. It was during one of those camping trips, that the couple decided that they'd like to leave the hustle and bustle of Southern California and purchase their own campground in a friendly small town. After investigating many opportunities, they discovered that the Waldport/Newport KOA was for sale and found that it was exactly what they had been searching for.
When it came time to arrange for financing, the couple talked with a number of bankers in California. However, while visiting Waldport, they struck up a conversation with Joe Postlewait and Lynn Thomson at Oregon Coast Bank's Waldport office. "We just hit it off," remembers Ron. "It's great to be able to bounce ideas off your bankers and get honest opinions." Oregon Coast Bank soon provided the financing for the Remund's purchase of the KOA and also opened business and personal accounts for them. "We always enjoy our visits to the bank because everyone is super friendly," comments Amanda. "We couldn't be where we are today without them," adds Ron.
At Oregon Coast Bank all of us feel that the Remunds have been a great addition to the community. Ron now serves on the board of the Chamber of Commerce, the children attend local schools, and the business, which employs 12, is thriving. The Remunds have continued to reinvest in their KOA by adding cabins, developing trails, landscaping, adding playground equipment, upgrading restrooms, even re-siting existing cabins to take advantage of the property's amazing views.
The Remunds describe Waldport as "very relaxed, easy going and friendly". Perhaps most important, they also call Waldport "home". The couple is genuinely as happy as they look. They do have a great relationship – with each other, their family, their community, their business and even their bankers. We're just glad to be part of that list.
More Stories
Read the story
Carver Built Homes
Seven generations ago, Evan Carver's ancestors settled in Tillamook's Simmons Creek area. Many became loggers. After graduating from Tillamook High…
Read the story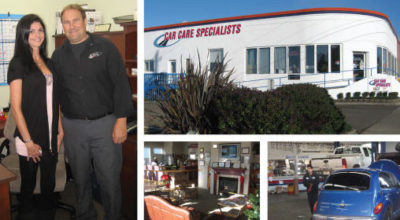 Lincoln City
Car Care Specialists
At the precocious age of 23, Randy Neal opened Car Care Specialists in Lincoln City. At the time, his business…
Back to All Stories