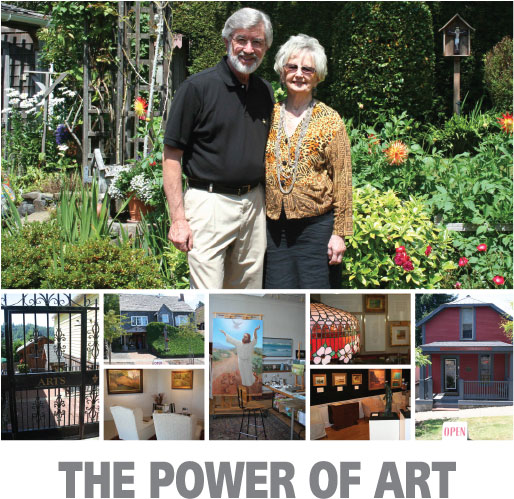 With his paintings in prestigious private and museum collections throughout America and abroad, Michael Gibbons is one of the country's best known artists.  Yet Michael and his wife/business partner Judy, both native Oregonians, decided more than 30 years ago to live and operate their signature gallery in a location far from the traditional centers of art – Toldeo, Oregon.
"We have 12 miles of virgin territory out our front door," comments Michael.  "Other artists would kill for a location like this."  Gibbons has built his reputation as a Plein Air (painting out of doors) artist and he considers the Yaquina River Watershed to be an almost unlimited source of inspirational scenes.
The Gibbons' home and signature gallery is The Vicarage, which was built in 1926 to house clergy serving Toldeo's St. John's Episcopal Church, which sits next door.  The setting and craftsmanship are magnificent, yet when they purchased the property in 1981 it had been so ravaged by fire and water damage that a complete reconstruction was required.  Michael and Judy will eventually leave The Vicarage as a legacy to the community in the form of a "House Museum", which will continue to display the work of Michael and other artists for future generations.
In 1992 the Gibbons' purchased five ramshackle buildings across the street and began a long term renovation to build an art district.  Today, four architecturally significant buildings house Michael's painting studio, a frame shop, office, carpentry shop, meeting spaces, three apartments for housing artists, and the Yaquina River Museum of Art.
As they continue to develop their properties and grow their business, the Gibbons work closely with their community bank, Oregon Coast Bank.  "It's a totally different experience from what you get at other banks," explains Judy.  "We really enjoy having a close relationship with our bankers."
If you find the current value (up to about $90,000) of a Michael Gibbons oil to be above your price range, it's nice to know that framed prints and cards of his work are available locally at prices that fit almost any budget.  That's why the Michael Gibbons Signature Gallery continues to draw so many visitors to the Toledo area.
The Gibbons have also had a profound impact on the community.  When they moved here in 1981, Michael was the only professional artist in Toledo.  Today there are more than a dozen arts and crafts professionals.  That's the power of art, and it's also a testament to the beauty of a region we all get to call home.
More Stories
Read the story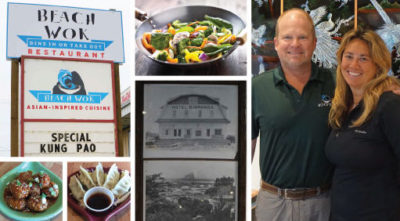 Pacific City
Beach Wok
As popular as it has become, Beach Wok is a relatively new addition to the central coast dining scene.
Read the story
Waldport
Ona
Reservations spanning three or four days are commonplace in the hotel business. In restaurants, they're unheard of. Except at Ona….
Back to All Stories