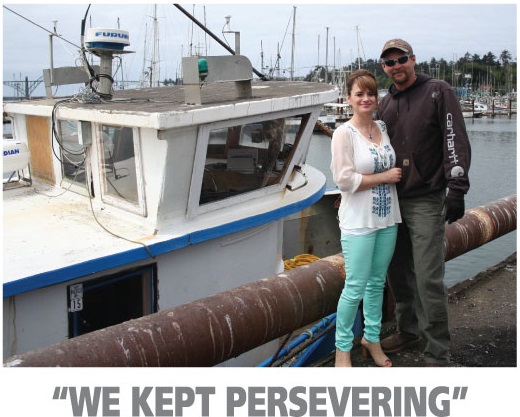 Lalori Lager is a behavioral health counselor and the owner of the coast's largest provider of outpatient drug and alcohol treatment. Her husband Scott is a commercial fisherman and vessel owner. In most places, a diverse combination of family businesses like the Lagers own would be rare. But here on the coast, entrepreneurship is a way of life, often a requirement. In fact, Lalori and Scott are as enthusiastic about each other's businesses as they are their own.
After receiving her master's degree in forensic psychology, Lalori worked for a large mental health facility and in corrections. Thirteen years ago, when the Lagers purchased Reconnections Counseling, Scott operated the business office while Lalori ran the clinical aspects. Today, with offices in Newport, Toledo, Florence, and Lincoln City, Reconnections Counseling employs ten case managers and counselors serving individuals, families, court systems, hospitals and child welfare agencies. Working in drug and alcohol treatment can be emotionally trying. "You see people at their worst," explains Lalori. "But often you get to watch them turn their lives around one hundred and eighty degrees."
Scott began fishing on his dad's Newport-based commercial salmon trawler at the age of five. As an adult he worked for Tyson and Trident Seafoods, fishing out of Dutch Harbor, Alaska. In 2010 Scott and Lalori purchased The Hornet, a salmon trawler and crabber based in Newport. They sold that vessel last summer.
In 2011 they expanded their holdings with their purchase of The Eclipse, which is owned by the Lager's corporation, Celestial Seafoods LLC. With a crew of four, The Eclipse fishes for tuna, crab and hag fish, a delicacy most often exported to Korea.
While entering Yaquina Bay on January 20, 2014, The Eclipse suffered a horrific accident. Slamming into the rocks of the jetty, the vessel ended up lying on its side. Fortunately, thanks to an immediate response by Coast Guard members who saw the accident take place, no lives were lost. Scott, who had brought one of his sons with him to the embankment to watch the boat's return, helped pull his crew from the water and then rendered first aid.
The damage was close to a total loss and the insurance company was slow with its claims process. Despite having no income from the boat, the Lagers still had to make vessel payments to a finance company. Soon they were feeling financial pressures. That's when Scott decided to call Jake Postlewait at Oregon Coast Bank to ask if the bank would be interested in financing the extensive repairs that The Eclipse required.
"If it wasn't for Oregon Coast Bank, we wouldn't still be in business," says Scott. "The bank was our lifesaver, loaning us the money to keep going," adds Lalori. Remarkably, in just ten months the repairs were complete. "Both Jake and Joe Postlewait were with us the day we put the boat back in the water," remembers Scott. "That meant a lot to us."
How did Scott and Lalori get through the accident and subsequent financial nightmare? "We kept persevering, knowing that if we continued to work hard, eventually things would all come together," explains Lalori. Which is what true entrepreneurs do, and why they deserve their success.
More Stories
Read the story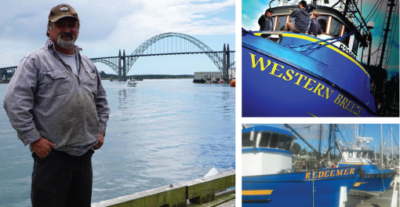 Newport
Gary Ripka
"I grew up in a home where hard work and competition were considered good things," says Gary Ripka remembering his…
Read the story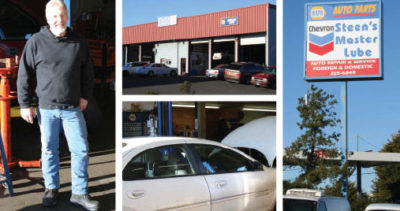 Newport
Steens Master Lube
Always industrious, Russ Harley started working at the local Montgomery Ward's Tire Department while attending high school in Newport.  Soon…
Back to All Stories