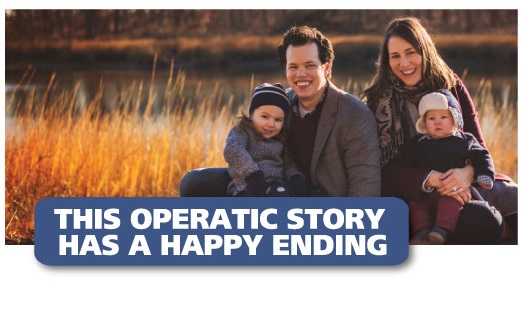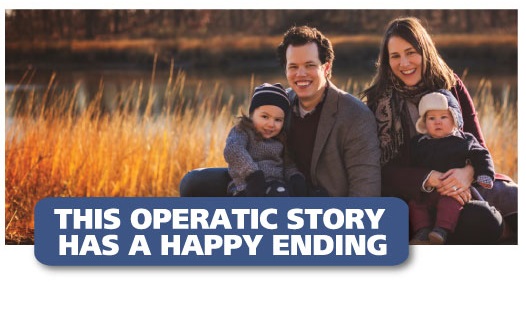 She was given a musical name, Delcinea, but growing up in Lincoln City and the Portland area she spent far more time on soccer fields and basketball courts than she did studying music. Gradually, while acting in summer stock productions, she grew to love the theater, and once she started singing on stage people began to take notice. At the age of 17, Delcinea Lutes accepted a music scholarship to the Hartt School, a prestigious performing arts conservatory in Connecticut. There she met Matt.
Matt Plenk had grown up more than 3000 miles away, in Lindenhurst, New York on Long Island. Like Delcinea, he had first been recognized for his athletic prowess, but when people heard him sing in church and school productions, it was clear he had a future in music. Matt also entered the Hartt School on scholarship and soon gained national attention as a tenor competing in the New York Metropolitan Opera's Young Artists Contest. After graduation, he accepted another scholarship and began his post graduate work at the Yale School of Music.
Five years after they met, Delcinea and Matt were married in Oregon. Needless to say, with all their opera colleagues in attendance, the hymns that day sounded somewhat impressive. Matt had already accepted a fulltime position with the New York Metropolitan Opera, which is somewhat akin to a baseball player graduating college and starting for the Yankees the next day.
Buying a home in New York during the height of the real estate boom was difficult on two young singer's salaries, so Delcinea left music temporarily to take a job on Wall Street. Soon they were the proud owners of a condominium. It was just 900 square feet with a view of a brick wall less than six inches away, but being homeowners in Manhattan while in their twenties certainly had its advantages.
A few years later, during a party at the Met, Delcinea met the publicist for Renee Fleming, the world's most acclaimed soprano. Fleming was also Delcinea's idol. She was in need of an additional assistant on her staff, and Delcinea quickly accepted the job. Within a few years, she had risen through the ranks to become Fleming's manager.
Matt's career continued to blossom and he performed in opera houses from Tokyo to Milan. When she wasn't on the road with Fleming, Delcinea would travel with Matt, managing Fleming's staff and affairs online. It was an exciting life, but the couple wanted something more, a family.
With their first child, Ellie, just a baby, the family's heavy travel schedule was manageable. But after a second child, Owen, had arrived and Ellie entered pre-school, life on the road as a family was difficult. Delcinea and Matt also began to question whether they wanted to raise their children in New York.
Oregon, particularly the coast, was their first choice. Delcinea and Matt spent as much vacation time there as they could. But the couple was realistic. Opera jobs in the Northwest are few, and the pay far less than what is available in major cities.
In an effort to reduce his travel, Matt accepted an offer to join the faculty of the Lamont School of Music at the University of Denver. The university encouraged him to continue performing internationally, it would be good publicity for the school, but with his fulltime salary as a professor he could spend far more time at home with his young family. Putting their roots down in Denver, a city they enjoyed for its recreational opportunities, seemed to be a perfect solution. Until they tried to buy a home.
To call the housing market in Denver a hot one is an understatement. Delcinea and Matt put in full price offers on five different homes. Each time, they were beaten out by offers of as much as 25% above asking price. Typically a home would come on the market and more than a dozen buyers would make offers the first day. The couple's realtor suggested that they get preapproved for a mortgage to gain bargaining power. That proved problematic.
Matt's salary as a professor wouldn't qualify as income until he had been on the job for several months and showing proof of income as a traveling opera singer was a paperwork nightmare. Although they had a substantial down payment and could afford the payments, Denver mortgage lenders, who were busy enough making conventional loans, didn't want to take the time to document the couple's income.
Delcinea's dad, a long-time Oregon Coast Bank customer, suggested that they call Eric Greenawald, who manages the bank's real estate lending team. That's when things changed. "Eric was incredibly helpful," remembers Delcinea. "He let us know that we could qualify for a conventional mortgage immediately, but that it would be for a lesser amount. Then he suggested that the bank could fund the full amount locally, at a slightly higher rate, until Matt's salary as a professor could be counted for income purposes, at which point he would refinance the mortgage in the secondary market at the lowest possible rate."
Within a few days, Delcinea and Matt had a preapproved loan and the advantage of a bank behind them that promised to fund the loan quickly. With the additional bargaining power, their next offer to buy a home was successful. Soon they had moved their family from New York to Denver, all made possible through the relationship they had with their bank on the Oregon Coast. "At the closing, our realtor told us that she'd never seen a bank fund so quickly," recalls Matt. "I doubt she'd ever dealt with a true community bank before, the kind where the customers actually get to know the decision-makers."
So how convenient is it for a couple in Denver to do all their day-to-day banking at the Oregon coast? "It's really easy," explains Delcinea. "We deposit checks automatically using our cell phones and we pay bills and manage our accounts online. I call Roxie at the Oregon Coast Bank Lincoln City office every once in awhile when I have a question, but she's fun to talk with anyway."
These days you really can do all your banking transactions online. What remains important is the relationship you have with your bankers. Although they now live in Denver, Delcinea and Matt are most comfortable dealing with their Oregon Coast bankers, which is fine with us. By the way, if you're curious to hear Matt sing, you won't need to travel to New York or Milan. Enter this link into your computer or smartphone browser: http://matthewplenk.com/Matthew_Plenk/Audio.html. For those of you who'd like to sing along, some of the selections are even sung in English.
More Stories
Read the story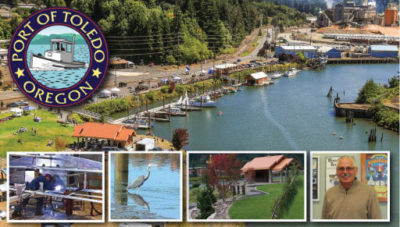 Toledo
Port of Toledo
Originally set up as an economic tool of the state more than a hundred years ago, the Port of Toledo…
Read the story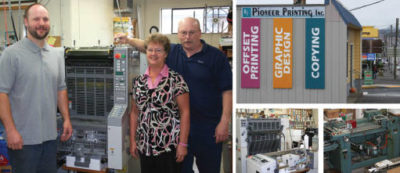 Newport
Pioneer Printing
There's no question that technology has changed the printing business.  When Dave and Carol Shank first opened a printing shop…
Back to All Stories