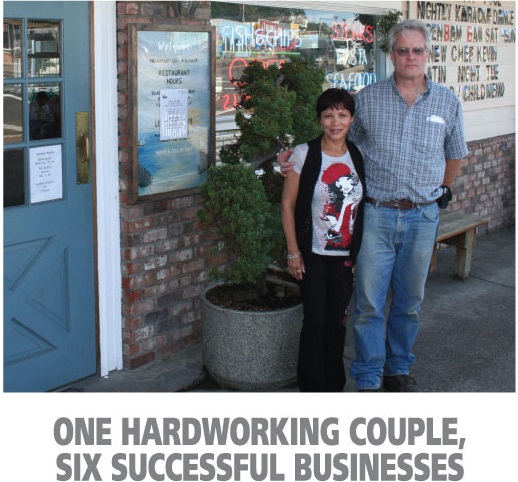 Sixteen years ago Doug and Maraya Strickland purchased Maxwell's Restaurant & Lounge, a landmark in the center of Lincoln City. Doug, a licensed contractor, began renovations. Maraya ran what restaurateurs refer to as "the front of the house", quickly showing a natural rapport with customers. Soon, the couple had purchased the building next door, connected it to Maxwell's, and remodeled it into a new lounge.
Over the years, the restaurant has remained popular serving ample portions of home style breakfasts, seafood, rotisserie chicken, pasta and legendary chicken fried steak. A 45,000 title karaoke system, dance floor, pool table and big screen TVs, keep Maxwell's Lounge hopping seven nights a week.
These days, Doug manages the business side of the restaurant leaving culinary decisions to chef Kevin Armstrong, whose previous experience includes stints at the Four Seasons, Westin Hotels and Wolfgang Puck's Spago Maui. But as an owner, Doug helps out whenever and wherever needed. Don't be surprised to see him bussing tables or washing dishes.
About seven years ago Maraya decided to focus her talents on another of the couple's ventures – 101 Inspirations – located in a building just across the street. 101 Inspirations is actually three separate businesses including a bakery, internet café and gift store. The businesses operate synergistically – customers sip espressos and smoothies while enjoying bakery items in the internet café. Invariably they'll wander through the gift store, which features an eclectic array of home décor items and memorabilia, including the largest collection of Betty Boop items you'll ever find. The popular bakery is known for its pastries, huge cinnamon rolls, and a variety of specialty breads.
As busy as she is, Maraya also finds time to manage their rental properties. Of course the key to the rental business is maintenance, and Maraya considers herself lucky to have a great "Mr. Fixit" – Doug. How can one couple operate six successful businesses simultaneously? The Stricklands are quick to credit their 23-person staff, many who have been working for them for more than a decade.
Doug and Maraya also have nice things to say about their bank. "The level of service we receive from Oregon Coast Bank is amazing," comments Doug. "They're super friendly and very accommodating," adds Maraya. The couple has had four Oregon Coast Bank loans, including mortgages for rental properties and for their own home. They also use Oregon Coast Bank for their businesses' checking accounts, their money market and their family accounts.
It's entrepreneurs like the Stricklands who fuel our local economy. All of us at Oregon Coast Bank appreciate their hard work and recognize their contributions to the Lincoln City community.
More Stories
Read the story
Toledo
Timbers Restaurant & Lounge
For longer than most can remember, the heart of Toledo's Main Street has been Timbers Restaurant & Lounge. Timbers isn't…
Read the story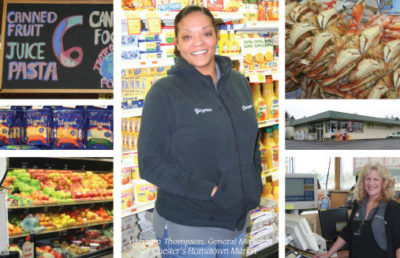 Pacific City
Chesters Hometown Market
If you ever set out from John Day to Pacific City, give yourself over six hours – it's more than…
Back to All Stories