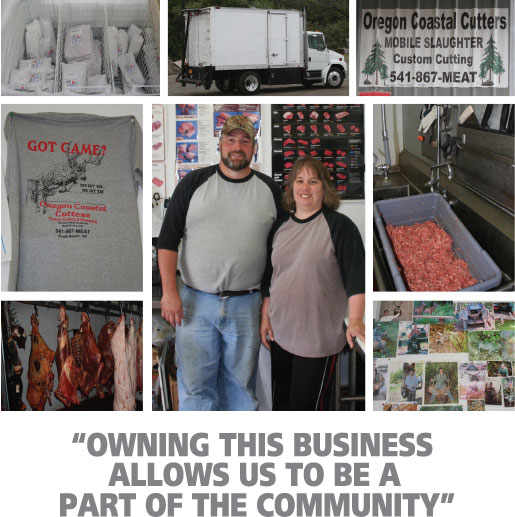 Growing up in his family's grocery store, Eric Clark learned the business at an early age. He started by cleaning the meat department and eventually was given the responsibility of wrapping meat. Eric learned everything he could from seven meat managers and then attended meat cutting school to learn even more.
In 1990 Eric made a great decision, marrying Cindi who he had grown up with in Waldport. In 2007 the couple made another terrific decision, opening Oregon Coastal Cutters, which has thrived offering custom meat cutting, smoking, mobile slaughtering and retail meat sales in South Beach.
Today Oregon Coastal Cutters butchers an average of about 350 animals a year, including cows, pigs, elk, deer, llamas, bears, lamb and antelope. On the road at least once a week, Eric typically slaughters six to eight animals in a day. After a few days of butchering, the fresh meat is available for the farmers to pick up. Hunting seasons are particularly busy times – Cindi jokes "we put a cot in the back room." Hunters' favorites include smoked meats, summer sausage, beer brats, polish sausage, teriyaki sticks, jerky and pepperoni.
The Clarks have raised two boys and credit Oregon Coastal Cutters for giving them the scheduling flexibility to be an active part of their kids' endeavors. Cindi has also continued to serve as a substitute aide for the local school district. In Eric's words: "Owning this business allows us to be a part of the community." The Clarks are active in the Yachats Lions Club, the 4-H Auction and the Oregon Hunters Association. Eric is the current President of the Waldport Booster Club.
Most of the year, Oregon Coastal Cutters is a two-person operation. Eric slaughters and cuts, Cindi wraps meats and does the books, and they share in the smoking responsibilities. Things get so busy during hunting seasons that each year Oregon Coastal Cutters hires additional help to assist in handling the load.
It was the need to upgrade to a more efficient mobile meat cutting truck that brought Eric and Cindi to Oregon Coast Bank. "They were amazing – everything happened in three days," remembers Eric. The logistics and automotive paperwork were handled by Oregon Coast Bank board member Dick Murry at his South Beach family dealership, Toby Murry Motors. "The bank told us they'd treat us like fishermen," laughs Eric. "That meant we could choose when and how much our payments would be during different months of the year – which is extremely important when your business is cyclical like ours."
If you farm or hunt, you've probably already experienced the quality of Oregon Coastal Cutters' meats. If you haven't, stop in and try their retail offerings. Aside from producing exceptional quality meat, Eric and Cindi are an example of entrepreneurs succeeding in business because of their hard work and commitment to the community. We're proud to serve as their bankers.
More Stories
Read the story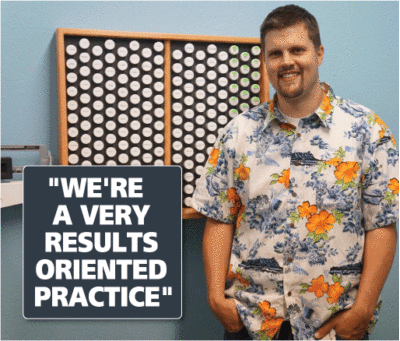 Lincoln City
Newport
Adams Chiropractic
His dad was a contractor with back pain so severe that he sometimes had to crawl across the floor. Staying…
Read the story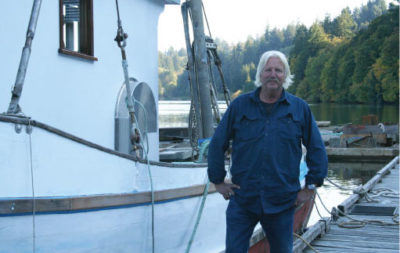 Newport
Reino Randall
Since his dad was the head of the art department at Cal State Hayward, it's easy to understand why Reino…
Back to All Stories