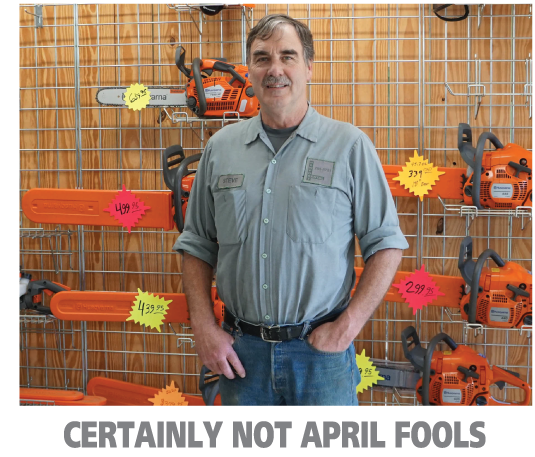 Perhaps there is a better day to launch a business than the first of April, but somehow 50 years later, Newport Rental is still thriving.
Everett Lawrence was working as a longshoreman when he and his wife Shirley decided to invest in a family business. Their son Steve first started working at Newport Rental while in the 8th grade, loading equipment, cleaning lawnmowers, repairing small engines and eventually waiting on customers. After a stint at Southern Oregon University, Steve became a longshoreman himself and then went to work at a mill.
"Mom and dad asked me if I'd like to come back to the family business and eventually buy it," remembers Steve. "Since they could only pay me about half of what I was making at the mill, I had to move in with them for five months." With the help of his parents, Steve then was able to make a down payment on a home of his own.
By 1991, Steve had purchased the business. "We signed the papers in the morning and mom and dad took off that afternoon for a month long vacation," laughs Steve. "By then I knew I could run the place on my own, but those first few weeks really made me nervous."
These days three of Steve's grown children – Joshua, Jonathon and Jessica – are among Newport Rental's twelve employees. Steve's wife, Christine, also helps manage the company. Although Newport Rental remains in its original location, the business has gradually expanded over the years to cover about half of a city block.
It might take a book to list all that Newport Rental has to offer, but among the popular items are excavators, man lifts, chain saws, wood splitters, telescoping fork lifts, weed eaters, brush cutters, mowers, generators, pumps, tools and bulldozers. On the non-utilitarian side, Newport Rental also does a brisk business supplying tables and chairs, tents, place settings, wine glasses, even fountains for weddings.
Newport Rental's array of services includes mower and small engine repair. The company is also a Husqvarna dealer, providing sales and repair of chain saws, brush cutters and lawn mowers.
He works long hours, but Steve obviously enjoys his job. "I like being around the equipment – fixing it and operating it," he explains. "Most of all I enjoy interacting with our customers. We have folks who have been renting from us since dad and mom owned the company."
Newport Rental has been a loyal Oregon Coast Bank customer since we first opened the bank in 2002. Prior to that, Steve and his parents worked with the bankers who founded Oregon Coast Bank while they worked at National Security Bank, which was also a locally owned family run bank. "When you're in the rental business, you need to continually acquire new equipment," points out Steve. "It's great to be able to simply call the bank, tell them what I need to purchase, and it's essentially taken care of." The company maintains Oregon Coast Bank business accounts, loans and credit lines, but what Steve says is most important to him is the continuous relationship he has had with his bankers.
It may have been their sense of humor that prompted the Lawrences to open a business on April Fool's Day. Perhaps they were just working too hard to notice. But for half a century, Newport Rental has provided a vital service for families and businesses in our local community. It's a great success story and we're proud to continue to play a small role as their bankers.
More Stories
Read the story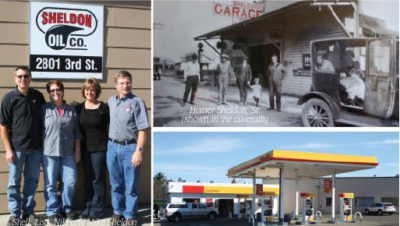 Pacific City
Sheldon Oil
In 1890 Homer Sheldon, Sr. was born near Banks.  At some point during his teenage years, he crossed the Wilson…
Read the story
Waldport
Ona
Reservations spanning three or four days are commonplace in the hotel business. In restaurants, they're unheard of. Except at Ona….
Back to All Stories