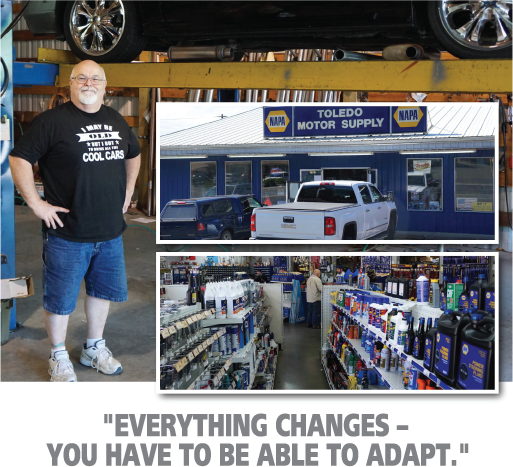 For more than 40 years NAPA has served the Toledo community. For the past 26 years, Kenny Williams has managed the local NAPA store, Toledo Auto Parts. This year he was offered the opportunity to buy the business and quickly said "yes".
Listen to the conversations at the counter and you'll soon understand that to succeed in the auto parts business, you need knowledgeable employees who are even better listeners. Often customers know exactly what they need; they just don't know what it's called. Or, they simply know something's broken, but can't describe what it is.
"Everything changes – you have to be able to adapt," says Kenny. It's not just engines that get more complicated every year – tools and diagnostic systems are also constantly evolving. NAPA dealers, like Toledo Auto Parts, now offer more than 430,000 different parts. "Identifying the right part is challenging," explains Kenny. "That's why customers who try and buy parts themselves online often end up with the wrong thing."
Toledo Auto Parts employs four and Kenny has a good understanding about the type of people who he wants behind his counter. "All of our guys work on their own cars," he points out. "We train them extensively, but they have to be service minded to start with and understand that we treat every customer how we'd want to be treated ourselves."
Customers buying replacement wipers at Toledo Auto Parts are pleasantly surprised to learn that they are installed free, immediately. The store's shop also services hydraulic hoses and works on exhaust systems.
Toledo Auto Parts serves as a bit of a gathering place for the community, which the store encourages. "Folks sit on the barrels, drink coffee, eat donuts, and just visit," he says. "It's the old guys who taught me how to clam dig," laughs Kenny, a Klamath Falls native.
Kenny and his wife, Janna, raised two boys in Newport and now have six grandchildren. He coached baseball and also umpired. These days Kenny and Janna spend their free time traveling up and down the coast.
"It's a good business, but it takes a lot of work," says Kenny about his store. "Now that I'm the owner, I also have to manage the financial parts." Fortunately, he has a great relationship with his bank. "Oregon Coast Bank has the same atmosphere as our store," he points out. "Anything you need, they'll do it – they're just so helpful."
Those certainly are kind words. And Kenny obviously knows a thing or two about interacting with customers. That's what he enjoys most about his business, and why, after more than 40 years, Toledo Auto Parts continues to grow.
More Stories
Read the story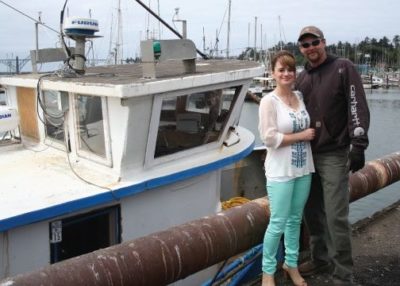 Newport
Lalori & Scott Lager
Lalori Lager is a behavioral health counselor and the owner of the coast's largest provider of outpatient drug and alcohol…
Read the story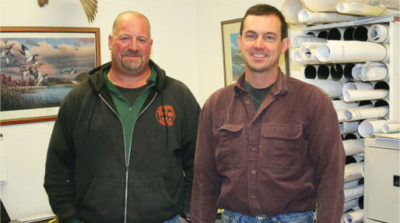 Newport
Quality Concrete
After graduating from Newport High School, Tim Braxling headed off to Oregon State University to become an engineer. By the…
Back to All Stories