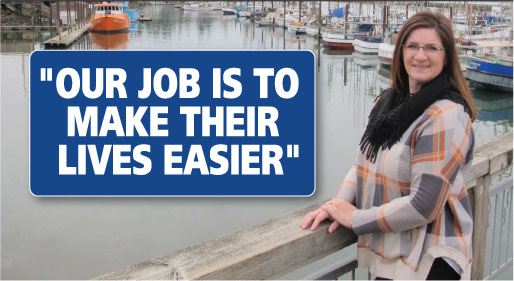 Ask commercial fishermen why they got into the business and they'll typically reply that they "love to fish." What they don't love is the myriad of bookkeeping, permits, documentation, licenses, quotas and insurance required to operate vessels. Yet with millions in potential revenue and often millions invested in boats, commercial fishing remains a serious business. Fortunately, for many vessel owners, there's Ann.
Ann Strickler grew up in Siletz and graduated from Toledo High School. After a few miscellaneous jobs she was hired as a receptionist in an accounting office, which led to a bookkeeping and tax preparation position at another firm in Newport, where she stayed for 23 years. Gradually she developed her expertise, particularly in the area of vessel management. A few years back, with the encouragement of several prominent fishermen, Ann decided to open her own firm.
Today, NW Vessel Management represents many of the area's most successful commercial fishermen. "Our job is to make their lives easier," explains Ann. "Whatever they need us to do, we take care of it, so they can spend their time fishing."
NW Vessel Management's responsibilities include bookkeeping, often for the fishermen as well as their boats. Crew shares must be figured, payroll determined and distributed. Vessel documentation, including permits and licenses, must be filed and renewed. Quotas as well as boat maintenance and upgrades require careful management. Insurance must be in place and when injuries occur, it's Ann who makes sure that crew members receive the benefits and medical care they deserve.
"This is a big family", Ann says of her company. "Sometimes we greet them when they return to the docks and they know that our office door is always open to them." Even though fishing hours vary greatly from business hours, all NW Vessel Management clients have Ann's cell phone number and know that they can call at any time with requests or issues.
"Each boat is different and we respect that," points out Ann. "What all of our clients have in common is their hard work and ethics." Some of the vessel owners have been working with Ann for more than 15 years. To prevent conflicts of interest, Ann never takes on new boats until she has discussed it with her long-term clients. Above all, she understands and practices confidentiality.
"They do the hard work, we're just here to guide them," says Ann about the vessel owners she represents. "But when they do well, we do well, and we do everything it takes to make that happen." As the fishermen's businesses have grown, so have the complexities. Additional boats are purchased, crew members and gear added, and new fisheries are acquired. Since catches vary wildly and expensive breakdowns are inevitable, building cash reserves becomes essential. Ann helps her clients save and develop spending disciplines, important skills for all growing businesses.
NW Vessel Management has grown also so Ann added a fulltime employee, Ashley Bisson, who she describes as "super smart". Just as Ann learned the business from the ground up, so has Ashley, who today understands and provides all aspects of vessel management.
Ann's work hours remain long, but she has no complaints since she enjoys the business so much. With their only child now on her own and living in Corvallis, Ann and her husband Kevin have chosen to downsize and live full time in their fifth wheel, currently in Siletz. They love the lifestyle. Gone is the yard work and chores that used to occupy much of their free time. Often they take weekend trips.
Ann and Kevin have done their personal banking for years at Oregon Coast Bank. NW Vessel Management and the majority of the company's clients are also Oregon Coast Bank customers. Many of the fishermen have lines of credit and the bank frequently provides loans for vessel purchases and upgrades. In Ann's words, "Oregon Coast Bank is so involved in the fishing community; I don't know what we'd do without them."
We appreciate the compliment and add that without question, Ann does make fishermen's "lives easier". NW Vessel Management fulfills a vital need and in the process has helped fishermen's businesses grow and weather the fishing industry's unique challenges.
More Stories
Read the story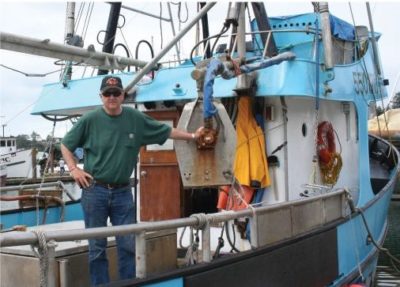 Newport
Jerry Bates
Back in December of 2000 when he sold the assets of Depoe Bay Fish Company, Jerry Bates thought he'd retire….
Read the story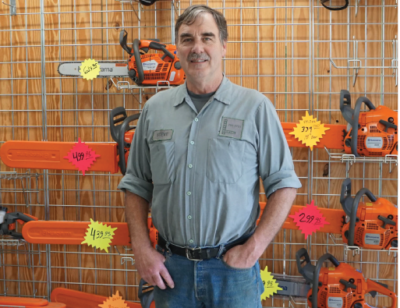 Newport
Newport Rental
Perhaps there is a better day to launch a business than the first of April, but somehow 50 years later,…
Back to All Stories