Byron Alldredge spent much of his life in Central Oregon, where he served as a wildland firefighter for 17 years, which ranks him a distant second in his family in terms of risking his neck for the public good. Bryon's wife Tracy practiced the same profession for 27 years. They met on the job.
It was Byron's self admission that fighting forest fires was somewhat of a "young person's game" that prompted him to switch careers at the tender age of 57. These days he repairs water systems, often under adverse conditions.
How that career change occurred is another story. A few years back, Tracy inherited a home off Highway 20 on the outskirts of Toledo. Their intention was to sell it, so Byron repaired the water system. One day their realtor stopped by and pulled the for sale sign from the ground, explaining that Lincoln County needed a pump guy and Byron was an ideal candidate for the job.
The county had been ably served for more than three decades by PUMPRO, but that business's owner, Jay Whisler, was ready for retirement and was planning on closing the company's doors. Byron worked with Jay for a year and a half to meet the State of Oregon's requirement of 2000 hours of apprenticeship in order to qualify for a pump installer license. In 2017, Byron and Tracy purchased PUMPRO from Jay and have grown the business ever since.
Technically, PUMPRO builds domestic water systems and storage systems, as well as performs well repair. As Byron puts it: "the driller comes and drills it and I'm the guy who makes water come out."
Serving all of Lincoln County, southern Tillamook County and some of northern Lane County, PUMPRO is now a 4-person outfit. Tracy's brother, Michael, manages the office, while she primarily works in the field doing water flow testing and sometimes helping Byron "muscle pumps out of wells", she explains. "After 27 years of fighting fires, sitting at a desk wasn't for me." Tracy has also enrolled in Oregon Coast Community College's Small Business Management Program.
"It's a big responsibility trying to keep everyone in the county in water," says Tracy. "We kind of consider no water an emergency," adds Byron, which is why he typically works seven days a week, often till 10 pm. He considers the appreciation he gets from customers well worth the effort, saying: "people sure are happy when they get their water running again."
PUMPRO often performs water system repairs for community organizations, many times donating their time. In Tracy's words: "the community has really treated us well, so we try to do the same."
Rural property owners know that when a pump has fallen into a well, a new well typically must be drilled, which can be very expensive. Byron has devised a method that often enables him to fish detached pumps out of deep wells. The hoist must be able to lift considerable weight, so Byron's handmade gear includes an old ski lift pulley which he pulls with his truck.
Sometimes shallow wells get filled with sludge, in which case Byron may climb into the tank to clean it it out, which isn't exactly a pleasurable job. Using a fire escape ladder, he'll rappel up to forty feet to fill buckets of mud. Of course as those buckets are hoisted up the shaft by a crew member, they tend to overflow, dropping an ample amount of sludge on Byron's head.
That kind of devotion to fixing peoples' water problems is why PUMPRO's Facebook page is filled with words of appreciation from grateful customers and why the company regularly receives handwritten Thank You notes.
When Byron and Tracy purchased PUMPRO, the first piece of advice that they were given by the former owner was "go open up an account at Oregon Coast Bank". "The bank made us feel so welcome," remembers Tracy. "They've treated us fantastic," adds Byron.
In our opinion, Central Oregon's loss was a big gain for the central coast. Rural property owners know that good pump repair people are hard to find. PUMPRO is serving a valuable role in our community and we're proud to be their bankers.
More Stories
Read the story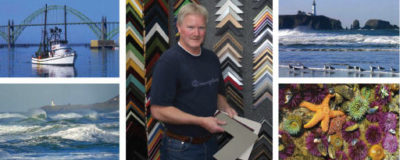 Newport
Chuck Forinash
Think of a classic photographic image of the Oregon coast and chances are it came from the camera of award-winning…
Read the story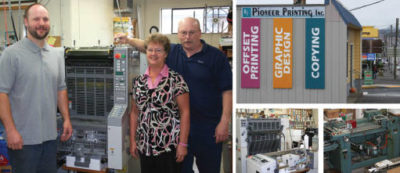 Newport
Pioneer Printing
There's no question that technology has changed the printing business.  When Dave and Carol Shank first opened a printing shop…
Back to All Stories