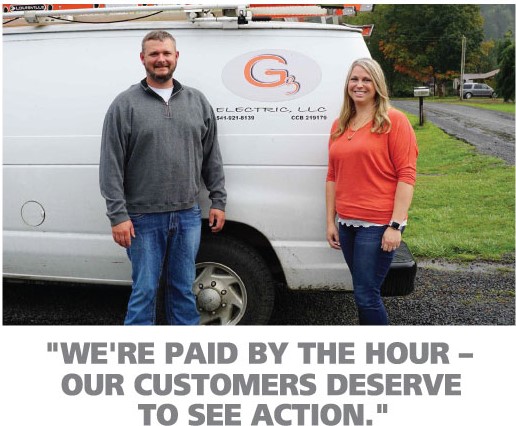 Jason & Heather Geil seem to embody the American Dream: a stable and growing company, a home on a premier fishing river, and two successful children, with at least one of them planning to join the family business. What isn't apparent is how hard they've worked to make their dreams a reality.
Jason was born on the central coast and graduated from Nestucca Valley High School. Heather moved to the area at the age of ten and is also a proud alumnus of Nestucca Valley.
He began his electrical career installing fiber optic cable for Qwest Communications and then U.S.I. Tiring of life on the road and yearning for more time with his growing family, Jason returned to the coast in 2002 and began an electrical apprenticeship with Miami Cove Electric in Garibaldi.
Most people don't realize what an extensive process that is. In order to qualify to even take the test that the Oregon Building Codes Division administers to become an Electrical Supervisor, you must first work four to five years as an apprentice and then four to five more years as a journeyman. Jason also worked an additional seven years for EC Electrical before deciding to open his own firm.
G3 Electric is both an electrical contractor, serving families and businesses from Manzanita to Neskowin, and a plumbing contractor, ran by his cousin Tyler Geil, covering Pacific City to Yachats. The name G3 comes from Jason and Heather's last name, Geil, and their hopes that their sons might eventually join the family business.
"We handle everything from wiring a home to installing and maintaining complex motor controls for agricultural facilities, breweries and restaurants," explains Jason. On any given day Jason may install a hot tub, heat pump, or water heater, or even be called to service or fix a state-of-the-art canning line at a local brewery.
Heather is G3's office manager, handling scheduling, purchasing, quotes, billing and accounting systems. The company is currently a 4-person operation, including a fulltime plumber and plumber's assistant. Now with a stable customer base and consistent growth, G3 expects to add at least one electrical apprentice in the future.
How do they account for the company's success? "When we say we're going to do something we get it done," points out Heather. "We move quickly on the job. We're paid by the hour – our customers deserve to see action," adds Jason.
What spare time they have, Jason and Heather spend camping, hiking, hunting and fishing with their two sons. Their eldest, Noah is living in Corvallis and taking college classes to further his education. Marcus, a senior at Nestucca Valley, has already expressed an interest in joining the family business as a plumber.
Longtime customers of our Oregon Coast Bank Pacific City office for their family accounts, Jason and Heather naturally became Oregon Coast Bank business customers when they opened G3 Electric. "We know them, they know us and they really care," explains Heather. "You're not just another face at Oregon Coast Bank," adds Jason. That's a business principle that G3 Electric seems to practice also. All of us at the bank are honored to play a small part in their success.
More Stories
Read the story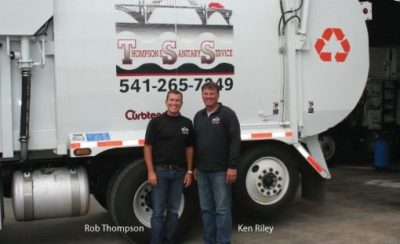 Newport
Thompson's Sanitary Service
Back in 1963, Kenny and Agnes Thompson started Thompson's Sanitary Service with three employees and two dump trucks. Their Newport…
Read the story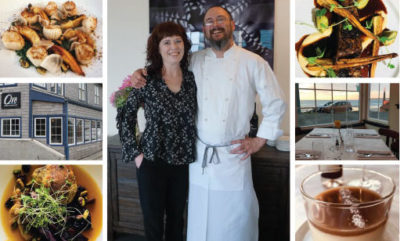 Newport
Ove Northwest
Born and raised in Newport, Charlie Branford then spent 4 years in the Marine Corps where he was a infantry…
Back to All Stories