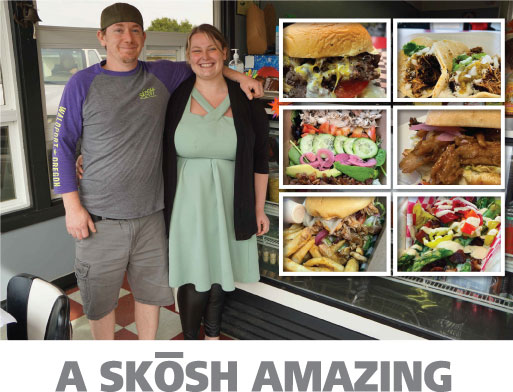 ---
Without a doubt, Skōsh is a catchy name for a restaurant. Chefs use the term often and Websters defines it as "a small amount". Yet ask any customer at Skōsh about the portions, and you'll realize that "small" is hardly appropriate. So, I asked the Waldport restaurant's owners, James and Courtney, "where did the name Skōsh come from?" They smiled and replied that Skōsh is a synonym for their last name, Little. As my kids often say to me when I'm utterly clueless, "duh".
Courtney grew up in Boring, but spent ample time with her grandparents in Garibaldi, which accounts for her love for the coast. Originally, she studied to become a dental assistant, but switched career paths to manage a storage facility and then work in collections. Eight years ago, while living in Milton Freewater, she met James.
Born in Connecticut, James' family had moved frequently during his childhood because his dad was in the military. James initially followed in his father's footsteps, serving three years with the Army's 82nd Airborne division. He then became a chef and spent several years honing his craft at a variety of restaurants in the Walla Walla area. Because of its wine industry, Walla Walla has become a hotbed of fine dining, and James earned quite a reputation for his culinary skills.
When James and Courtney decided to open a restaurant of their own, they chose to "first test the waters" with a food truck, which was based in Milton Freewater. The menu was eclectic and changed frequently, but customer response was overwhelmingly popular. "We quickly learned that some of the hot sellers, like our steak burger, pork carnitas tacos and saucy smoked pork sandwich, would have to be available every day, or we'd have disappointed customers," remembers Courtney. The food truck proved to be an excellent laboratory for what Skōsh has become today.
Whenever they found the time, James and Courtney would take trips to the coast. Eventually, they decided that they wanted to call it home. But where? Ultimately, they chose to lay down roots, buy a home, and raise their family in Waldport. In James' words: "Waldport was the place – you have the ocean, the river and the bay."
In Waldport they also found an ideal location for Skōsh, a landmark restaurant that was for sale at the south end of the Alsea Bay Bridge. Although they were still in the process of acquiring the property, they received permission to park the Skōsh food truck next to the restaurant this past January. Of course, as anyone in the restaurant industry can tell you, January and February can be rough at the coast. Yet the response from the community was overwhelming. Initial business was brisk and has yet to let up.
These days, the food truck is parked in the back, and the 6-person Skōsh staff is serving a steady stream of customers in the remodeled restaurant. Takeout orders are also popular – Skosh's website and smartphone app make the ordering process simple.
The Skōsh Steak Burger and Cheesesteak have both earned loyal followings. Unique items like Sizzle Drizzle Asparagus and Walla Walla Tacos also sell well. "I'm now working on some seafood entrees," says James. "We have access to such fresh fish." Vegetarian options are available as are amazing desserts like Skōsh Milkshakes and Triple Chocolate Fudge Brownies.
It's not just the newness that has created so much excitement about Skōsh. The restaurant's vibe is overwhelmingly positive. Hoodies bearing Skōsh's logo and "Sizzle Drizzle Pop" slogan are now regularly seen around town.
James and Courtney love the community and have very nice things to say about the folks at our Oregon Coast Bank Waldport office. "They were genuinely interested in our business plan and provided the financing when we bought the building," explains Courtney. Which, in the spirit of their restaurant, is a Skōsh generous of them to say.
More Stories
Read the story
Pacific City
Mike & Margee Loney
Like most kids in grade school, Mike Loney's mind tended to wander. So he drew. Not doodles like his classmates,…
Read the story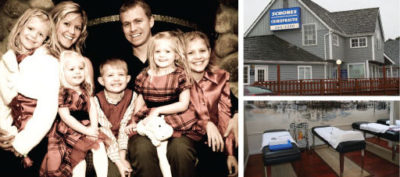 Newport
Schones Chiropractic
Paul Schones' grandfather is a fisherman, so is his dad, in fact Schones family members have fished commercially in the…
Back to All Stories