Timbers Restaurant & Lounge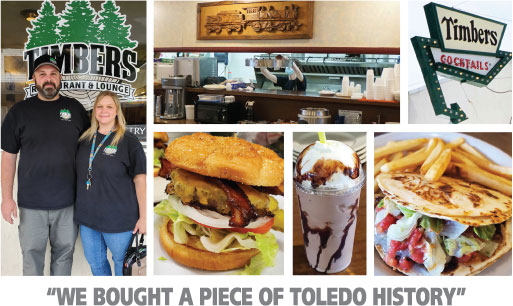 For longer than most can remember, the heart of Toledo's Main Street has been Timbers Restaurant & Lounge. Timbers isn't fancy, it's usually described as good food at a good price. Yet customers are exceedingly loyal, perhaps because they feel so at home there. In fact, when you look at the prominent decal on the front window, you realize that Timbers' slogan isn't really a slogan at all, but instead a statement of what's important to most folks in town: "FAMILY . FRIENDS . INDUSTRY".
For a shade over 50 years, the restaurant and lounge were owned and operated by Dick and Gail Wood, a name that seems appropriate for a place named Timbers. At least a decade ago, Dick struck up a friendship with Charlie Cyphert, who was in the beer business. As Charlie would bring in full kegs and roll out the empties, Dick would ask him: "When are you going to buy this place from me?"
You could say that entrepreneurism was in his blood, since his dad had owned no less than eleven businesses. Indeed, after working for electricians, glaziers, tow truck owners, charter boat captains, and breweries, Charlie was definitely ready to strike out on his own. So, after about seven years of Dick asking that same question, Charlie said now. He did have one condition: he wanted Dick to sell him the building too. That's because Charlie's dad had always told him: "Don't just buy a job, own your own dirt."
Dick also had one condition before he sold: he wanted the restaurant's name to continue in perpetuity. Of course Charlie did too. "This will always be Timbers," he says adamantly. "I promised Mr. Wood."
Now before we continue our story, which does get even more interesting, it's important to realize that Charlie would never have purchased Timbers without the enthusiastic support of his wife, Emilee. A proud graduate of Toledo High School, Emilee had spent the majority of her career working in Juvenile Corrections for Lincoln County, a position she just left at the first of the year in order to devote her fulltime attention to Timbers.
Months in advance, a closing date of March 14th, 2020 was set for the purchase of the restaurant and building. Now if that date sounds eerily familiar, it's because it was just three days after the World Health Organization declared Covid-19 as a global pandemic. Not exactly the best time to be in the restaurant business.
Knowing that coronavirus restrictions would soon be issued, Dick graciously suggested that they delay the sale, so that Charlie and Emilee wouldn't have to face so many initial hurdles. Nevertheless, to learn the business, the Cypherts began volunteering at Timbers. To make ends meet, Charlie took a job hauling rock.
After five months of delays, Charlie and Emilee made the courageous decision to purchase the business and building smack in the middle of the pandemic. After more than fifty years, on September 1st, 2020, Timbers had new owners. In Charlie's words: "We bought a piece of Toledo history."
It has taken a remarkable amount of effort – "I've never worked so hard in my life", says Charlie – but despite stringent Covid restrictions, Timbers has not just survived, but thrived. Employment has doubled. The Timbers staff now numbers twenty and is still growing.
Spend time observing customers interacting with Timbers' servers upstairs in the restaurant, or downstairs in the lounge, and the rapport is obvious. It's not unusual for customers to visit Timbers on an almost every day basis. Yet it's the food that Timbers is known for.
Most folks in town can tell you that Timbers is the only place in Toledo that you can get a piping hot burger until midnight. And what a burger it is (see picture above). "It's all about the patty," explains Charlie. But that's all you'll get out of him, because the formulation of that incredible Timbers patty is a well-guarded secret.
The restaurant is known for its breakfasts, especially the omelets. Timbers' cider-braised meats, like brisket and ribs, get rave reviews and customers pack the dining room each Tuesday for home-made chicken noodle soup. When they bought the business, Charlie and Emilee made a concerted effort to create unique daily specials, some of which are now part of the regular menu due to popular demand. Perhaps the restaurant is best known for a down-home staple, chicken-fried steak, which remains Timbers' best seller.
Charlie and Emilee continue to upgrade the facility and expand Timbers' reach. Off-site catering is now offered and they are considering adding a food truck. There's even talk of a future fermentation venture.
As their business grows, the Cypherts know that their local bank, our Oregon Coast Bank Toledo office, is firmly in their corner. "Because of Oregon Coast Bank, we have what feels like an army behind us," points out Charlie. "No other bank has ever given us that much support."
More Stories
Read the story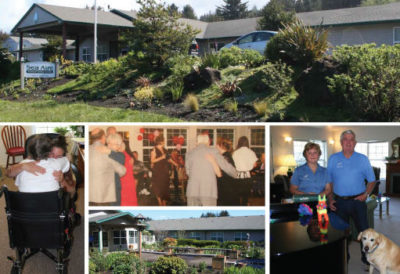 Waldport
Sea Aire Assisted Living
Stroll through the halls of Sea Aire Assisted Living in Yachats and everyone seems to be smiling. Hugs are a…
Read the story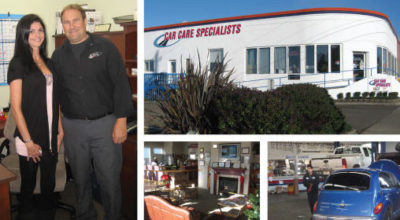 Lincoln City
Car Care Specialists
At the precocious age of 23, Randy Neal opened Car Care Specialists in Lincoln City. At the time, his business…
Back to All Stories