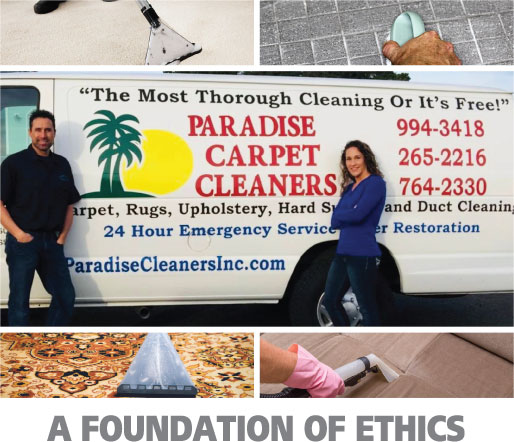 ---
The palm trees and sunset on his company's logo reflect his childhood on Oahu's leeward side. So does the name of his business, Paradise Carpet Cleaners. But after 33 years on the Oregon Coast, Michael Raines now considers Lincoln City his true paradise.
Just prior to his senior year in high school, Mike's parents moved his family to Lincoln City, where they served as pastors for the Church of the Nazarene. The water was unquestionably colder when he surfed, but Mike grew to love the community. After graduating from Taft High School, he stayed and worked construction. He then trained as a carpet cleaner, working for another firm. After two years of learning the business, he decided to open his own company.
Discussing Michael is impossible without discussing his wife, Hannah. They're truly a team. Besides managing the family business together, they homeschool their children and volunteer in the community together.
Hannah grew up in California's Bay Area, worked in nursing and sales, before moving to Portland in 2003 as a loan officer for a mortgage company. On a weekend trip to Lincoln City, she met Mike at the community pool. In 2005, Hannah said yes to his marriage proposal, knowing and appreciating the fact that Mike came as a package with his son, Samuel and daughter, Samantha. Two additional sons, Michael and Gabriel, joined the family a few years later. Five years ago, a granddaughter was born.
Twenty-three years ago, when he first opened Paradise Carpet Cleaners, Mike was adamant that all of his business decisions would be based on ethics. Each of the technicians who worked for him would receive IICRC certification, strict protocols would be followed, exact price quotes would be given before every job, and customers would receive an iron clad, risk free guarantee. Mike considered the guarantee to be so important that he had it painted on each of the company's vans: "The Most Thorough Cleaning or It's Free!" He meant it.
Besides providing carpet cleaning for homes and businesses, the company offers professional cleaning of upholstery and area rugs, as well as tile and grout. Paradise Carpet Cleaners, which provides service from Pacific City to Waldport, extends discounts to military service members, veterans, and senior citizens.
Mike attributes the growth of the company to hundreds of positive comments and referrals that they have received from their customers. In fact, Paradise Carpet Cleaners has earned an A+ Rating from the Better Business Bureau. In Hannah's words: "We don't want your carpet to just look and feel great, we want it to even smell fresh and clean!" Reviews from customers are equally as enthusiastic.
For years, Paradise Carpet Cleaners enjoyed steady growth and employed five, but the pandemic brought business to a standstill. Thanks to federal Paycheck Protection Program loans through Oregon Coast Bank, the company was able to resume growth last fall and employment is again building.
Even the relationship they have with their bank is rooted in community involvement. "We really got to know Jedd Fly, who manages our Lincoln City Oregon Coast Bank, through our children and Cub Scouting," points out Mike. "Jedd is the Charter Representative, Hannah is a Cub Master and I'm a Webelos Leader." "It's a relationship built on trust," adds Hannah. "Jedd made the PPP loans such an easy process."
More Stories
Read the story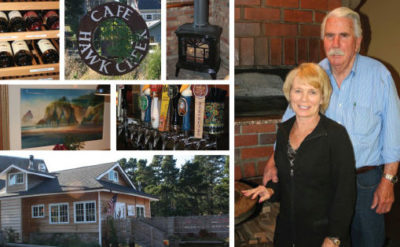 Pacific City
The Cafe on Hawk Creek
Drive around Neskowin and you'll notice a lot of homemade yard signs, all creatively articulating the same thought: "Slow Down". …
Read the story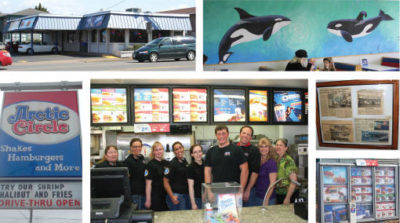 Newport
Arctic Circle
David and Ellen Turner met while attending Newport High School and soon became high school sweethearts. They also worked part-time…
Back to All Stories