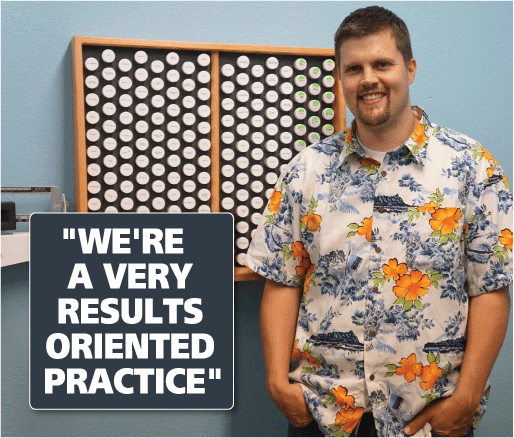 His dad was a contractor with back pain so severe that he sometimes had to crawl across the floor. Staying home was never an option. Somehow his chiropractor was always able to get him back on the job. Those memories had a lasting effect on Perry Adams.
After graduating high school in Beaverton, Perry received a degree in biology from BYU Idaho, where he met his wife, Darcy. Four years later he had earned his doctorate from Parker College of Chiropractic in Texas. It wasn't an easy ride. Perry worked construction jobs during high school and waited tables throughout college to help finance his education.
After becoming a doctor, he worked for several years in the Portland area. By 2011 he had opened his own practice in Toledo with a staff of two. In 2015 Chiropractic 101 moved to an office in Newport. Today Dr. Adams also offers office hours in Waldport three mornings a week.
After more than a decade as a chiropractor, Dr. Adams is known for his somewhat unique approach. "We're a very results oriented practice," he explains. "We rarely advocate lengthy treatment plans." In fact most patients are surprised when Dr. Adams is able to relieve their pain in just one or two visits.
Dr. Adams' practice specializes in healing conditions caused by automobile accidents, sports and workplace injuries. Often his patients are referred by primary care doctors, coaches and insurance companies. Referrals also come from the Department of Veterans Affairs. It's not unusual for Dr. Adams to come into his office during the evening or on weekends to accommodate the schedules of fishermen and loggers needing treatment.
Lower back pain is the most common reason patients visit chiropractic physicians. In fact knee, ankle, elbow, hand, wrist and finger pain, and even maladies such as indigestion, are sometimes back related. In many cases Dr. Adams can help reverse the effects of injuries caused by repetitive motion, poor lifting habits and incorrect posture.
Using a holistic approach including non-surgical orthopedics, chiropractic adjustments, physical therapy, electric stimulation, exercise science and even nutritional counseling, Dr. Adams has built his practice on results. Patients freed of chronic pain are often emphatic in their praise. Dr. Adams tends to downplay those compliments, saying instead that "my goal is simply to try and make a difference in people's lives."
Perry and Darcy own a house in Seal Rock and have three boys. In their spare time the family enjoys camping, often exploring new rivers, lakes and beaches. Having lived elsewhere, the Adams' truly appreciate the scenic beauty and family atmosphere of the community they now call home.
"I wanted to keep things local" is how Dr. Adams explains his initial decision to move his business accounts to Oregon Coast Bank. He frequently uses Oregon Coast Bank Online Banking to manage his accounts and points out that it is easy to integrate with his accounting software. Perry also enjoys his visits to our Newport and Waldport offices. "Oregon Coast Bank's customer service is outstanding," he says. "And you can't beat their candy." That may not be what you'd expect to hear from a physician known for his nutritional counseling, but it's totally understandable when you know Perry.
More Stories
Read the story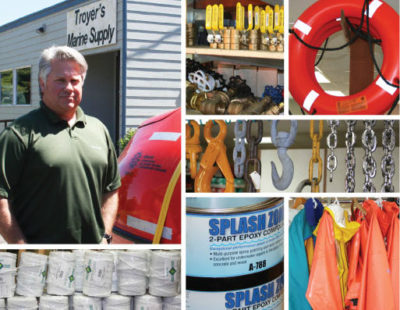 Newport
Troyers Marine Supply
Sometimes the phone will ring at 4:30 in the morning. The voice may be thousands of miles away. But when…
Read the story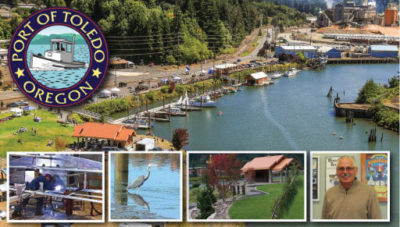 Toledo
Port of Toledo
Originally set up as an economic tool of the state more than a hundred years ago, the Port of Toledo…
Back to All Stories