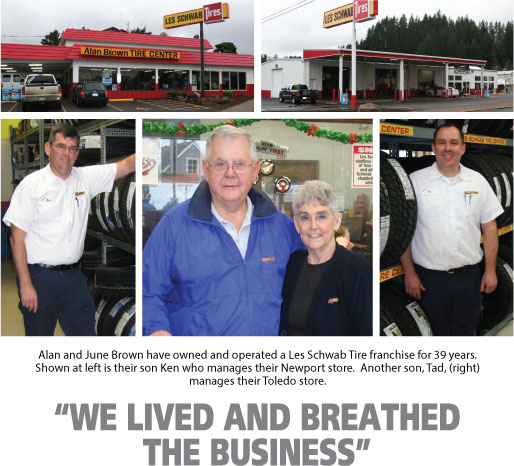 Back in 1972, Alan and June Brown were raising four children on Alan's salary from the highway division, an amount he laughing refers to as "minimal for even back then". At the time, a businessman from Prineville, Les Schwab, was selling franchises of the tire store that bears his name. After meeting with Schwab, the Browns agreed to become the company's 25th franchisees. It was Schwab who suggested that they call the business Alan Brown Tire Center, saying "Put your name on the building, you might get mad at me someday and want to take down my sign." Thirty-nine years later, the Brown's relationship with Les Schwab Tires remains as solid as their own marriage, but it took many years of hard work to get to where they are today.
Selling their home and borrowing on their life insurance to finance their new business, the Browns soon learned the price of entrepreneurship. "For many years we lived and breathed the business," remembers June. With just themselves and one other employee, Alan and June ran the entire operation. Opening at 7 am, Alan would install and repair tires long into the evening. Often he'd return at 2 or 3 in the morning to make emergency repairs for customers.
All four of the couple's children worked part time in the shop. Today, their son Ken manages their Newport store while their son Tad has managed their Toledo store since it first opened more than 10 years ago. Mark, their eldest son, became a pilot for Delta Airlines and resides in Wilsonville. The Brown's daughter LeAnn is a occupational therapist in Eugene. One of Alan and June's five grandchildren now also works in the family business.
Over the years the Browns have owned their stores, much has changed in the tire business. During the 70's a typical tire would last about 20,000 miles, but these days it's not uncommon for customers to get up to 100,000 miles of use. Increased tire life has put a premium on maintenance and service, something Les Schwab Tires has long been known for. The image of enthusiastic employees running to customers' cars isn't just an advertising gimmick; it's a common occurrence at Les Schwab Tires. Of course today, Les Schwab means a lot more than tires. A significant percentage of the company's revenues now come from other automotive services such as brakes, shocks and alignments.
The Brown's hard work has paid off. These days their two stores employ 24 and do about 20 times the volume of when they first opened. Each full time employee and their families receive full medical insurance. All employees are eligible for year-end bonuses. Alan and June make contributions to each employee's trust, equal to 15 percent of the employee's salaries.
The Browns believe that owning a local business also means a commitment to community service. Alan is a past president of the Newport Rotary and served on the Newport Planning Commission for two years, the Newport City Council for four years and the Port Commission for eight years. In addition, he served six years in the state legislature and currently sits on the state transportation commission.
Although he visits his stores frequently, Alan claims to have retired in 2000. June however still comes into the office two or three days a week to supervise the company's business operations. Alan has been a board member of two community banks and believes they are essential to the economic vitality of small towns. The Browns are Oregon Coast Bank stockholders as well as enthusiastic customers with personal accounts, trust accounts, business accounts and a lending relationship. "If we ever need anything or have a question about one of our accounts, we can just pick up the phone and it's taken care of," explains June. "Oregon Coast Bank has been super to work with."
It's entrepreneurs who have fueled the growth of our local economy, and all of us at Oregon Coast Bank have a great deal of respect for the sacrifices it takes to run a family business. The success of Alan Brown Tire Center is no accident, and Alan and June's hard work is an inspiration for us all.
More Stories
Read the story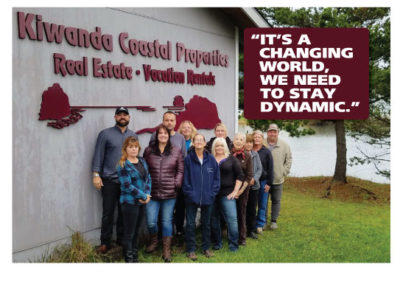 Pacific City
Kiwanda Coastal Properties
After graduating from Nestucca Valley High School, Nicole Twigg wanted to see the world, or at least more of it.…
Read the story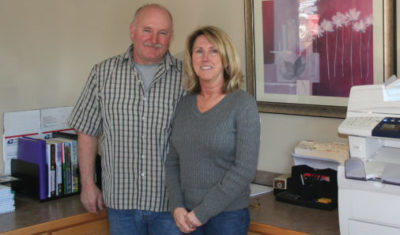 Lincoln City
Kauffman
You could say that excavating is in his blood. Dan Kauffman's father operated a quarry and was known for his…
Back to All Stories