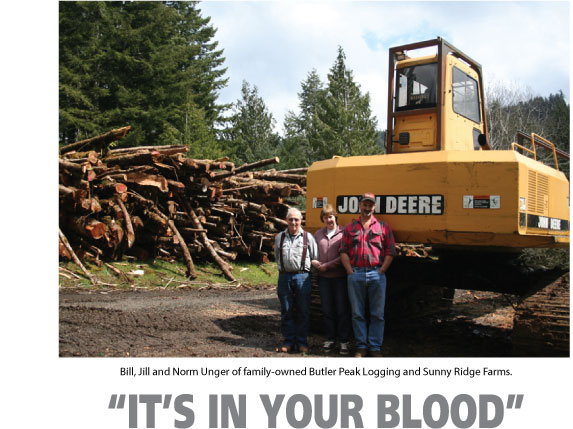 When the elk are grazing by Drift Creek, which meanders through the property, it's hard to imagine a more idyllic location, but Sunny Ridge Farms just north of the Alsea River near Waldport is actually a 1,000 acre working ranch with 100 head of Hereford and Angus cattle. The ranch is run entirely by Bill and Jill Unger, Bill's son Norm, and Sondra, Bill's first wife who recently moved back to the ranch from Central Oregon. The grandkids are called in for haying season and fall round up. Maintaining a ranch seems hard enough, but Bill and Norm are also well-respected loggers and owner-operators of Butler Peak Logging.
Bill, who's been a Lincoln County resident since he was two months old, began working in his uncles' logging operations while he was still attending Newport High School. In 1955 Bill and Sondra, along with Bill's parents, purchased a hardware store in Newport. Soon they had moved up the street where they built a new building to sell hardware and furniture. Bill still yearned to return to the woods and in 1978 he started Butler Peak Logging.
Ask him why he enjoys such a strenuous, dangerous and cyclical occupation and Bill is philosophical, "It's in your blood". He's also very environmentally conscious. "Logging is a renewable resource, it's a crop we grow and we replant everything we harvest," he explains. In fact, more trees are currently growing on Sunny Ridge Farm's 1,000 acres than have ever been on the property.
In a typical year, Bill and Norm will harvest 1.5 to 2 million board feet of timber within an approximate 50 mile radius. That's a remarkable achievement for their five man crew. Approximately 25 percent of Butler Peak's production comes from land on the family-owned ranch.
Needless to say, logging and operating a ranch add up to more than a full time job. "As long as there's daylight, we're working," comments Bill. "There's always something to do – if nothing else we have about four miles of fencing to maintain." Bill, who has four children, and Jill, who has three of her own, jokingly remark that their grandchildren "are hard to count". The current number is 12. In their spare time they like to camp on their ranch, but Bill admits that he rarely stops working, even when they're camping.
In Bill's estimation, he first started working with Oregon Coast Bank's Vickie Spencer "well over 20 years ago". Logging and ranching expenses can be high, so he values his banking relationship: "Usually I'll just tell Vickie what equipment we're planning to buy, and they cover it."
At Oregon Coast Bank we recognize how important that family-run timber operations, like Butler Peak Logging, are to our local economy. We also consider the Ungers to be exceptional stewards of the land. Through the family's sustainable logging practices, Sunny Ridge Farms remains an idyllic place while still contributing to the economic vitality of our community.
More Stories
Read the story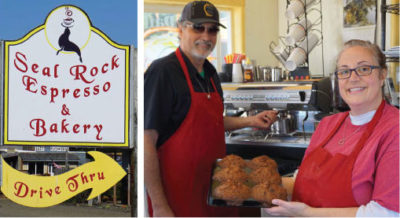 Waldport
Seal Rock Espresso & Bakery
It's certainly not a lack of education that led Edd (yes, that's a proper spelling – his parents were fans…
Read the story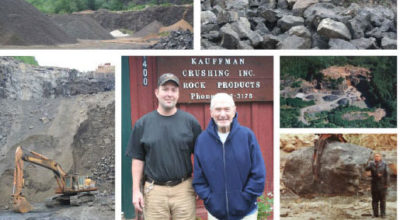 Waldport
Kauffman Crushing
It may sound unusual to describe quarry operators as "stewards of the land", but in the case of the Kauffman…
Back to All Stories