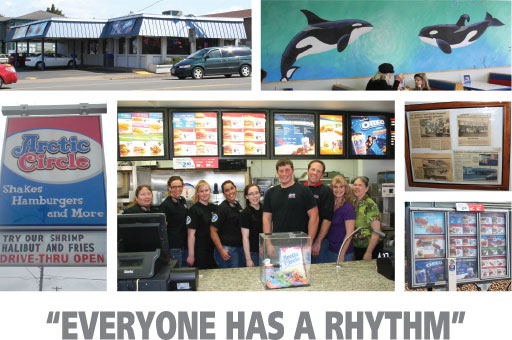 David and Ellen Turner met while attending Newport High School and soon became high school sweethearts. They also worked part-time at a local restaurant, McIvar's Landing. David worked at the restaurant for a total of 13 years, and served as manager after graduating high school.
Wanting a family business of their own, the Turners saved as much as possible. In 1995 they were able to purchase the Newport Arctic Circle from Lou and Sue Gates, who had owned the popular restaurant for 20 years. The Newport Arctic Circle's history actually goes even further back; the restaurant first opened its doors 45 years ago.
In 2007, David and Ellen also purchased the building and land, borrowing money and using their home as collateral. Almost immediately, they took out a second loan to remodel the facility. The Turners are typical of family business success stories; they worked long hours and accepted the risks of investment.
Described as "a step up in fast food", Utah-based Arctic Circle operates 85 franchised restaurants, four of which are in Oregon. David serves on the company's advisory board, helping make menu and operational decisions that affect the entire chain. On an almost annual basis, the Newport Arctic Circle has received a company-wide award for selling the most take-home bottles of Arctic Circle's renowned fry sauce.
All Arctic Circle burgers are cooked to order using 100% Angus beef. Four entrée salads are particularly popular with those concerned with healthy eating. Perhaps because of location, halibut fish and chips is a top seller at the Newport Arctic Circle. But the restaurant is best known for its 30+ flavors of "above the rim shakes", all made the old fashioned way with fresh ingredients.
With a highly loyal local clientele, business is strong for the Newport Arctic Circle, even in the winter. But with the influx of tourists in the spring and summer, the restaurant's volume can double or triple. "The hardest part of running a busy restaurant is taking a vacation," laughs David. "We haven't had one outside of Oregon for six years."
The Turners attribute their restaurant's success to their staff – "everyone has a rhythm," says David, "they really know what they're doing." The Newport Arctic Circle employs 15 year round and up to 20 during the peak summer months. David and Ellen believe it is imperative to take good care of their employees, and as a result, the restaurant has very low turnover. Konnie Henderson has been on the staff for more than 20 years. Assistant Manager Shirley Huff has been with the team for over 13 years.
When a shift needs filling, it's usually Ellen that steps right in. David works seven days a week, but appreciates the fact that his "great crew" allows him the flexibility to volunteer as Track and Cross Country Coach at Newport Middle School. All three of the Turner's children also work regular hours.
A few months back, David stopped in to the Newport office of Oregon Coast Bank to ask about refinancing and lowering the rate on the business loans that they had at another bank. He was amazed at how fast and easy the process was.
Soon, Oregon Coast Bank had refinanced the Turner's business mortgage, remodeling loan, home mortgage and the mortgages on both their rental properties. "If we could have known then what we know now, we would have been Oregon Coast Bank customers from the beginning," explains David. "It was a great experience being able to talk directly to the decision makers – they really made life a lot easier for us."
David and Ellen do have very nice things to say about their bank, but the respect is mutual. In fact Oregon Coast Bank employees can often be seen enjoying meals at Arctic Circle. We even asked them to cater our most recent Board of Directors meeting. And while burgers, shakes and fries may not be typical at other banks' board meetings, it suits us just fine, as long as they include a bottle of their fry sauce.
More Stories
Read the story
North Lincoln Sanitary
Tina and Lon French have never written a management textbook. That's a shame, because in our humble opinion, they should….
Read the story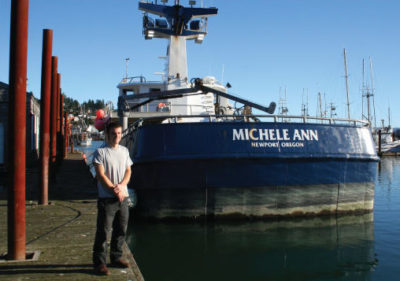 Newport
Poggy Lapham
Born on George Washington's birthday and in the state of Oregon, his parents combined those facts and named him "Georgon"….
Back to All Stories