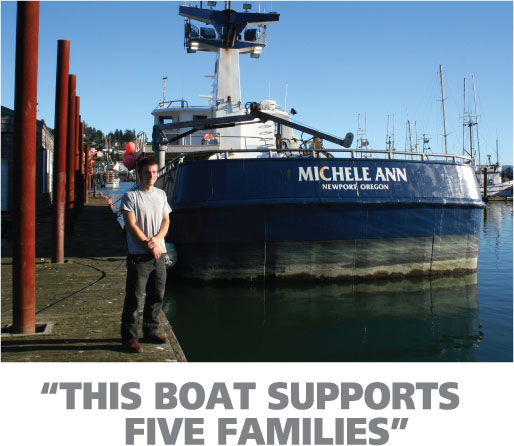 Born on George Washington's birthday and in the state of Oregon, his parents combined those facts and named him "Georgon". He was the youngest of eight, and it was his sister who started calling him "Poggy" (rhymes with froggy). The nickname stuck, which is why the captain pictured above is known to all as Poggy Lapham.
His dad owned a small salmon troller based in Newport, and in the summers Poggy learned to be a fisherman. The majority of the catch he took to the processor, but Poggy's father always saved fish to share with his friends and neighbors.
While studying art and English at the University of Oregon, Poggy dated a girl from Alaska, who got him a summer job as a gillnetter. He then spent a year at the California Maritime Academy in Vallejo, returning to Alaska the following summer.
Returning to Newport, Poggy landed a job as a deckhand on the Michele Ann and was able to earn a good income crabbing. Eventually he worked his way up to captain the 66-foot vessel. In 2009, Rip Carlton sold Poggy 10% of the Michele Ann. He purchased another 44% in 2013 and recently acquired the remaining shares.
On the water for 280 days a year, the crew of the Michele Ann earns a good wage. "It can be tough, you never wake up to the same conditions, but this boat supports five families," points out Poggy. Generally it's six weeks on and two weeks off for the crewmembers. "They're family-oriented guys who are hardworking, humble and take pride in the boat," he explains. Just as his father did, Poggy encourages his crew to share some of the catch with their families and friends. "It helps us feel good about what we do."
Philosophically, Poggy considers fishing to be a noble profession – "We're harvesting a wild, sustainable resource." As hard as they work – 60 hours without sleep is not unusual during crabbing season – fishing has its advantages. "We get to travel in this comfortable boat anywhere we want, as long as we can make a living."
"We're not pack animals, we like to fish where others aren't," laughs Poggy. But generally the Michele Ann will long-line for black cod in September and October, crab from November to January, return to long-lining from February through May, and tender in Alaska for Trident Seafoods during the summer.
As a tender, the Michele Ann delivers fuel, water and supplies to the fleet and brings back fish to be processed. "That leaves the rest of the day for recreation," says Poggy. His wife, Raysha, and their five year old son can join him on the boat during those summer months, which the family considers to be their annual Alaskan vacation.
In 2009, when his dad passed away, Poggy purchased the family's Logsden property with a loan from Oregon Coast Bank. While on the boat, he uses online banking to manage his personal and business accounts. Poggy utilizes an Oregon Coast Bank line of credit for the Michele Ann and the bank has collateralized the vessel's permits. That, and plenty of hard work, has allowed Poggy to acquire a considerable asset at a relatively young age – we'll leave you to guess by the picture.
"I put a huge value on knowing my bankers and being able to pick up the phone and get a loan," Poggy says about his relationship with Oregon Coast Bank. But clearly it's a two way street. As a vessel owner, Poggy creates family-wage jobs. We value him as an Oregon Coast Bank customer and understand that it's entrepreneurs like Poggy who fuel our local economy.
More Stories
Read the story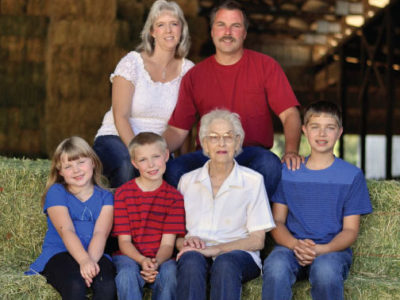 Tillamook
Foland Creek Dairy
It was in 1911 that Charles "Ollie" Woods purchased some farm land along Foland Creek in Beaver from his uncle,…
Read the story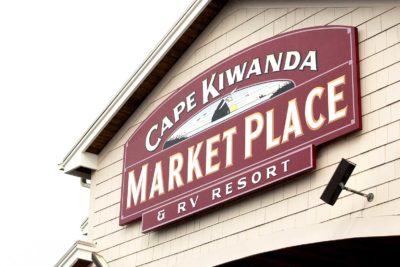 Pacific City
Cape Kiwanda RV Resort
It's been about 51 years since Don and Marjorie Johnston began building a small trailer park across the street from…
Back to All Stories