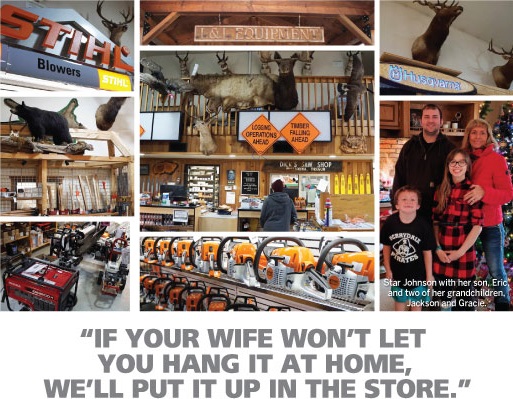 It may house one of the most impressive displays of wildlife trophies in the northwest, but L&L Equipment in Dallas isn't a museum of taxidermy, it's one of the biggest power equipment dealers in the Willamette Valley, with thousands of devoted customers including loggers, firefighting crews, Christmas tree growers, and landscapers.
Some of the trophies came from family, most are from customers. Each has a story. Listen to a few and you start to understand how much L&L means to the community.
2021 marks L&L Equipment's 50th anniversary. About 32 years ago, George Lefever, who founded the company, turned over the operation to his grandson, Ted Johnson, a STIHL Master Mechanic who had been coming to the shop since he was just nine years old. George's son, George Jr., served as the company's business consultant.
Ted's wife, Star Johnson, also grew up in Dallas. After a career building circuit boards and working in a lumber mill, she decided to retire, until Ted convinced her to do L&L's bookkeeping. "As you can see, I'm still here," laughs Star, who took over management of the business after Ted's death and purchased the remaining shares of the company from Ted's uncle, George Jr., about a year ago.
Star has a refreshing business philosophy. "We're a mom and pa shop and proud of it," she says. "We run off of our reputation and treat everyone's equipment like it was our own. The best part about owning a family business is the freedom to take care of customers right." Ask the pros about L&L, who all seem to swear by the place, and they use words like "dependable", "reliable" and "loyal."
L&L stocks an enormous array of chainsaws, blowers, mowers, weed eaters, log splitters, generators, tools, parts, workwear and boots, representing lines including STIHL, Husqvarna, Honda, Briggs & Stratton, Carhartt, Georgia Boot, Danner, and Hoffman's Boots. L&L Master Mechanics service everything the company sells. Customers include municipalities, businesses, government agencies, as well as local families.
When the pandemic hit, L&L introduced contactless service, including pickup and delivery, for customers who wanted it. When business slowed, Star cut back the hours of the 6-person staff somewhat, first taking herself off the payroll, saying "my employees have people to support." But when congress rolled out Economic Impact Payments in April, a lot of folks bought power equipment with their stimulus checks and business at L&L gradually picked back up.
What also helped is that Jake Postlewait, L&L's banker at Oregon Coast Bank, called Star and said that he would submit an application for a Paycheck Protection Program loan. Within just a few days L&L received the funds, which Star used to keep her employees working. When PPP loan forgiveness became available, Jake took care of that too.
So why does a business in Dallas do all their banking at the coast? Star had initially contacted Jake on the recommendation of several of her customers. She loves the service that she receives and the fact that she can talk directly to a bank decision-maker whenever she has banking questions. In fact, she's now referred several of her friends to Oregon Coast Bank, saying "they do business the way we do."
So what's on the horizon for L&L Equipment? "When I finally really retire, my son, Eric Bufka, will take over, then hopefully my grandkids," explains Star. In the meantime, she has plenty of customers to tend to, stories to be shared, and trophies to be hung. And when it comes to taxidermy, Star tells everyone: "If your wife won't let you hang it at home, we'll put it up in the store."
More Stories
Read the story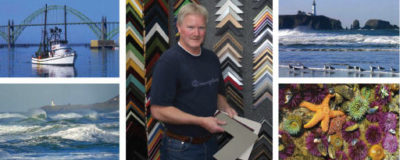 Newport
Chuck Forinash
Think of a classic photographic image of the Oregon coast and chances are it came from the camera of award-winning…
Read the story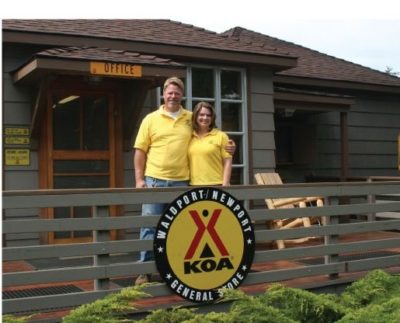 Waldport
KOA – Waldport
The wide smiles rarely leave their faces. Ron and Amanda Remund clearly enjoy raising a family and running a successful…
Back to All Stories