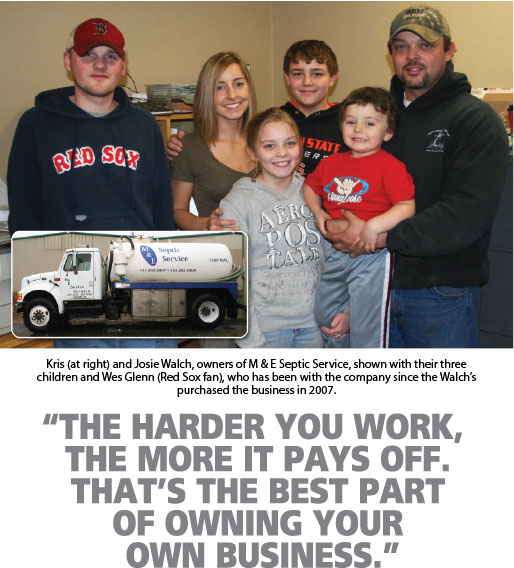 If this story sounds a bit like the American Dream, so be it.  Because in their own way, Kris and Josie Walch of Tidewater are living that dream every day.
The met in Waldport.  Kris and Josie were each conscientious and industrious, which enabled them to find steady employment.  Although they loved living in their small community, they realized that the best way to obtain financial security for their growing family would be to own their own business.  In 2007 they got that chance.
Jerry and Dene Bales, a Waldport couple who have owned several successful businesses, offered to sell M & E Septic Service to Kris and Josie.  Kris had previously worked three years for M & E and knew that it was a sound business.  After studying the financials, the Walches obtained a business loan from Oregon Coast Bank to finance the purchase.
It turned out to be a wise decision.  Despite the slow economy, the business has grown steadily every year, and M & E Septic Service now employs four.  "The harder you work, the more it pays off – that's the best part of owning your own business," remarks Kris.  Josie, who serves as M&E's office manager, explains:  "Owning the business gives us the flexibility to raise our children without day care.  The kids can be with me at the office or I can forward our customer calls to our home and work from there."
Servicing an area from Gleneden Beach to south of Yachats and as far east as Mary's Peak, M & E provides a wide array of septic services to thousands of home and business owners.  "Generally, if your septic is a pump system it needs to be cleaned every 3 to 5 years.  If it's a gravity system, cleaning needs to occur every 5 to 10 years," explains Kris.  "We try to educate our customers so they can get themselves on a schedule and not suffer through septic back ups," adds Josie.  M & E also provides septic inspections as well as snake and jetting services.
Kris and Josie are raising their three children as well as 27 head of cattle and four horses on acreage in Tidewater, which they alternately refer to as "the ranch" and "the money pit".  Kris is an avid hunter and fisherman, while Josie likes to read and run.  As a family, they love to camp but concede that as the children get older they spend more of their recreational time "following the kids' sports".  Josie coaches basketball, Kris coaches baseball and M & E Septic Service is a youth sports sponsor.
Besides their business loan, which they're now close to paying off, the Walches have a residential loan, business and personal accounts at Oregon Coast Bank.  "I just love the small town feel – they're just so friendly and helpful," remarks Josie.  "We've recommended Oregon Coast Bank to quite a few of our friends."
At Oregon Coast Bank we have an enormous amount of respect for small business owners like Kris and Josie.  Yes, over the past few years the economy has been slow, but instead of complaining about a lack of jobs, entrepreneurs like the Walches are creating them.  Call it the American Dream or just plain hard work, but Kris and Josie have built a fine life in a community they love.  That's a story worth repeating.
More Stories
Read the story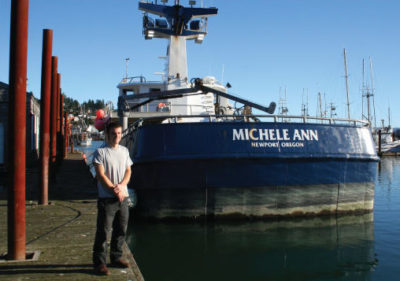 Newport
Poggy Lapham
Born on George Washington's birthday and in the state of Oregon, his parents combined those facts and named him "Georgon"….
Read the story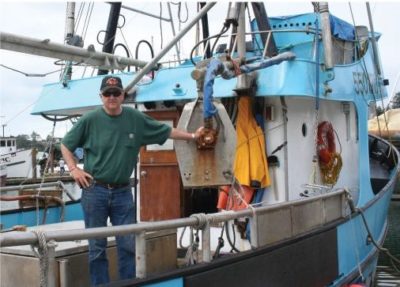 Newport
Jerry Bates
Back in December of 2000 when he sold the assets of Depoe Bay Fish Company, Jerry Bates thought he'd retire….
Back to All Stories