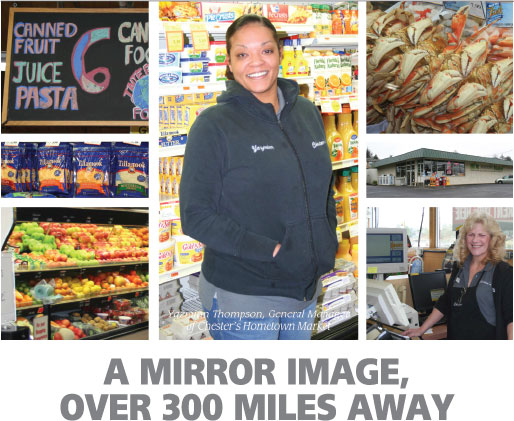 If you ever set out from John Day to Pacific City, give yourself over six hours – it's more than a 300 mile trip.  But that's exactly what Bob and Thad Cowan Thompson do practically every week.
Bob started in the grocery business more than 28 years ago, in his words "working his way up from the bottom" at Chester's Thriftway in John Day.  In 2000 he was able to buy the store from the family that founded it.  These days Bob's son Thad is the store's manager.  In March of 2012 Bob purchased Pacific City's longtime grocery store, renaming it Chester's Hometown Market.  Although they remain separate businesses, the two stores operate as mirror images, both with an emphasis on community involvement and local employment.
Operating under various ownership groups for more than 30 years, the Pacific City market tended to serve as a convenience store.  Local residents would drive 20-25 miles to either Tillamook or Lincoln City to do their weekly shopping.  Bob and Thad were committed to changing that fact and to do so they expanded the inventory, brought in fresher offerings and lowered every day prices.  It took a few months for locals to notice the difference, but soon the store was receiving positive comments on a daily basis and sales had increased by more than 25 percent (which is remarkable considering the lower prices).
"Things have really changed here," comments Yazminn Thompson, the store's manager who shares a last name with Bob and Thad but is not related.  "Extra service is the key to happy customers – we have one lady who we special order a case of a particular dog food for every two weeks."
Stroll through the aisles of the 8,000 square foot store and the first thing that you'll notice is that most customers are greeted by name.  Socializing seems to go hand-in-hand with the shopping, and in Yazminn's words – "the best part of working here is being able to see people you know and care for."
Chester's Hometown Market employs 16, eight of whom are full time.  Perhaps the most familiar is Nadine Anderson, who's been a checker at the market for more than 27 years.  Gesela Marin, who serves as both the butcher and fresh supervisor, has been at the store for over 10 years.  Yazminn, who was promoted to manager about five months ago, has lived in Pacific City for three years and appreciates the opportunity "for a single mom to be able to be general manager of a store".  Like many of its employees and the store itself, Yazminn is very involved in the local community.  She now coaches the high school's girls basketball team.  In fact, pictures of all of Nestucca High School's athletic teams are proudly displayed in season in the store.
Running a grocery store requires considerable interaction with a bank and Bob, Thad and Yazminn have very positive things to say about Oregon Coast Bank.  "Everyone is so nice, it's just such a pleasure doing business with them," explains Yazminn.
All of us at Oregon Coast Bank are elated that our local Pacific City grocery store remains in such capable hands.  After all, we're not just their bankers, we're their customers, too.
More Stories
Read the story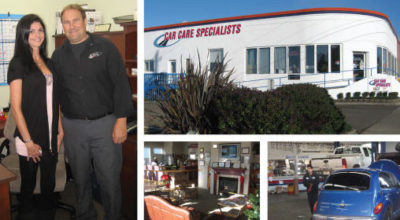 Lincoln City
Car Care Specialists
At the precocious age of 23, Randy Neal opened Car Care Specialists in Lincoln City. At the time, his business…
Read the story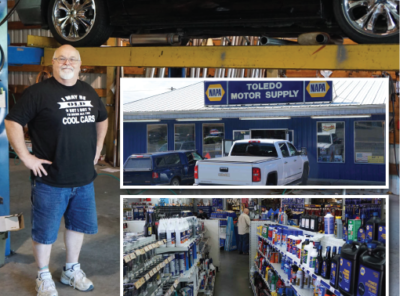 Toledo
Toledo Auto Parts
For more than 40 years NAPA has served the Toledo community. For the past 26 years, Kenny Williams has managed…
Back to All Stories