Call it a love triangle, but to understand the relationship between Diane and Jim Kusz, you have to mention their adopted hometown. Because before they found each other, Diane and Jim had both fallen in love with Lincoln City.
How they both arrived here is in itself interesting. Born in Minnesota, Diane had lived in Arizona, California, Alaska and Washington. She worked for a pharmacy, several credit unions, children's social services, and in shopping center management. Twenty-one years ago, Diane accepted an offer to become Marketing Director of Lincoln City Outlets. She arrived with her daughter and grandson and soon realized how lucky they were to be able to live and work in such a breathtaking locale.
Jim was born and raised on the north side of Chicago, attending school just a few blocks from Wrigley Field. After graduating from Northeastern Illinois University, he began a career in television production, working for WTTW-TV, the Chicago PBS affiliate. He served as Floor Director on the nationally syndicated show "Siskel & Ebert" and also worked on "Soundstage", broadcasting concerts by artists such as Tina Turner, BB King and Aretha Franklin. After several years in California writing curriculum and producing films for the Motorcycle Safety Foundation, Jim returned to Chicago where he produced training films and a motivational series with Chicago Bears football coach Mike Ditka. Eventually his TV career brought him to Portland.
About 20 years ago, while producing the show "Explore Northwest", Jim decided to move to Lincoln City. "That turned out to be the best decision of my life," he says. Not only did he love the area, but, while filming a segment profiling the Outlet Center, he met Diane. Four years later they were married.
In 2006 Diane was named General Manager of the Outlet Center. Currently owned by Singerman Real Estate and managed by Avison Young, the center serves as a magnet for out of town shoppers producing a huge boost for our local economy. In addition to the seven fulltime Avison Young staff members, the center's 60 stores employ close to 500.
As General Manager "every day is different", points out Diane. While much of her time is spent on leasing, marketing, and managing staff, she's also in charge of overseeing things like plumbing, painting and landscaping. Diane believes that she also has a responsibility to her community. She serves on the boards of the Lincoln City Visitors and Convention Bureau and the Central Oregon Coast Association. She's also been active in the Chamber of Commerce, Kiwanis and the Oregon Coast Visitors Association.
Almost immediately after moving to Lincoln City, Jim became a volunteer for Devils Lake Fire and Rescue and very involved with the Water Rescue Team, which he led for seven years. In 2003 he accepted a job with North Lincoln Fire and Rescue and today serves as Public Education, Information and Safety Officer.
In cooperation with several agencies, community sponsors and North Lincoln Fire and Rescue, Jim produced and has regularly presented S.E.T. (Severe Event Training), a 90-minute workshop. He currently teaches "Disaster Preparedness in the Pacific Northwest" for Oregon Coast Community College. Jim has also served on the city council and the Lincoln City Planning Commission. Both Jim and Diane remain active in community emergency preparedness. "I just like the idea of teaching people to be safe for themselves," explains Jim. "I call him the master of disaster," Diane says with a smile.
Now empty nesters, it was a commitment to saving for retirement that brought Diane and Jim to Oregon Coast Bank. "Although we've always had two decent incomes, for many years we seemed to spend as much as we earned," recalls Diane. It didn't help that their former bank was constantly offering them equity loans as the value of their Lincoln City home increased. Eventually, when real estate prices went down, Diane and Jim were saddled with excess debt. They never missed a payment, but they decided that changing to a community bank with local bankers they knew and trusted would be a sound financial decision.
On the advice of Chad Ulrich, Manager of Oregon Coast Bank in Lincoln City, Diane and Jim both began using OCB Anchor Cards instead of their old credit cards. "The Anchor Card tells us if we're overspending," says Jim. They also gave themselves a new rule: "If either of us is considering a purchase of over a hundred dollars, we ask the other first – do we really need it," explains Diane.
Diane and Jim deserve a lot of credit in admitting to themselves that they were spending too much and not saving enough for retirement. As Jim says candidly: "I'm just lucky to have found the girl of my dreams, it's about time we started taking our financial future seriously."
More Stories
Read the story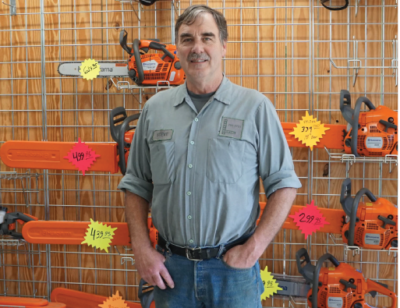 Newport
Newport Rental
Perhaps there is a better day to launch a business than the first of April, but somehow 50 years later,…
Read the story
Waldport
Ona
Reservations spanning three or four days are commonplace in the hotel business. In restaurants, they're unheard of. Except at Ona….
Back to All Stories