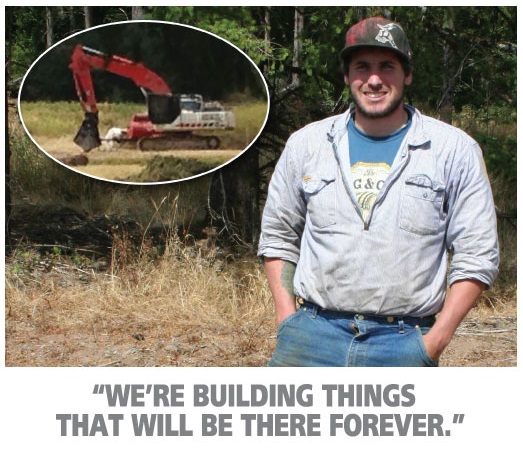 Children are rarely sure of what they want to do when they grow up, but Chris Dials of Tillamook always had a clear picture. He wanted to run heavy equipment. Not just operate it, but own it, employ others, and build things that would last forever.
Chris's mom worked as the office manager for Fallon Logging, and by the time he was in the sixth grade, Chris was given the responsibility of opening the gates of the rock pit. Always, as he puts it, "a numbers person", Chris would study the company's books as he waited for trucks, dreaming about heavy equipment and running the numbers to figure how he could someday operate his own company profitably.
After graduating from Neah-Kah-Nie High School, Chris headed to the Alaskan oil fields to start saving money. Working for BP for five years, he drilled, built roads, and operated a wide array of equipment. The hours were long, but the three weeks on, three weeks off schedule allowed him to return to Tillamook frequently, where he had obtained a contractor's license and was doing excavating work on his own.
With demand for his excavating work in Oregon growing, Chris left BP and devoted his full attention to Chris Dials Contracting. Today the company employs four fulltime, owns six large pieces of equipment, and works steadily building logging roads, performing wetland restoration and slope stabilization.
Large excavating contracts are typically secured months or even several years ahead. Chris Dials Contracting regularly bids on a wide variety of services including projects by the BLM, US Forest Service, Trout Unlimited, Metro and Burlington Northern. The crew travels extensively, working as far away as John Day. Between projects, his staff continues working fulltime performing equipment maintenance. Chris anticipates that within the next year he'll need to more than double his crew.
Financial risk is always a factor when bidding large projects. "This is a competitive business, you always have to keep a close eye on the numbers," says Chris. Operating heavy equipment also requires constant attention to safety, which Chris considers to be their top priority. "You simply don't put yourself in dangerous positions," he explains.
Owning heavy equipment requires considerable capital investment. Between his savings from working in Alaska and project revenues, Chris was able to buy his first five pieces of equipment outright. Earlier this year, he asked his old bank to help finance a Link-Belt 332 Road Builder. Although he was putting 50% down and had the contracts in hand to justify the investment, his old bank was hesitant to make the loan.
Frustrated, he decided to visit our new Oregon Coast Bank Tillamook branch and spoke with Angela Warren, who manages the office. He received the loan that very same day and also set up a line of credit as well at Oregon Coast Bank Online Banking, so that he could manage his accounts with his phone or laptop while on the road.
The photos shown above were taken at a 180 acre wetlands restoration project that Chris Dials Contracting is performing for Metro, the agency that provides region wide planning for the Portland metropolitan area. The fact that a Tillamook based company earned the contract is impressive. It's also the type of project that Chris enjoys most. "We're building things that will be there forever," he explains. Which, recalling his childhood, is exactly what he has always wanted to do.
More Stories
Read the story
North Lincoln Sanitary
Tina and Lon French have never written a management textbook. That's a shame, because in our humble opinion, they should….
Read the story
Toledo
Butter & Lace Bakery
It may not be polite to talk about the odor of a business, but Butter & Lace Bakery in Toledo…
Back to All Stories