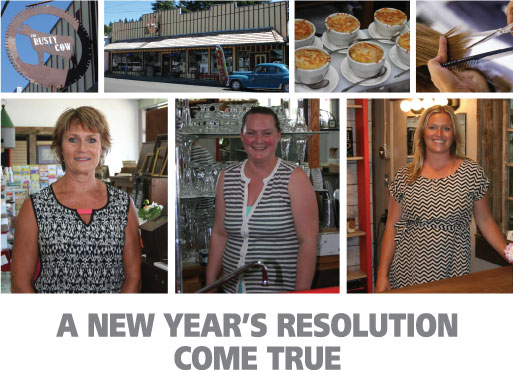 For close to a hundred years, the local pharmacy was the hub of downtown Cloverdale. Sadly, in 2013 the historic pharmacy closed when John and Carol Griggs retired after 37 years of operating the business. There were other empty storefronts in Cloverdale, but because of its size and prominence, the closure of the pharmacy seemed symbolic of a downtown in decline.
"It was my New Year's resolution", says Debbie Hale. "We love Cloverdale and something needed to be done to help it." Of course most New Year's resolutions are soon forgotten for lack of effort; but Debbie, who owns and operates a local dairy farm with her husband Dave, was no stranger to hard work.
Soon Debbie and Dave had purchased the 4200 square foot Cloverdale Pharmacy building. With the help of their daughter, Kelly, and her husband, Josh Armstrong, as well as a few local tradesmen, the Hales spent months renovating the structure. By July, the building had been completely repurposed and three new Cloverdale businesses were open and serving customers.
Debbie and Kelly operate The Rusty Cow, which sells an ever-changing array of vintage antiques including furniture, clothing, quilts, records, and kitchen items. The store is partitioned to accommodate 27 independent vendors, most of which are local. The vendors come in often to add merchandise and freshen their displays. Open seven days a week, The Rusty Cow has already proven to be a hit with locals and visitors.
The Hales were determined to retain some of the building's unique character, which is why the large neon pharmacy sign still greets customers as they enter The Rusty Cow. They also had fond memories of the store's historic soda fountain and recruited Katie Lane to operate it as an independent business.
Now called Katie's Korner, the soda fountain serves breakfast, lunch, espresso and a variety of made-from-scratch treats baked by Katie. At least a dozen dairy farmers come in at 7:30 each morning and gather at the longest table to enjoy breakfast and coffee. Lunches are also busy and Katie's two young daughters often pitch in.
When the sun shines, and even when it doesn't, there's a definite nostalgic appeal to an old fashioned soda fountain. Katie's Korner does a brisk business selling shakes, floats, cones and sundaes all made from locally produced Tillamook ice cream.
The building's third business is a salon, Hair Remedies, owned and operated by Kelly. A long-time popular local stylist, Kelly has an established clientele of more than a hundred, about 40% of which are men. Open by appointment only, including evenings, Hair Remedies also provides facials, hair coloring and waxing.
As if she's not busy enough, Kelly also operates an additional business, Crazy A's Horse Hotel. Located in Cloverdale, although not in the same building, the business provides overnight horse boarding for locals and visitors.
Besides their Cloverdale locations, each of the four businesses mentioned above has one thing in common. They all do their banking with Oregon Coast Bank. Debbie, Kelly and Katie have all known Rose Wharton, who manages our Pacific City office, since childhood. Each has done their personal banking with Oregon Coast Bank for years and were appreciative of Rose's help as they set up their businesses.
Although they all now watch their business balances on their phones and computers, Debbie, Kelly and Katie each enjoy visiting Oregon Coast Bank, if only to say hello. We enjoy their company and are proud to be their bankers.
Apparently there are still people who follow through with their New Year's resolutions. Debbie did and because of her efforts downtown Cloverdale is on the rise again.
More Stories
Read the story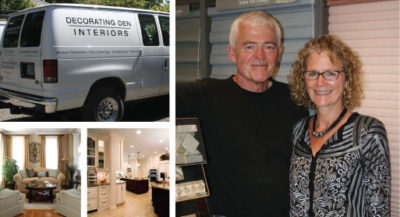 Newport
Decorating Den
Jane and Leland Jincks graduated from Newport High School but moved to the valley when they got married. Leland joined…
Read the story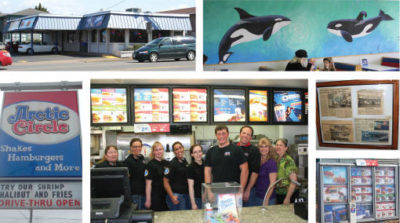 Newport
Arctic Circle
David and Ellen Turner met while attending Newport High School and soon became high school sweethearts. They also worked part-time…
Back to All Stories