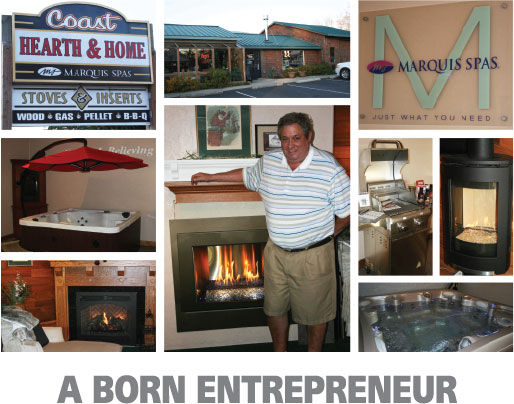 At the tender age of five, Robin Comstock started selling sweet peas to tourists in Nye Beach.  After graduating from Newport High School, he served six and a half years in the Army and then attended Oregon State University, where he studied engineering and computer science.  He's worked in electronics, built log homes and served as a general contractor.  In fact, you could call Robin a born entrepreneur.
About 10 years ago, Robin purchased Coast Hearth & Home in Newport.  At that time the business had been around for about 25 years and was located on Lee Street in Newport.  After operating the company successfully for several years, Robin decided to expand.  Using financing from Oregon Coast Bank, he purchased a larger building on East Olive Street and opened an impressive showroom.
Visit Coast Hearth & Home on a dreary day and it's the warm glow of the fires that first catch your eye.  The showroom displays a wide array of stoves and fireplaces including wood, pellet, gas, propane and electric models.  Robin refuses to carry anything but the highest quality products, such as stoves by Travis and Jotul.  The showroom also displays Sabre barbecues and the popular charcoal burning Big Green Egg.
Many customers come to Coast Hearth & Home to try to reduce their energy costs.  By using a high efficiency stove or insert, a family can heat just their living space, instead of their whole house.  Robin's staff will visit your home free of charge to measure the area you want heated and to recommend the proper unit.  Installation by factory-trained technicians is provided with every sale.  Additional savings are available for cutting energy consumption in the form of rebates from Energy Trust of Oregon.
Serving a wide area from Tillamook to Florence, Coast Hearth & Home often works with customers who live in rural areas beyond utility lines.  In addition, each year the business serves more and more customers who may reside within utility districts, but want to be able to live off the grid.
Although originally just a stove store, Coast Hearth & Home is now also an exclusive dealer for Marquis Spas.  The showroom displays a wide variety of working spas and even has a private dressing room, so customers can bring their bathing suits and actually experience the therapeutic comforts of hot water jets.
As the business has expanded, so has its staff.  The company now employs seven, including Robin's daughter and a grandson who works as an installer.  As an entrepreneur, Robin continues to work long hours, but always with a sense of humor: "I don't have to worry about what to do on vacations and days off."
Robin believes in the importance of community banks.  "It took less than a day for us to arrange the financing with Oregon Coast Bank to purchase our new showroom," he recalls.  "Oregon Coast Bank knew us, we had a good working relationship, and that continues to give us a big advantage."
It's been more than a few years since he first sold sweet peas to tourists in Nye Beach, but Robin's entrepreneurial spirit is still readily apparent.  Through hard work and perseverance, he's built a successful business in his hometown, providing jobs for his family and others.  In fact it's family businesses like Robin's, that continue to fuel our local economy.
At Oregon Coast Bank we appreciate them, welcome the opportunity to serve them, and will continue to provide financing to help local family businesses grow.
More Stories
Read the story
Pacific City
Mike & Margee Loney
Like most kids in grade school, Mike Loney's mind tended to wander. So he drew. Not doodles like his classmates,…
Read the story
North Lincoln Sanitary
Tina and Lon French have never written a management textbook. That's a shame, because in our humble opinion, they should….
Back to All Stories