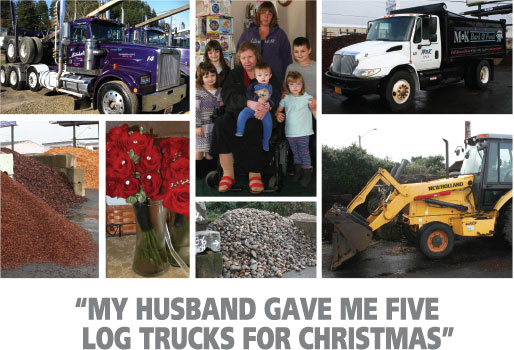 Tonja Mitchell's dad drove and owned log trucks.  So did her grandfather.  After graduating from Siletz High School in 1971, Tonja went to work for her father doing the company's books and dispatching.  Her husband, Kirk, had also graduated from Siletz High School in the same year.  Following graduation he went to work at the Georgia Pacific mill in Toledo.
Kirk never told Tonja that he planned to own a log truck, too.  But in March of 1976, when she was nine months pregnant, Kirk broke the news to Tonja that her dad had helped him buy his first truck.  She told him to stay working at the mill until their child was born, so they wouldn't lose their health insurance.
As enjoyable as it is spending your days in the spectacular scenery of the coastal mountains, driving a log truck does have its drawbacks.  It makes for a long day.  Kirk typically leaves the house by 3 am.  Generally he'll return 15 to 17 hours later.
During the early years, Kirk often had to haul to mills in far away towns like Sweet Home, Chemult or Reedsport.  Those nights he slept in a camp trailer.  In 1982, when logging was virtually shut down, he switched to driving a flatbed on the highway.  That meant even more days away from the family, so he got back to hauling logs and chips as soon as he could.
As the timber industry gradually recovered, Kirk and Tonja decided to expand.  "In 1989 my husband gave me five log trucks for Christmas," laughs Tonja.  They were all chip trucks purchased from her dad.  KT Mitchell Trucking (the "K" for Kirk, the "T" for Tonja) has continued to grow.
Today the company owns and operates 17 trucks, which have become more expensive to purchase every year.  In March of 1976, that first truck of Kirk's, "which was as fancy as you could get", cost $44,000.  Today a bare bones new log truck without a trailer goes for about $200,000.
Besides raising their four children and helping with daycare for their 14 grandkids, Tonja has continued to supervise the KT Mitchell Trucking office.  That's quite an accomplishment for anyone, even more impressive given the fact that she has suffered from multiple sclerosis for 30 years.  It's definitely a family business – the numbers on the trucks represent birthdays of the grandchildren, all of whom can proudly point out which truck is theirs.
In 1993, Kirk and Tonja helped two of their daughters, Missy Endicott and Kimmie Warfield, open another family business, M & K Bark & Floral.  M & K sells and delivers red rock, bark chips, river rock, drainage rock, garden compost, flagstone, blue stone, ledge stone, river loam and sand.  The average delivered load is about five yards of material, but some customers pick it up themselves in their own trucks or even five gallon buckets.
The floral side of M & K includes weddings, funerals and holidays such as Valentine's Day and Mother's Day, but much of the demand is for everyday floral needs including birthdays and anniversaries.  Almost all of the arrangements are delivered.  "We have our regular customers and we'll actually call them if they forget a birthday or anniversary," explains Kimmie.  The customers obviously come first – "It seems like every Valentine's Day we put aside roses in the cooler for mom but end up selling them to someone else."
In his spare time, Kirk has remodeled the family home, several rentals and even helped rebuild Kimmie's house.  "Just don't get him started on a project before elk season," laughs Kimmie.  In fact, taking his grandchildren hunting is truly Kirk's passion.  "The best part of owning your own business is you get to hunt when you want to," explains Tonja.  Kirk also makes it a point to never miss one of his grandchildren's ball games.
They're humble about the fact, but the Mitchell's entrepreneurship has been good for the community.  Including drivers, mechanics and office help, the family's businesses now employ 22, including one driver who started his career working for Tonja's dad.  KT Mitchell Trucking's full time drivers receive both medical insurance and paid vacations.
The Mitchells have been customers of Oregon Coast Bank for more than 10 years now.  "You can't ask for more accessible bankers," explains Tonja.  "Sometimes when we're busy, they'll run loan papers out to the house.  We even know their cell phone numbers, so if we ever need to call them on the weekends we can."
Perhaps owning log trucks, a landscaping supply delivery service and a floral shop seems like an odd combination, but it's not unusual for entrepreneurial families to simply do what it takes to make a living in small towns.  We're proud to be the Mitchell family's bankers and we recognize what an important contribution they make to the community.
More Stories
Read the story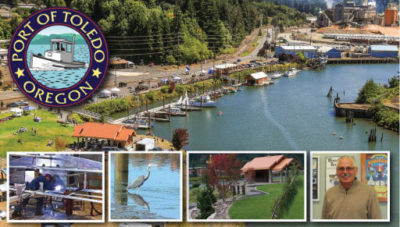 Toledo
Port of Toledo
Originally set up as an economic tool of the state more than a hundred years ago, the Port of Toledo…
Read the story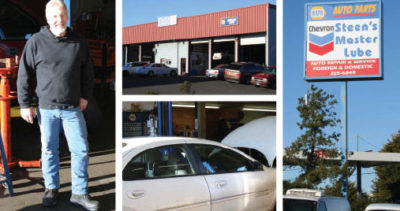 Newport
Steens Master Lube
Always industrious, Russ Harley started working at the local Montgomery Ward's Tire Department while attending high school in Newport.  Soon…
Back to All Stories