Lincoln City Sporting Goods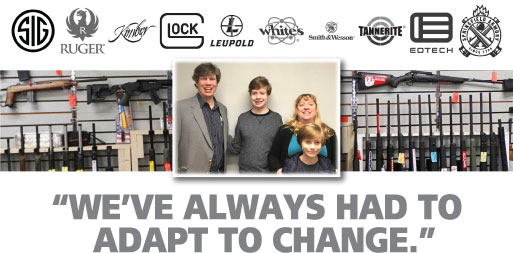 It's no secret. Business owners have had to make extraordinary adjustments to stay afloat during the pandemic. Government officials tell them to simply "pivot". But of course, in reality, it's a far more difficult process.
This is a story about a pair of Lincoln City entrepreneurs who have adjusted to harsh market changes for decades. How? Bruce and Lisa Polvi never complain. When faced with obstacles, they look for new opportunities and adapt. As a result, even during the pandemic, the Polvi's business ventures have emerged stronger than ever.
The son of Oregonians, Bruce was born in Montana. Despite having more than forty OSU Beavers in his family, Bruce chose Washington State University, where he graduated with a degree in Business Administration. He then studied electrical engineering before moving to Salem with the intention of attending law school. During high school and college, he had worked for Radio Shack. In 1990, when a Radio Shack franchise became available in Lincoln City, Bruce decided to forgo law school and buy it.
Lisa grew up in Elmira, in fact her parents still live there. She earned a degree in Physics and Computer Science at the University of Oregon. She then worked as a surveyor for ODOT and in engineering for David Evans and Associates. After dating long-distance for more than five years, Lisa and Bruce were married in 2003. For her, it was quite an adjustment. Becoming an entrepreneur, retailer and landlord was totally different than the world of engineering. But those changes and the marriage have certainly been successful.
If you reread that last paragraph, the most important word is "landlord". That's because from the very beginning, Bruce understood that although his businesses would constantly battle changing conditions, he could build long-term assets by acquiring the real estate that housed his ventures. And by renting to others, he could multiply that advantage.
In 1991, Bruce purchased the former Oregon Willamette Lumber building and land, a prime location on Highway 101 in Lincoln City. By 1992, he'd leased part of that land to a new Burger King franchise. Recently Burger King signed on for a new 25-year lease.
But Burger King isn't their sole tenant. Today, 22 separate businesses lease space in the Polvi's 26,000 square foot Mid City Plaza and 9000 square foot Mid City Center. In addition, Bruce and his brother are currently developing Stetson Business Park in Colorado Springs and have already sold four of the project's thirteen sites.
As we mentioned earlier, the Polvi's ventures have faced some serious hurdles along the way. In 2015, the corporation that operated Radio Shack was facing bankruptcy. Although their local store was still thriving, the Polvi's made the difficult decision to sever their 25-year relationship as a Radio Shack franchisee and rebrand as Lincoln City Sporting Goods and Electronics.
"We've always had to adapt to change," explains Bruce. "Cell phones used to be a huge part of our business – we activated more than 25,000 for Verizon and AT&T. Several years later, they decided to cut out the local franchisees and open their own stores. That was a huge blow. Another example is that after we had sold and serviced thousands of DISH and Direct TV systems, both of those companies changed their dealership models. Again, we had to adapt."
"These days we carry electronics that you can't find elsewhere and we're very well stocked with electronics for emergency preparedness, which is important here at that coast," says Bruce. With a wealth of knowledge gained from his electrical engineering background and more than 40 years of serving customers, Bruce is a great resource, answering a steady stream of electronics questions from his customers each day.
For decades, Bruce had ordered firearms for law enforcement agencies. About ten years ago, he decided that his store's emphasis should switch to sporting goods. Lincoln City Sporting Goods is a federally licensed dealer for some of the most in-demand firearms manufacturers in the industry including Ruger, Smith & Wesson, Sig Sauer, Kimber, Glock, Springfield and EO Tech. The store also stocks and supports Oregon manufacturers like Leupold, Tannerite and White's Metal Detectors.
Lincoln City Sporting Goods is affiliated with local gun safety instructors, performs background checks, and does private party gun transfers, something the chain stores typically refuse to do. "A gun store can be a valuable service to the community," points out Lisa. "We safely sell and transfer firearms for people who no longer need them, such as when spouses pass away, when people go into elder care, or when guns are left at motels."
An interesting aspect of the pandemic is that many people have felt the need to acquire firearms for personal protection. "We've always done a brisk business in guns for hunting and target shooting, but this year, state background checks are up about 35%," explains Lisa. "Those are folks concerned with their safety. 2020 was Lincoln City Sporting Goods' highest volume year ever." Part of that increase was skyrocketing demand for emergency preparedness supplies like dehydrated food, emergency blankets, ponchos, 5-day backpacks and mylar sleeping bags. "Regardless of the pandemic, when you live in a tsunami zone, like most of us do, stocking up for emergencies is always a smart idea," adds Bruce.
The 8-person staff of Lincoln City Sporting Goods and Electronics has more than 150 cumulative years in the firearms industry. "This is a service and knowledge-based business", mentions Bruce. "Our customers choose our store because we can answer their questions and recommend the right products for them." New to the store's staff in recent years are the Polvi's children, Logan and Skyler, who seem to have learned from their parents' work ethic.
It was because of the pandemic that the Polvi's reexamined their banking relationship. "We'd banked elsewhere for decades," explains Bruce. "Yet when we asked our old bank to submit a PPP loan to keep our staff employed during the shutdowns, they were unable to produce. Through his hard work, Jedd, who manages the Oregon Coast Bank office here in town, was able to get our PPP loan done in just a few days. He also successfully guided us through the reimbursement process. We were so grateful that we eventually moved over all of our accounts. Jedd and Oregon Coast Bank earned our business."
More Stories
Read the story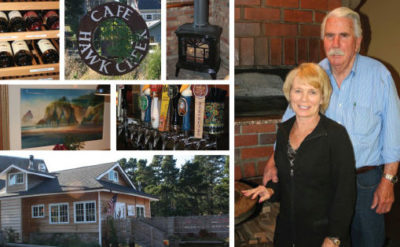 Pacific City
The Cafe on Hawk Creek
Drive around Neskowin and you'll notice a lot of homemade yard signs, all creatively articulating the same thought: "Slow Down". …
Read the story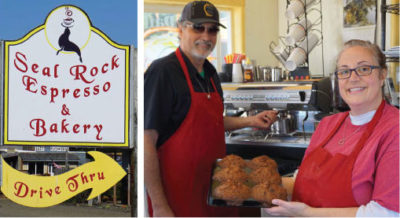 Waldport
Seal Rock Espresso & Bakery
It's certainly not a lack of education that led Edd (yes, that's a proper spelling – his parents were fans…
Back to All Stories