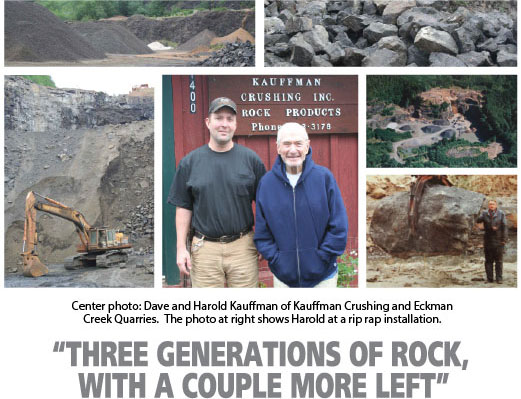 It may sound unusual to describe quarry operators as "stewards of the land", but in the case of the Kauffman family, the description is perfect.  In the late 40's, Larry Kauffman purchased about 100 acres of land on Eckman Creek Road just east of Waldport.  After gaining government approval, he opened Eckman Creek Quarries to mine the local marine basalt.  Crushed to various sizes, that rock has been used for roads, homes, construction projects, rip rap and sea walls from South Beach to Florence.
Larry's son Harold would eventually take over the quarry and expand the business. Harold also was the founder of Kauffman Crushing, which provided mobile services for road building and construction projects a significant distance from the quarry.  When he was ready to retire in 1987 his own son was not old enough to run the business, so Harold decided to lease the quarry to another local company.
About 15 years later, a third generation of the family, Harold's youngest son Dave, had returned home from college and he and his dad decided to reopen the family business.  Eventually Harold retired again, but Dave has now been actively managing the company for more than 10 years.  He remains as strongly committed to the land and his community as his father and grandfather.
"This land has provided our family with three generations of rock with a couple more left," explains Dave.  He feels that part of his responsibility as a quarry operator is managing the environmental impact.  By all accounts he's succeeding.
In 2012, the Oregon Department of Geology and Minerals named Eckman Creek Quarries as its Division II "Outstanding Operation" based on containment, purification and overall operations.  "Our goal is to strive for consistency," points out Dave.  "To be named the best quarry in the state is quite an honor for our community."
With an eye to the future, Dave has already started on his reclamation plan for the quarry.  After "a couple more generations" of serving the rock needs of the community, the Kauffmans envision a park with a pond which will serve as an additional water source for the city.
It's not just contractors who come for rock at Eckman Creek Quarries.  Homeowners will pick up loads in pickups, mini vans, utility trailers and even in 5-gallon buckets.  The quarry is open five days a week from 7 until 4, but if his customers need rock in an emergency or to keep a job going, Dave will open up any time 24/7.  That means that during busy construction seasons, he often works seven days a week and over 12 hours a day.  What does he do in his spare time?  "What spare time," laughs Dave.  He does admit to being a hunter – "to keep good meat on the table, not just for sport".
Besides Dave, Eckman Creek Quarries also employs a secretary and shop mechanic.  As the economy continues to recover, Dave plans to grow the business by purchasing more equipment and employing more people.
Of course adding additional equipment to the company's existing fleet of a main loader, backup loader, cats, off road truck and excavator requires capital, so Dave feels fortunate to have such a good working relationship with Oregon Coast Bank.  "They understand the local economy and treat us as people, not numbers," says Dave.  He also likes the fact that his customers can pay their bills automatically online, a timesaver he uses himself when making payments on his Oregon Coast Bank home construction loan.
Like his father and grandfather, Dave's commitment to the community is obvious.  Kauffman Crushing and Eckman Creek Quarries have indeed been exceptional stewards of the land.  All of us at Oregon Coast Bank would like to congratulate the company for receiving the state's 2012 Outstanding Mining Operation award.  Quarries are a necessary resource for any town.  To have one as community-minded as Eckman Creek Quarries, makes living here all the better.
More Stories
Read the story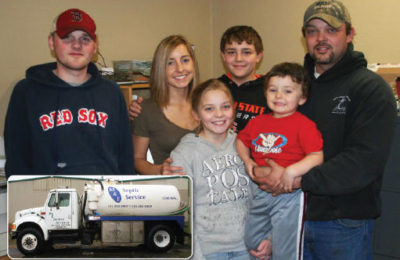 Waldport
M&E Septic Service
If this story sounds a bit like the American Dream, so be it.  Because in their own way, Kris and…
Read the story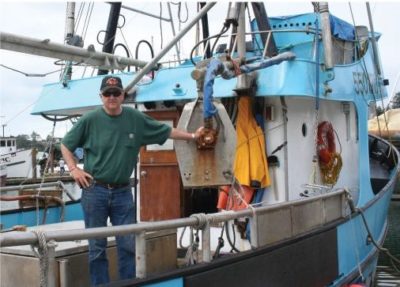 Newport
Jerry Bates
Back in December of 2000 when he sold the assets of Depoe Bay Fish Company, Jerry Bates thought he'd retire….
Back to All Stories