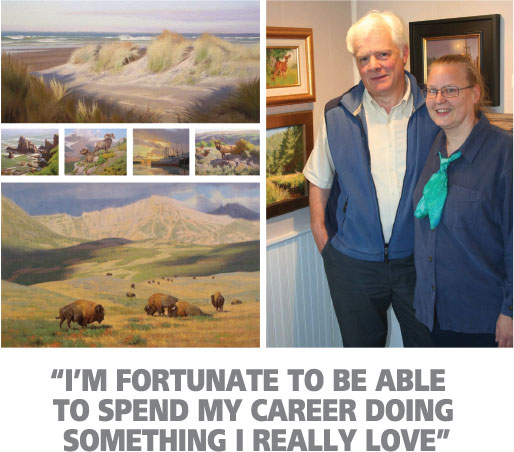 Photos don't do them justice.  To appreciate an Ivan Kelly painting is to gaze at the subtle play of color and light in a museum or gallery.  Collectors often journey hundreds of miles to visit his Toledo studio/gallery; others view his work online at ivankelly.com.
Born and raised on a farm in County Antrim, Northern Ireland, Ivan Kelly immigrated to Canada in 1972.  He lived in British Columbia for more than 20 years and taught himself to paint by closely examining works by the masters, visiting museums, and experimentation.  The landscapes and wildlife of the Canadian Rockies were his first subjects.
Modest and economical with his words, much of what has been published about Ivan Kelly can be attributed to his business manager, his wife of 27 years, Sharon Kelly.  The success of an artist is a full-time business and Sharon's responsibilities include press releases, brochures, flyers, networking and business arrangements.
Because Sharon was raised in Toledo, the couple often visited the area and Ivan soon became enamored with the Oregon Coast as a subject for his paintings.  They chose to move here in 1992 and within a year had built their home/studio/gallery.
By definition, Ivan is a "plein air" artist, which means he captures a moment where it occurs – outdoors in nature.  A signature member of the American Society of Marine Artists, Ivan has also received many awards for his paintings of wildlife.  Ivan and Sharon take extensive trips to paint at locations such as Yellowstone, The Tetons, Utah and New Mexico.  His desire to get as close as possible to his subjects has led to plenty of adventures, such as their camper being stuck in the gridlock of a bison herd on a recent trip.
His subjects vary extensively, but all Ivan Kelly paintings are distinguished by their treatment of light.  "I'm most interested in the mood, or the way the light affects the things I paint," explains Ivan.  On a back shelf in his studio are models he has sculpted of wildlife.  They are not for sale.  Instead he uses them to experiment with light and shadow.
After 40 years as an artist, his paintings still seem fresh.  He attributes his success to "hard work, persistence, setting a high standard and miles and miles of canvas."  Ivan is genuinely grateful to those who collect his art and considers himself "fortunate to be able to spend my career doing something I really love."
At Oregon Coast Bank, we're proud to own and display Ivan Kelly originals at our Newport and Toledo offices.  Despite his widespread fame, his manner remains unassuming and we always enjoy Ivan and Sharon's visits to our bank.  As a business manager, Sharon says "I appreciate the personalized service and we're glad to have a community bank that offers everything the big banks do."  She also mentions that "Oregon Coast Bank online banking sure makes things easy when we travel."
Call it mood, call it the play of light, but there is a special something that makes the works of Ivan Kelly so compelling.  Visit his Toledo studio or view his paintings online and you'll see a vision of the Oregon Coast you may never have considered.
More Stories
Read the story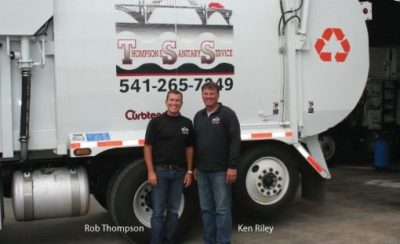 Newport
Thompson's Sanitary Service
Back in 1963, Kenny and Agnes Thompson started Thompson's Sanitary Service with three employees and two dump trucks. Their Newport…
Read the story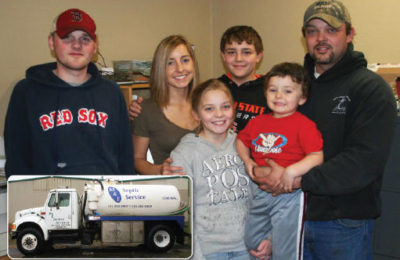 Waldport
M&E Septic Service
If this story sounds a bit like the American Dream, so be it.  Because in their own way, Kris and…
Back to All Stories