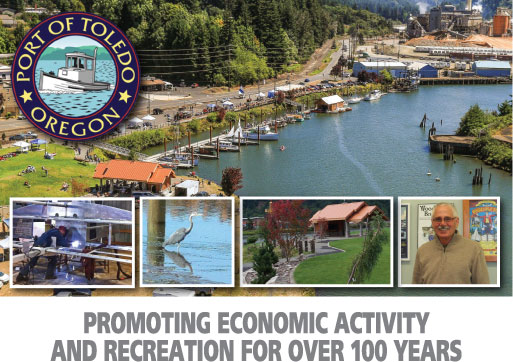 Originally set up as an economic tool of the state more than a hundred years ago, the Port of Toledo continues to be important to our local economy. In addition, it provides facilities and services for recreation on Yaquina Bay.
The name itself is a bit confusing. The Port of Toledo actually encompasses 443 square miles, which includes the cities of Toledo and Siletz, as well as large areas of unincorporated Lincoln County. The Port operates under the direction of a five-person elected board.
Bud Shoemake has served as Port Manager for more than 10 years. Bud first came to Toledo while in the seventh grade. He's been in the army, worked at the mill, built homes, managed the Ross Theater, and served the Port of Newport as Director of Operations and Harbor Master for 15 years. Part of his job is to identify, and get through the hurdles of obtaining the state grants that make the Port's projects economically feasible.
The Port's biggest news lately has been its Yaquina Boatyard haul out expansion, which will provide critical support to Oregon's commercial fishing industry. It recently attracted $4.7 million in state funding. The project increases the boatyard's staging capacity from one 200 ton vessel to nine 440 ton vessels and includes a rail cargo transfer area. "The new boatyard is a game changer for the region and the state," explains Bud. "Eventually 167 long term jobs will be created with an average annual wage of $51,000."
The Port of Toledo owns several industrial properties and extensive developable land. It currently leases to more than 10 private businesses, all of which increase local economic activity and bring jobs to the community.
Most recently, the port attracted Fishpeople, a company which distributes packaged seafood to more than 2000 stores including major chains like Fred Meyer, Safeway and Albertsons. The new Toledo facility uses state-of-the-art nitrogen freezing and waterjet cutting equipment to process sustainably harvested tuna.
The Port provides private boat slips within walking distance of restaurants and shops in Toledo's historic downtown. Transient dock moorage is also available for vessels up to 50'.
The Port of Toledo Boat Launch & Day Use Area includes a launch ramp, docks, parking for vehicles with trailers, restrooms, a picnic area, and a fish cleaning station, all free to the public.
The Port has also developed and maintains three parks for free public use, including wildlife viewing & interpretive signage, protected wetlands, works by local artists, and public structures such as a pavilion, which serves as the main stage for the Port's annual Wooden Boat Show.
The Port's Toledo Youth Boating Club boathouse provides classroom and workshop space for local youth to learn about boatbuilding, maintenance, sailing and seamanship. The Port owns several small boats that are utilized for the program, all have been donated or built in the boathouse.
Today the port employs 15 and continues to grow. Of course the true measure of the Port's economic impact is the private sector jobs the Port's activities have made possible. It is currently estimated that 93 jobs are Port related, with an additional 167 expected as a result of the Port's Yaquina Boatyard haul out expansion.
The Port of Toledo has had a long relationship with Oregon Coast Bank, which provides the Port's checking account and credit line. Bank Vice President Jake Postlewait volunteers as a member of the Port's budget committee. "Oregon Coast Bank understands growth and cash flow," points out Bud. "They've been a great community partner."
Much of the recent beautification of Toledo's waterfront and parks is a result of the Port's efforts. From an economic standpoint, the Port has been vital in providing the infrastructure necessary to increase local jobs. Bud, his staff, and the Port's board of directors continue to make a real difference in our community. All of us at Oregon Coast Bank would simply like to say thanks.
More Stories
Read the story
Lincoln City Sporting Goods
It's no secret. Business owners have had to make extraordinary adjustments to stay afloat during the pandemic. Government officials tell…
Read the story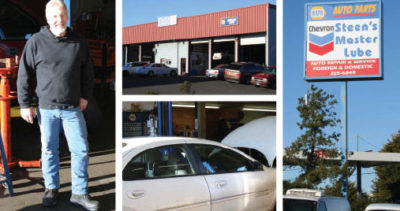 Newport
Steens Master Lube
Always industrious, Russ Harley started working at the local Montgomery Ward's Tire Department while attending high school in Newport.  Soon…
Back to All Stories