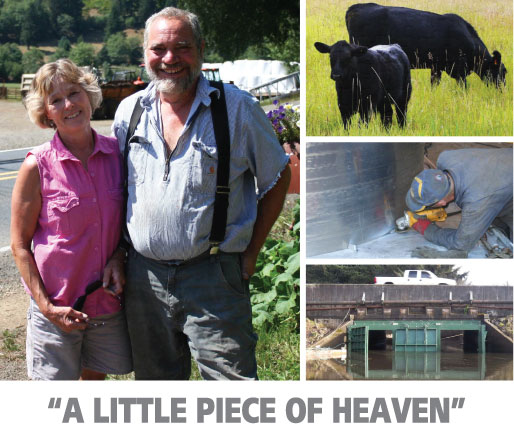 Head up Miami Foley Road, just east of Garibaldi, and you'll find a bucolic 160-acre property owned by Leo and Karen Kuntz. From the road you may get a glimpse of the 80-90 head of grass-fed Black Angus cattle that Karen raises. But most folks don't realize that the property also houses Nehalem Marine Manufacturing, a company Leo founded almost 40 years ago, that is recognized today as a leader in wetland restoration and salmon recovery.
Karen considers herself lucky to live on "a little piece of heaven" and although her work starts before 5 a.m. and often lasts until dark she'll tell you: "It's a wonderful life; I wouldn't trade it for anything." When she's not haying, fixing fences or keeping cattle off the road, Karen somehow finds the time to also do the bookkeeping for Leo's company. Karen's heifers are sold as breeding stock to other Oregon ranchers; her steers and other stock are direct marketed as grass-fed beef to familes in Oregon and Washington.
Leo also uses the term "a little piece of heaven," but to him heaven is in the estuaries that line the Oregon coast. In fact, he's considered to be an expert in getting that habitat working again.
Juvenile Coho grow fifty percent faster in estuaries and are four times more likely to return there as adults. Unfortunately the traditional culverts that connect to the estuaries are far from "fish-friendly".
Nehalem Marine Manufacturing's mission is to provide the highest level of wetland restoration allowable while still recognizing present land use. Simply put, farms and existing commercial development do not have to be removed for an adjoining estuary to return to health. Leo refers to his company's work as "compatible restoration".
A former commercial fisherman, Leo introduced boat building technology into the restoration industry. Nehalem Marine Manufacturing developed, patented and has installed hundreds of tidegates in three states. Built of marine grade aluminum, the company's tidegates are fish-friendly, dependable and also are used for flood control. "A quality tidegate can open the doorway to restoring an entire watershed," explains Leo.
With four fulltime employees at the manufacturing facility and many other workers hired for installation projects, Nehalem Marine is an important local employer. Besides manufacturing tidegates and tidegate regulatory accessories, the company also does culvert, levee and buoy repairs, as well as related road and small bridge construction.
Karen has known Rose Wharton, who manages our Oregon Coast Bank Pacific City office, since they were children. But she also has good things to say about our entire Tillamook and Pacific City staffs. "It's so nice to walk in the bank and be called by name; we feel like we're part of the family at Oregon Coast Bank," she says. "It's important to have a good relationship with your bankers," adds Leo.
Karen is right. Live on a farm at the Oregon Coast and you get to share "a little piece of heaven". But those farms and our other coastal businesses can co-exist with healthy estuaries. Leo's vision of fish-friendly tidegates and compatible restoration is working.
More Stories
Read the story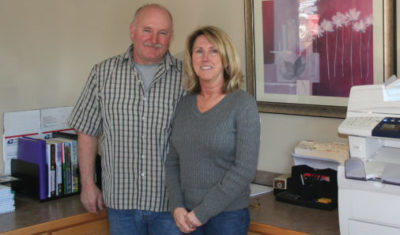 Lincoln City
Kauffman
You could say that excavating is in his blood. Dan Kauffman's father operated a quarry and was known for his…
Read the story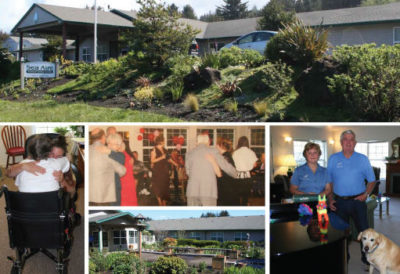 Waldport
Sea Aire Assisted Living
Stroll through the halls of Sea Aire Assisted Living in Yachats and everyone seems to be smiling. Hugs are a…
Back to All Stories