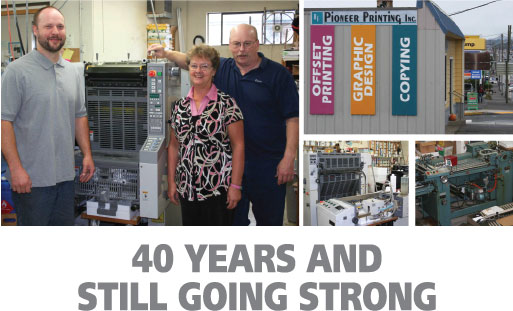 There's no question that technology has changed the printing business.  When Dave and Carol Shank first opened a printing shop in Newport back in 1973, much of the work was done manually.  Today, computers and high tech presses have revolutionized the industry.  The internet has reduced reliance on the printed page.  An estimated half of the nation's print shops have closed their doors.  Yet after 40 years, Pioneer Printing of Newport continues to thrive.
To understand Pioneer Printing's success requires an understanding of Dave and Carol.  Dave grew up in Corvallis, graduated from Western Mennonite, a boarding school in Salem, and then worked at a local print shop.  Carol grew up on a farm in Gervais and also graduated from Western Mennonite, but they didn't know each other since she first attended the school the semester after Dave had graduated.  Years later, they were introduced through Mennonite circles, met at a basketball game, and five months later they were married.
In 1973, Dave and Carol became the managers and only employees of Pilgrim Printing in Newport.  Within two years they had purchased the business and eventually changed the name to Pioneer Printing.  At that time they had a simple business philosophy.  "Our goal was to provide quality and service at a reasonable price," says Dave.  "We believed that combination would encourage people to come back."  He was right.  Customers were pleased with the quality, appreciated being able to work directly with Dave and Carol, and knew that they were getting very competitive prices.  So they remained loyal, year after year.
Even if you just have a vague idea, Pioneer's graphic design department can show you what it would look like in print.  The company has an excellent reputation for printing brochures, business forms, flyers, envelopes, business cards, newsletters, mailers, banners and posters.  Special requests are an almost every day occurrence.  If you want your business card cut in the shape of your delivery van, they can handle it.  The company even typesets, prints and binds entire books.  Pioneer Printing is also well known locally as the publisher of tide books, which are purchased by local businesses and distributed to area visitors bearing the businesses' logos.
One reason for Pioneer Printing's longevity is that Dave and Carol have adapted to and invested in new technology.  Forty years ago printing was done primarily in one or two colors, or simply black and white.  As full color printing became the norm, Dave and Carol studied the technology and invested in the necessary equipment.  Today the combination of Pioneer's high tech presses and advanced digital copiers allows local businesses to obtain full color, high quality printing in both small and large quantities.  Evolving technology has had another advantage – printing prices today are often less than they were decades ago.
With an eye toward sustainability, Pioneer Printing uses Eco Soy based inks, chemical free printing plates, and offers its customers the option of printing on recycled paper.  The company has also planned to sustain itself for at least another generation.  Tim Shank, one of Dave and Carol's two boys, began working for the family business while he was in the 8th grade.  After graduating high school, he spent two years as a builder, and then decided to follow in his parents' footsteps.  Now 34, Tim has the experience necessary for Dave and Carol to feel confident that they can successfully pass on the business to him when they retire in three years.
How they handle retirement may be a more difficult question.  Working long hours has become a way of life.  Dave and Carol admit that they haven't had a real vacation together for 13 years.  When not working, Dave has a preference for archery, Carol likes garage sales, and they enjoy camping as a couple.  Much of their spare time is spent with their two grandchildren and helping with church activities.
Although over the years the printing industry has become less labor intensive, Pioneer Printing still accounts for six jobs in the local economy.  The company's employees tend to be long term, in fact one Pioneer staff member has been on the job for 29 years.
Dave and Carol have been customers of Oregon Coast Bank since we first opened and have had a banking relationship with a few of our managers for many years before that.  Carol loves the fact that when she walks into Oregon Coast Bank "everyone seems to recognize you."  As the industry has evolved, the price of printing equipment has sky rocketed, so a strong banking relationship is important to print shop owners.  "Just about every piece of equipment we have, the bank has financed," explains Dave.  The relationship is reciprocal.  In fact, if you'd like to see examples of Pioneer Printing's work, just visit any office of Oregon Coast Bank and see our business cards, brochures, fliers and letterhead.
Forty years of longevity in any business is noteworthy, but to succeed for that long in an industry as volatile as printing is a special achievement.  Advertising is often filled with claims of quality, service and reasonable prices.  As typical as that may sound, it's a difficult combination to actually deliver.  Dave and Carol have always taken those business fundamentals seriously, which is why 40 years later Pioneer Printing still plays an important role in our community.
More Stories
Read the story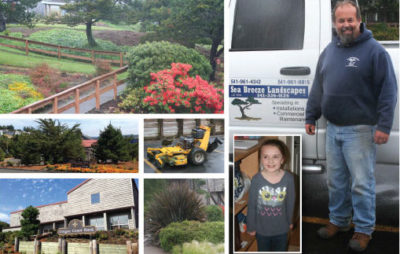 Newport
Sea Breeze Landscapes
Rob Vevers and David Adams first worked together at another landscape company.  Between them they have more than 70 years…
Read the story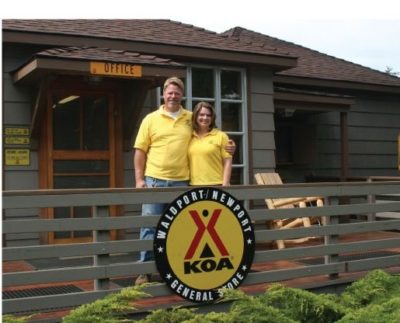 Waldport
KOA – Waldport
The wide smiles rarely leave their faces. Ron and Amanda Remund clearly enjoy raising a family and running a successful…
Back to All Stories