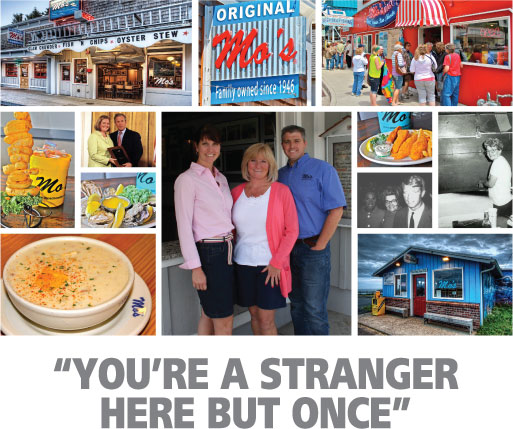 For more than 65 years, Mo's restaurants have been virtually synonymous with the Oregon coast. The story begins in 1940, when Mohava (Mo) Niemi and her dad bought the Bay Haven Inn on Newport's bayfront. In 1946 they sold the tavern and Mo joined her friend Freddie Kent to start a café called "Freddie & Mo's". A few years later when Freddie became ill, Mo purchased her friend's interest in the café and shortened the name to the now familiar "Mo's".
Call her crusty and colorful, but Mo had a big heart and a warm hospitable personality. The "little joint on the waterfront" soon became popular with the local fishermen, generations of visitors, even the rich and famous including Governor Tom McCall, Senator Robert Kennedy, Senator Mark Hatfield, Paul Harvey, Henry Fonda, Paul Newman and Joanne Woodward, to name just a few.
Because the line of people waiting for tables typically spilled out the front door, Mo's Annex was added in 1968, right across the street. In 1972 Mo's West at Devil's Punchbowl in Otter Rock opened. By the late 70's and early 80's, Mo's had expanded to Lincoln City overlooking Siletz Bay, Florence on the Siuslaw River, and to Cannon Beach overlooking the ocean.
Although she didn't receive her first paycheck until the age of 12, Cindy McEntee began working at her grandmother's restaurant at a much earlier age. Within months after Cindy's high school graduation, Mo hired a business education company to teach her granddaughter restaurant management. That arrangement lasted just a short time until Mo decided that she should be the one to teach Cindy the ropes.
Cindy continues to head the family business today, but with a great deal of help from her daughter Gabrielle and son Dylan, who each began working at Mo's part time while in high school and then returned upon graduating from college. It's interesting to note that the Newport BPW voted Mo as "Business Professional Woman of the Year" in 1978, while Cindy received the same award in 1987 and Gabrielle in 2005.
A big part of Mo's family atmosphere is the company's family of employees, which averages 90 during peak times. With benefits including a retirement plan, major medical insurance and HSAs, Mo's employees tend to be long term; some have been with the company for more than 30 years.
While classics like fish & chips and oyster shooters remain best sellers, Mo's has updated their menu in recent years, adding popular items like fish tacos, seafood cioppino and shrimp skewers alfredo. It is however Mo's Clam Chowder that has made the restaurant famous. Mo's Chowder Factory produces about a half million pounds of the delectable concoction a year, some for the restaurants, some which is shipped as fresh chowder base (for grocery stores, internet sales and charitable fundraisers) and some which is canned and sold in grocery stores throughout the west. The company also offers its own cans of troll-caught albacore tuna.
When asked the secret of Mo's success, Cindy, Gabrielle and Dylan mention three of the family's business philosophies. "Our customers know what to expect, we take very good care of them and we keep our prices low." They also point out the importance of being active in the local community. Among her many civic contributions, Cindy has served on the Newport Urban Development Committee, the Chamber Board, the original Performing Art Center Board and spent almost eight years on the city council. Gabrielle served on the Children's Advocacy board, was active in Altrusa International, and is the current chairman of the Destination Newport Committee. Dylan has been a Boy Scout leader and continues to coach youth baseball, softball and basketball.
Cindy is also a founding member of Oregon Coast Bank's Board of Directors and currently serves as chairperson. With accounts for their restaurants, commercial real estate holdings and families, we have the pleasure of seeing Cindy, Gabrielle and Dylan quite often. However as Oregon Coast Bank has offered more and more electronic capabilities, Mo's has been an early adapter. Using iPhones, iPads and their laptops, Cindy, Gabrielle and Dylan are able to manage their finances remotely, even during vacations abroad.
If you've never experienced Mo's, we urge you to – the restaurant's success is for good reason. But what will impress you most is the hospitality, for in Mo's own words, "You're a stranger here but once".
More Stories
Read the story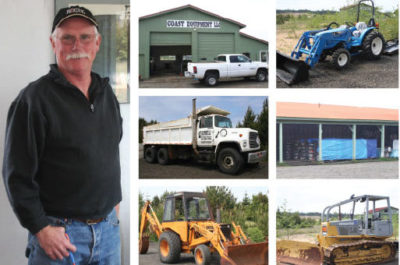 Waldport
Coast Equipment
Have a seat in Bob Conway's office and the first thing you'll notice is his beautiful rustic hickory desk.  Where…
Read the story
Pacific City
Moment Surf Company
With a near constant line at their Pacific City restaurant's takeout window and a thriving surf shop next door, it's…
Back to All Stories