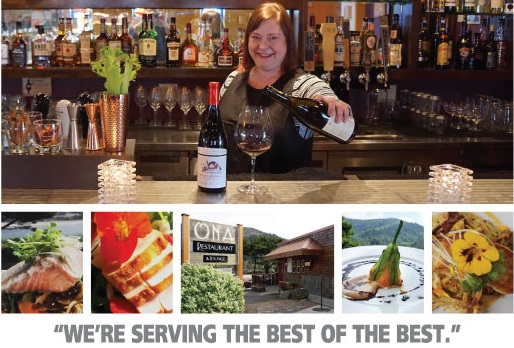 Reservations spanning three or four days are commonplace in the hotel business. In restaurants, they're unheard of. Except at Ona. Over the past decade, the acclaimed Yachats restaurant has become so popular that customers will call months in advance of their visit to the coast to reserve a table for every night of their stay.
To understand the phenomenon of Ona requires an understanding of the restaurant's founder, owner and executive chef Michelle Korgan. A graduate of Whitman College with a degree in theater, Michelle came to the coast in 1998 to help manage Heceta Lighthouse Bed & Breakfast, a Yachats landmark that her parents were restoring and operating under a long-term US Forest Service lease. Falling in love with the B&B, she stayed and eventually purchased the business from her parents in 2003. We'll examine that property in detail in a subsequent article.
The name Ona was inspired by the native Chinook language, and roughly translates to mean shellfish. When she first opened the restaurant in 2010, Michelle termed the relaxed atmosphere "comfortable fine dining", a chance to enjoy exceptional fare without having to dress up. Overlooking both the Yachats River and the Pacific Ocean, the views can be spectacular, but it's the cuisine that has earned Ona its stellar reputation.
The mantra "Locally Sourced, Globally Inspired", which headlines the restaurant's website, captures the essence of Ona's menu perfectly. Fresh seafood comes from the local fleet. Michelle individually selects all the produce, which is sustainably grown by local farmers. Even the wine list is carefully curated from small northwest vineyards. "We're serving the best of the best," points out Michelle. Each dish on the menu has a unique twist, inspired by Michelle's extensive travels throughout Japan, Italy, South East Asia and the surrounding Pacific Northwest.
Ona's Dungeness crab cakes received national recognition after winning USA Today's People's Choice Award. The Albacore tuna is seared rare and accented with smoked maitake mushrooms. Tagliolini egg ribbon pasta is served with seasonal seafood and baby spinach in a saffron cream sauce. Even Ona's burger is remarkable – Wagyu beef topped with tomato jam, fresh greens, and a smoky paprika sauce on a brioche bun.
The restaurant offers seating in the dining room, the lounge, or outside on Ona's covered and heated patio. All menu items are also available for take-out. Depending on the season, Ona employees 20 to 45 people. Staff members enjoy the atmosphere and tend to be very loyal; most have been with Ona for years.
"I grew up entertaining – Ona is my perfect expression of that," explains Michelle. But her relentless pursuit of culinary excellence carries a price – "I typically work 60 – 80 hours each week," she admits. "The rest of my time is devoted to my children, so in my few hours of spare time I sleep."
Covid restrictions were devastating to restaurants. Even the most popular establishments, such as Ona, had to face severe economic challenges. When her longtime bank was slow to file the necessary paperwork for a federal PPP loan for Ona, Michelle began to worry. On the advice of her brother, she contacted Linda Eriksen, who manages our Oregon Coast Bank Waldport office.
"Linda really came through for us," remembers Michelle. "It's obvious how much she cares about her customers and the community." In just a matter of days, Linda completed the loan documents and Ona received the funding. A few months later, Linda helped Michelle successfully qualify for the loan's forgiveness clause.
Despite the pandemic, Ona's volume is again on the upswing. Oceanview patio tables go quickly and the dining room is often filled to state-mandated levels. As usual, Ona's patrons are a casual mix of locals and visitors. Even the foodies are back, some traveling hundreds, even thousands of miles to experience Ona's celebrated cuisine. The proliferation of social media has made certain restaurants, must-visit destinations. Ona is certainly one of those. Yet as enticing as Ona's food looks in photos, it's even more extraordinary on your fork.
More Stories
Read the story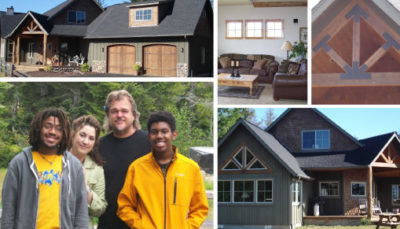 Waldport
Spruceridge Homes & Design
Michael Schlosser learned about hard work at an early age. His parents and three siblings were migrant workers, traversing the…
Read the story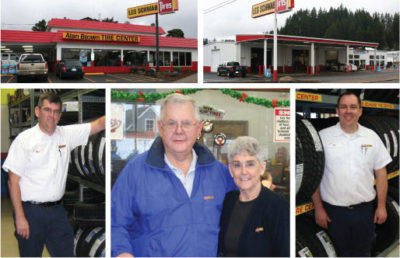 Newport
Alan Brown Tire
Back in 1972, Alan and June Brown were raising four children on Alan's salary from the highway division, an amount…
Back to All Stories