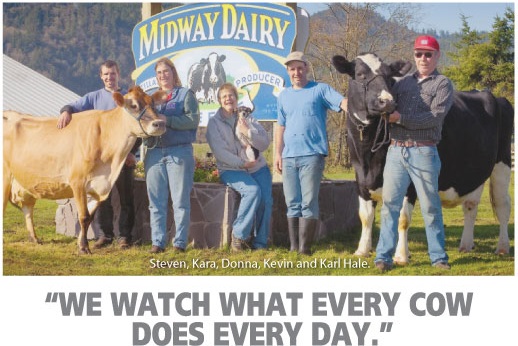 Karl Hale grew up on a farm, learning to milk with a bucket and stool. Thirty-seven years ago, Karl and his wife Donna brought their family north to operate a 73 acre dairy near Cloverdale. Back then, getting 50 pounds of milk a day from a cow was considered excellent. These days, Midway Dairy has increased the production of their cows by more than 50%, becoming a nationally known breeder of Holsteins in the process.
Today, Midway Dairy is a much larger operation. Through acquisitions, the farm's footprint has increased to 191 acres. Two additional pieces of land are leased. About 300 cows are milked each day, with an additional 450 of "young stock" to be cared for.
Now in his seventies, Karl claims to be "slowing down", yet he still actively runs the operation. As business owners, the Hales are fortunate. Their children Steven and Kara each decided to make the family dairy their career. A third child, Kevin, works at the Tillamook County Creamery Association, of which Midway Dairy is a member.
It's not that the kids didn't have options. Steven was the valedictorian of his high school class and Kara studied Dairy Science at Oregon State University. Having additional family members to manage the farm is a big advantage. "One of us can be here at all times," explains Steven.
An additional five fulltime employees are needed to operate the farm, one of which has been with Midway Dairy for more than a dozen years. There are now six dwellings on the property –Karl and Donna's original farmhouse, Steven's home, Kara's home, and three houses for the staff.
The magazine "Holstein World" is considered the bible of the industry. So when a Midway Dairy cow made the cover in 2010, it brought valuable exposure to the operation. "We just sold a cow to Iowa," says Karl. "We've worked hard at it, but Midway Dairy has become a respected bloodline."
"You have to like what you milk," points out Kara. The Hales have actually set aside a portion of family property where they have buried some of their favorites, including a cow that Kara raised which produced more than 400,000 pounds of milk before retirement.
The Hales appreciate the beauty of the farm and the recreational opportunities it offers. "We're right on the Nestucca, with ducks in the fields, deer and elk in the yard, and trout in the pond," says Karl. "That's not a bad way to live."
What may set Midway Dairy apart is the Hales' willingness to invest in dairy technology. The milking parlor is a high-tech marvel. Each cow wears a transponder which connects to computers in the dairy office. That information can also be monitored through their smartphones or iPads.
"We watch what every cow does every day," explains Kara who spearheaded the project. "We're not just measuring a cow's output; we're watching all of its activity, including rumination." Using microphones in the transponders, the program monitors how often each cow chews its cud. "That helps us optimize feed," says Kara. "For breeding purposes, we can even project when a cow will be in heat."
The Hales have made their investments in dairy technology with the support of Rose Wharton, the manager of our Oregon Coast Bank Pacific City office. "We're not just a number, Rose knows us and our operation," explains Karl. Besides their personal accounts, the Hales utilize an Oregon Coast Bank credit line for Midway Dairy. The bank also recently financed a line of Jersey cows that Kara has invested in.
When it comes to evaluating the cost of dairy technology, the Hales are pragmatic. "Yes it's expensive, but we're raising productivity and cutting our maintenance costs in half," explains Karl. They also know the value of maintaining a healthy herd. As Kara says: "every cow counts."
More Stories
Read the story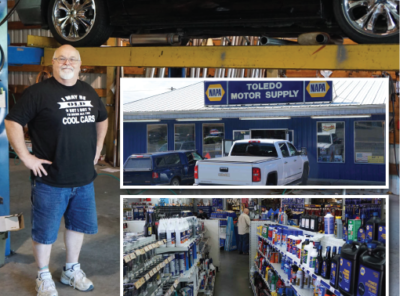 Toledo
Toledo Auto Parts
For more than 40 years NAPA has served the Toledo community. For the past 26 years, Kenny Williams has managed…
Read the story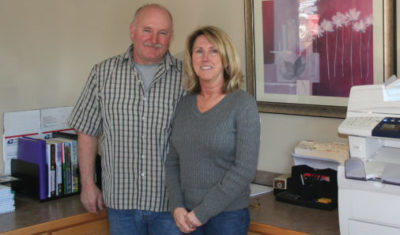 Lincoln City
Kauffman
You could say that excavating is in his blood. Dan Kauffman's father operated a quarry and was known for his…
Back to All Stories