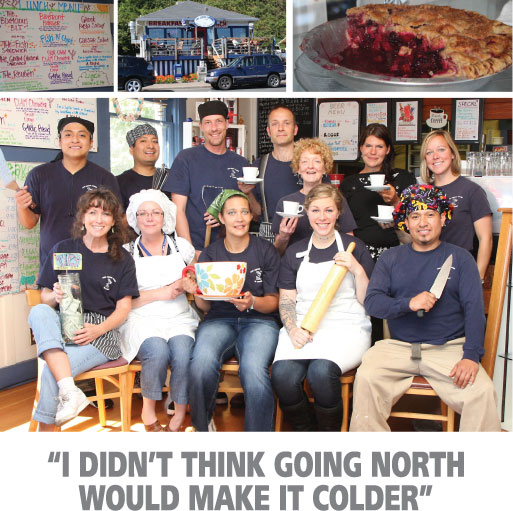 Her accent is obvious, but it's her story that is even more fascinating. Judith Lingham grew up outside Melbourne, Australia, earned a degree in youth counseling and started her career working with homeless adolescents. About 14 years ago, while en route to London, she stopped in California for a three-day Disneyland vacation. During her visit to The Magic Kingdom she fell in love with America and the friendliness of the people she met. Quickly Judith cashed in her ticket to England and boarded a Greyhound bus to the San Francisco area.
Her goal was to open a coffee shop in Sausalito, but her budget was too small. Friends told her that prices were less along the Oregon coast, so she took a two-week trip looking for a business to buy. Finding one to her liking on Newport's historic bayfront, she quickly remodeled it and opened The Coffee House in 1998.
Soon came a snowstorm that burst pipes in her back yard. As an Australian "I didn't think going north would make it colder," she laughs. But despite the setback she loved Newport, particularly the folks who lived there. "I felt very welcome," she remembers. "Even if they weren't buying coffee, people came in just to say hello." They also told her that besides coffee she should be serving breakfast. Within a few months The Coffee House began offering a complete breakfast menu and word of her amazing big and fluffy omelets and homemade biscuits had spread.
With a line out the door during breakfast hours, adding a lunch menu was a natural progression. The Coffee House's sandwiches are served on freshly baked focaccia bread and customers regularly request the recipe. The fish and chips also have a devoted following from visitors and locals alike.
Ask Judith what the best part of owning a restaurant is and she'll say, "I love the customers, they always have a story." Of course after sharing a little bit about themselves, customers inevitably want to know about Judith and her accent. Australians, like the British, are naturally reserved in talking about themselves. "I've had to learn that it's okay to reveal a little about myself – I admire how open Americans can be."
Operating a restaurant means a crises a day with equipment, deliveries and staff. "It's a challenge to make it all work," points out Judith. Judging from the constant stream of business and the smiles on customers' faces, it's apparent that The Coffee House is a well-run operation.
As an Australian, Judith naturally avoids the spotlight – in fact, we couldn't even take her picture unless we promised to include her staff (that's Judith with the curly hair close to the center). During the busy summer season, The Coffee House employs eleven and Judith gives them all the credit for the restaurant's continued success.
Judith and The Coffee House have been customers of Oregon Coast Bank for more than 10 years. "They always recognize me by name and I always feel welcome," she explains. "You can actually feel the difference at a local community bank."
Fourteen years of success as an independent restaurateur is quite an accomplishment and Judith and her staff deserve an enormous amount of credit. Exceptional food and customer service have made The Coffee House a bayfront landmark – we're proud to be their bankers and lucky enough to be within walking distance.
More Stories
Read the story
Lincoln City Sporting Goods
It's no secret. Business owners have had to make extraordinary adjustments to stay afloat during the pandemic. Government officials tell…
Read the story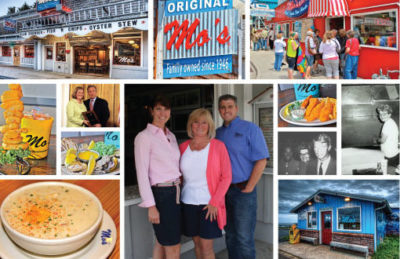 Newport
Mo's
For more than 65 years, Mo's restaurants have been virtually synonymous with the Oregon coast. The story begins in 1940,…
Back to All Stories