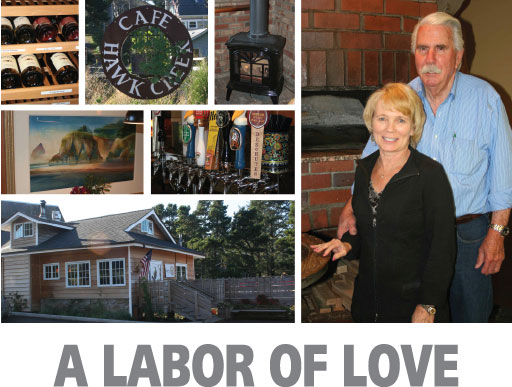 Drive around Neskowin and you'll notice a lot of homemade yard signs, all creatively articulating the same thought: "Slow Down".  From a traffic standpoint the meaning is clear, but the message is also a philosophical one.  The pace of life is a little slower in Neskowin.
When Genie and Frank Ullrich first moved to Neskowin 17 years ago, part of the attraction was that pace of life.  They especially loved the local cafe, where neighbors would linger to catch up on the day's events.  It seemed like Neskowin and its cafe were inseparable.
Over the ensuing years the cafe was operated by several owners, but in 2012 it closed.  Recognizing how much it meant to the community, Genie and Frank purchased the business last April.  Using local tradespeople whenever possible, Frank and his son completely remodeled the building.  By the end of June, The Cafe on Hawk Creek was reopened.
Business was immediately brisk.  The town was packed with summer tourists and so was the cafe.  But it was the locals who seemed the most appreciative.  Although officially open from 8 am to 9 pm, the neighbors would typically continue their conversations on the cafe's new deck until at least an hour after closing.
With its prime location next to the creek and views of Proposal Rock, the deck quickly became the most desirable seating area.  But if you dine inside, it's the tables you'll first notice.  Frank built them himself of solid quartersawn white oak with ebony inlays.  The walls are paneled in cedar and display original works by local artists Michael Schlichting and Ken Dust.
The menu is varied with an emphasis on local seafood.  Five different entrée salads are popular, each served with the cafe's signature rustic bread.  A variety of pizzas all start with fresh dough and homemade sauce, and then are baked in a wood fired brick oven.  The wine list is extensive, including a wide variety from Northwest vineyards.  Oregon microbrews are among the 10 beers on tap.
Owning a restaurant is a serious commitment of time.  "You have to be here if you expect things to run smoothly," says Genie.  Generally, either she or Frank are at the restaurant seven days a week, but both enjoy interacting with their customers.
The Ullrichs have high praise for their staff, recognizing how difficult it is to operate a cafe that often has a line of customers waiting out its front door.  From an economic standpoint, the cafe has been a benefit to the communities of southern Tillamook and northern Lincoln counties.  Eighteen more people are now employed.
In reopening The Cafe on Hawk Creek, Genie and Frank utilized local businesses whenever possible.  They also chose a local bank, Oregon Coast Bank.  "They're friendly and very accommodating," explains Genie.  "That's why Oregon Coast Bank is so nice to do business with."  She enjoys visiting the bank, but admits to using Oregon Coast Bank's Online Banking when she's just too busy or needs to do her banking after hours.
Genie and Frank call it "a labor of love", but we'd like to thank them for reopening The Cafe on Hawk Creek.  With miles of pristine beach, a memorable landmark in Proposal Rock, and a relaxed pace of life, Neskowin does have a lot to offer.  But it's hard to imagine the town without its cafe.
More Stories
Read the story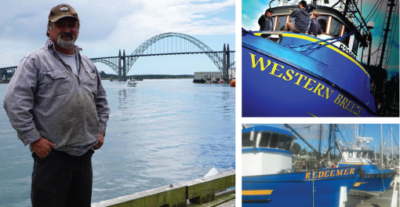 Newport
Gary Ripka
"I grew up in a home where hard work and competition were considered good things," says Gary Ripka remembering his…
Read the story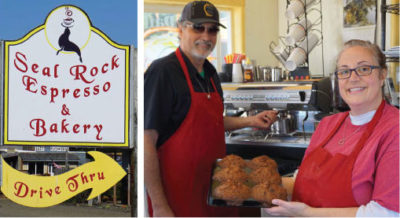 Waldport
Seal Rock Espresso & Bakery
It's certainly not a lack of education that led Edd (yes, that's a proper spelling – his parents were fans…
Back to All Stories