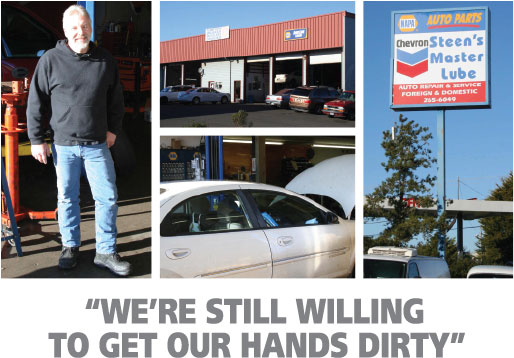 Always industrious, Russ Harley started working at the local Montgomery Ward's Tire Department while attending high school in Newport.  Soon he was buying, rebuilding and selling cars on his own, often borrowing the initial purchase price from his local community bank.  After graduating high school he served in the Navy and then spent 17 years fishing in Alaska.
In 1997 Russ returned to Newport permanently and opened Steen's Master Lube, a Napa Auto Care Center just off Highway 20.  In those days it was just Russ and another employee, but word soon spread that they were skilled mechanics and business began to grow.  "We worked on the good, the bad and the ugly," laughs Russ.  "We still do."  It wasn't just family cars they worked on, businesses and government agencies also brought their fleets to Steen's for maintenance and repair.
In 2008, the Oregon Coast and most of the country, plunged into a recession.  But for Steen's Master Lube, hard economic times had the opposite effect.  Instead of purchasing new vehicles, many families and companies became cautious and chose to hang on to older vehicles.  Business at Steen's Master Lube almost tripled and has continued to grow ever since.
You could call him a bit of a numbers guy, because Russ pays a lot of attention to the data on his company's computer system.  That's why he can tell you that local families are maintaining and hanging on to their cars longer.  "Seventeen years ago the average mileage on the cars we worked on was about 60,000," explains Russ.  "These days it's more than 160,000."
Another interesting statistic is that the average customer of Steen's Master Lube has been bringing their vehicles to Russ and his team for more than five years.  "We're different from most shops," comments Russ.  "When someone comes in with a Check Engine Light on, we'll look it over for free.  Perhaps most importantly, we're still willing to get our hands dirty."  The company now rebuilds more than 100 engines each year and fixes other major mechanical systems like transmissions.
These days, cars are built to last longer, but regular maintenance is still essential, especially on the coast.  "It's not just the rust that makes the coast hard on cars," explains Russ.  "Living in small towns means short trips, which leads to carbon buildup and eventual engine difficulties."
As Steen's Master Lube business has grown, so has its staff.  Today the company employs seven and provides paid vacations as well as ASE and NAPA training.  "Our guys work on every make and model, so their training has to be continually updated," points out Russ.
Because of computer diagnostics, the company's equipment must also be updated every year.  That can be expensive, which is why Russ is so appreciative of the close relationship he has with Oregon Coast Bank.  "I borrowed the money to build this place and I regularly borrow money for new equipment," explains Russ.  "It's not just the lending that's important, I talk to my bankers about all my business plans and I very much value the advice."
Russ also seems to keep up with new banking technology.  He uses Online Banking, the advanced features of Oregon Coast Bank Smart ATMs, and even deposits checks using his smartphone.  "They've made banking so easy that I find myself making excuses to actually visit the Oregon Coast Bank office," laughs Russ.  "I still like to talk to them face to face."
Marketing experts generally agree, there's no better advertising than word of mouth.  When people find a good mechanic they tend to tell their friends, and that's exactly why 17 years later business continues to grow at Steen's Master Lube.  We're proud to have played a small part in their success.
More Stories
Read the story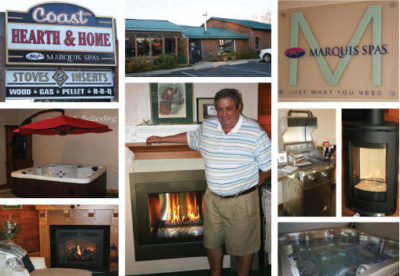 Newport
Coast Hearth & Home
At the tender age of five, Robin Comstock started selling sweet peas to tourists in Nye Beach.  After graduating from…
Read the story

Toledo
Pumpro
Byron Alldredge spent much of his life in Central Oregon, where he served as a wildland firefighter for 17 years,…
Back to All Stories