---
Tina and Lon French have never written a management textbook. That's a shame, because in our humble opinion, they should. Spend a few hours observing the French's company, North Lincoln Sanitary, and you'll understand why.
Lon's dad was a horse logger. Tina's dad, Jack LeBlanc, and his partner, Bob Dunn, purchased North Lincoln Sanitary in 1966. After graduating from Taft High School, both Lon and Tina attended Chemeketa Community College and the University of Oregon.
While studying to become a dental hygienist at Oregon Health Sciences University, Tina was asked by her dad to come home to help manage the family business. Lon returned also, working for North Lincoln Sanitary part-time, while logging and doing construction.
In 1991, Jack began transferring shares of the company to Tina and her sister, Kim. By 1995, the transfer was complete. Seventeen years later, Tina purchased Kim's shares. These days Tina is in charge of administration, finance and government relations, while Lon handles operations, managing drivers and the company's fleet.
Back when Jack and Bob first purchased the company, it was a four-person operation. Today North Lincoln Sanitary employs 35, all full-time. Jack's management advice to Tina was simple: "take good care of your employees and your employees will take care of you." It's a business philosophy that Tina and Lon have never forgotten.
"We teach all of our employees that they have their own microbusinesses," explains Tina. "They're each given the latitude to make decisions, even if their decisions are different than what Lon or I might choose." As a result, North Lincoln Sanitary employees take pride in their jobs, are highly productive, and tend to be very loyal. Many have worked twenty or more years for the company.
These days, collecting garbage is just one of the things that North Lincoln Sanitary does. Covering an area from the Newport City limits to the Tillamook County line, and as far east as 14 miles up the Siletz River, the company also collects recyclables, mixed compostables, bulky items and appliances. North Lincoln Sanitary's services also include document shredding, medical & hazardous waste disposal, mobile storage containers and hauling services. "We live in a unique area that often requires extra services," points out Tina. "We're glad to do them."
Take a glance at North Lincoln Sanitary's website and you'll see just how diverse that environmentally responsible waste disposal has become. If you're wondering how to dispose of a particular item, simply type the name of the item into the website's Waste Wizard. You'll see the answer instantly.
"We take a great deal of pride in the relationships we maintain with the cities and counties we serve," says Tina. "They trust us to take good care of our customers and we all work hard to continually earn that trust."
Tina and Lon own a separate company, Schooner Creek Transfer, which provides both public and private transfer services and employs six other staff members. In addition, they are also part owners of Sutherland Sanitary, own several long-term rental houses, and are investors in other local commercial and multi-family developments.
The French's have two biological children: Lexi, who recently married, and JJ, who will graduate from Taft High School this year. Over the years, they have helped raise six other children who needed family structure. In their spare time the family enjoys travel, RVing and motorcycles. Lon also takes the time to coach track at Taft.
North Lincoln Sanitary's relationship with Oregon Coast Bank began with the management of Health Savings Accounts for the company's employees. Tina and Lon then used OCB financing for a construction loan. "Jedd, who manages our Lincoln City branch, has been so helpful," mentions Tina. "When PPP loans became available, he prepared the paperwork and obtained the funding in just one day. We've now moved all of our accounts and loans to Oregon Coast Bank – their service is amazing."
That's high praise from a company that does such a great job of taking care of their customers. Tina and Lon have meant a great deal to the community and we're proud that North Lincoln Sanitary trusts us to be their bankers.
More Stories
Read the story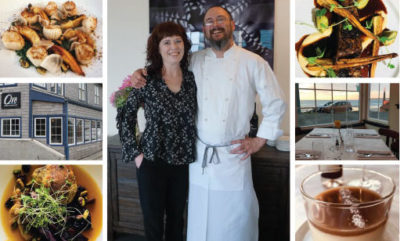 Newport
Ove Northwest
Born and raised in Newport, Charlie Branford then spent 4 years in the Marine Corps where he was a infantry…
Read the story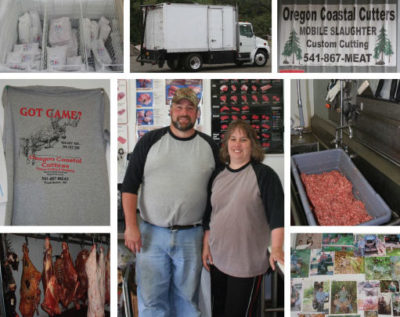 Newport
Oregon Coastal Cutters
Growing up in his family's grocery store, Eric Clark learned the business at an early age. He started by cleaning…
Back to All Stories