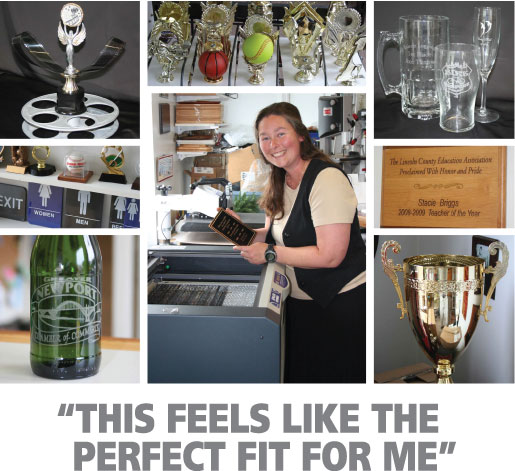 It may be the nature of the business, but Newport's True-Cut Engraving certainly seems like an enjoyable place. "People come here to get something that will make someone happy," explains Stephanie Brown, the company's owner. "I get to be creative and please the customers… what could be better than that?"
Walk through True-Cut Engraving's showroom, and the possibilities seem endless – trophies, plaques, ribbons, signs, mouse pads and medals. Need a name plate, rubber stamp, building dedication plaque or even a toasting flute for your wedding? True-Cut Engraving has them, and all can be laser cut with a custom message of your choice. If the showroom samples aren't enough, look through the company's 559 page specialty catalog with thousands of items, any of which can arrive in Newport by the next day for custom engraving.
Although her company "feels like the perfect fit for me", Stephanie never even considered a career in the engraving business while growing up in Juneau, Alaska. Fueled by her passion for sailing, Stephanie moved to Newport at the age of 22. Soon she met a kindred spirit, Ken Brown, the manager of Newport's family-owned Alan Brown Tire Center. Nine years ago they were married, and four and half years later came a daughter, Annabelle. Today, Annabelle also keeps an office at her mother's business – a corner filled with paints, coloring books and puzzles. If you see a trophy in the showroom lying on its side, that's just Annabelle giving it a "nap".
It's not only Annabelle that gets to do fun projects at True-Cut Engraving. The more challenging, the higher the level of creativity, the more Stephanie loves it. Her custom trophies for a cycling competition included actual bike parts mounted and engraved. Stephanie recently designed trophies for Newport High School film projects that included Oscar statuettes mounted with actual 35mm film and spools.
Although she's in the showroom almost every business day, Stephanie realizes how important it is for her company that she stays active in the community. She's a member of the Chamber of Commerce, the booster club and the local yacht club. "I guess it helps that I'm a compulsive organizer," she explains.
Intentionally oblivious of the timing, Stephanie and Ken purchased the business in 2010, when much of the rest of the country seemed more interested in discussions of recession. The Browns, however, believed that hard work and outstanding customer service would make their new venture a success, and indeed it has. "Entrepreneurship has its advantages," explains Stephanie. "I may be the sole employee, but my daughter can come with me to the office and my husband pitches in when I need his help and companionship. We're often having so much fun that it doesn't feel like a business."
The Brown family and their tire stores have been longtime Oregon Coast Bank customers, so naturally when Stephanie and Ken purchased True-Cut Engraving, they brought their business accounts to our local Newport branch, where they're recognized by name by practically our entire staff. Of course as a business itself, Oregon Coast Bank is frequently in need of True-Cut Engraving's products and we highly recommend Stephanie's creativity and service as well as the quality of her work.
Stephanie will tell you: "I love the business, but we also depend on its income." In fact, it's hundreds of companies like Stephanie's, often as small as one employee, that are the backbone of our coastal economy. We salute their hard work and we're honored to be their bankers.
More Stories
Read the story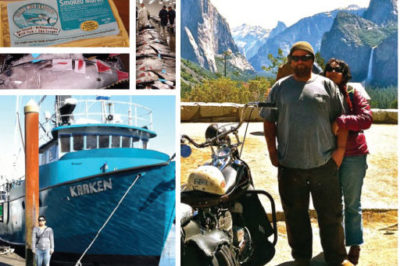 Newport
Island Wild Seafoods
Born and raised in Newport, Clint Funderburg first began working on fishing charters at the age of 14.  By the…
Read the story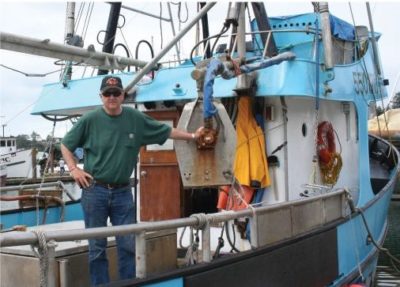 Newport
Jerry Bates
Back in December of 2000 when he sold the assets of Depoe Bay Fish Company, Jerry Bates thought he'd retire….
Back to All Stories