Eager Beaver Mattress & Furniture Outlet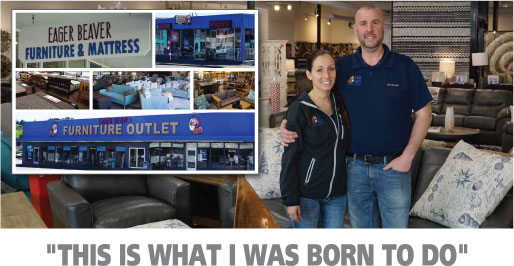 Listen to Abe Silvonen for a few moments and whether he's talking about the furniture business or six-man football, you'll be inspired. He's passionate about everything he's involved with.
Abe grew up in Newport and worked in the construction trades after graduating from Newport High School. When he was able to save money, he began to dabble in local real estate. In 2007, as construction slowed during the recession, Abe purchased the original Eager Beaver Store in Nye Beach from his dad.
At that point, the Eager Beaver Store dealt only in secondhand furniture and business was steady. But realistically, Abe could see that technology was changing the industry. With the advent of eBay, Craigslist, and other online marketplaces, individuals could easily sell their used furniture directly. So Abe decided to diversify.
By 2009, the Eager Beaver Store was offering new discount mattresses. Over the next five years, he began carrying new furniture and décor items, both imported and domestic. Abe describes his original store as a "hole in the wall", but those 2,500 square feet were filled to the brim with an ever-changing array of product. The new strategy was working. The store's volume increased by several hundred percent.
In 2015, Abe made another sound choice, although this was a decision of the heart. He married Mariah; the Silvonens were now a blended family with a family business. Mariah shared his commitment to customer service; in fact, even to this day, both Mariah and Abe provide their cell phone numbers to customers and let them know that they're available seven days a week.
2015 was also the year that Abe and Mariah got the opportunity to lease the old J&N building in Waldport, a 13,000 square foot structure on Highway 34, just off of 101. Their original intention was to use the facility strictly as a warehouse, but after four weeks of extensive cleanup, and plenty of positive feedback from the community, they decided to put a store in the building. As Abe puts it, "within a couple of months we were overwhelmed with business, had to hire more people and buy more trucks." Within a year, Abe and Mariah had purchased the building, poured in several hundred thousand dollars of improvements, and expanded the showroom to 9,000 square feet.
A year later, Eager Beaver Mattress & Furniture Outlet opened a new 6,500 square foot showroom at Highway 101 and Hurbert Street in Newport. Two years later, a 7,500 square foot store was added in the Lincoln City Outlets. The three current stores all have distinct offerings appropriate to their customer bases and all offer free delivery on the coast from Florence to Tillamook, and inland as far as Philomath and Dallas. Recently, because of customer demand, Eager Beaver Mattress & Furniture Outlet began providing valley delivery from Corvallis to Vancouver for a nominal charge.
"We're now up to four trucks and about twenty employees," says Abe, who is particularly proud of what he calls Eager Beaver's family dynamic. "Wealth is measured in different ways," he explains. "To be able to hire family and friends, and help them succeed, is enormously satisfying."
Using their business mantra of "best products / best prices / best service", Abe and Mariah keep a close eye on every aspect of their stores. Savvy purchasing, particularly of container loads of unique imports, has meant that customers return often, knowing that fresh offerings are always arriving. "This is what I was born to do," expresses Abe. "The relationship we're able to have with our customers, vendors and employees means everything to us."
Abe and Mariah are just as passionate about Eddyville Charter School, where three of their four children attend. Mariah coaches volleyball and Abe coaches middle school six-man football, a program he helped pilot. "Win or lose, having parents, grandparents, uncles and aunts at the games supporting the kids is amazing to see," he explains. "It's such a great community activity."
In their spare time, which at this point in their lives they don't get much of, Abe and Mariah work on their 54-acre hobby farm east of Toledo. "We're more than content on the tractor or just fishing with the kids," he says.
Abe and Mariah began their relationship with Oregon Coast Bank working with Becky Lytwyn on some real estate loans. "She was able to minimize the hassles and just get things done, which was very refreshing," remembers Abe. Since then, the Silvonens have moved all their business and personal accounts to Oregon Coast Bank. I guess you could say Abe is now also passionate about his bank. In his words: "We're Oregon Coast Bank customers for life. We wouldn't go anywhere else."
More Stories
Read the story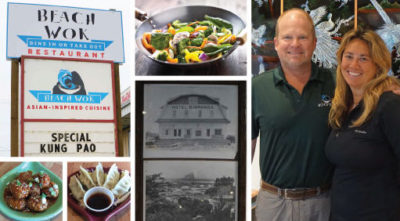 Pacific City
Beach Wok
As popular as it has become, Beach Wok is a relatively new addition to the central coast dining scene.
Read the story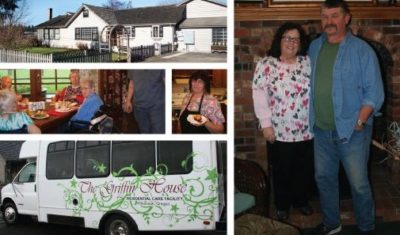 Pacific City
Griffin House
l admit it, I sniffed. But when I walked into the Griffin House in Tillamook, it didn't smell like a…
Back to All Stories