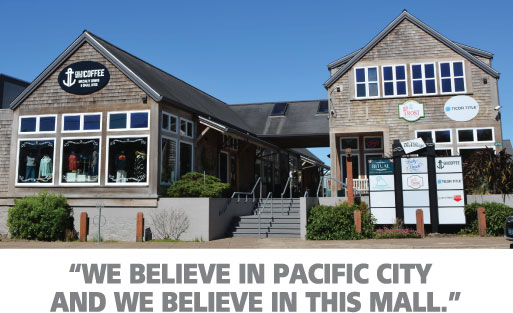 It's an understatement to say that Don Sheeley and his wife Debbie Boone are willing to accept risk. Since making the difficult decision to become entrepreneurs 21 years ago, Don and Debbie have continually risked their own savings to purchase, renovate and develop five grocery stores, two restaurants and dozens of homes in ten small Oregon towns, creating well over a hundred permanent jobs. Simply put, when Don and Debbie have believed in a small town, the community has benefited.
We'll start with the backstory and it's a wild one. Both native Oregonians, Don and Debbie had achieved relative financial stability by working hard for others. Don had been a butcher who had worked his way up the ladder to become an executive at Unified Grocers. But at the age of 38 he was required to relocate to California. That was the moment that Don and Debbie decided that living in Oregon was more important to them than a steady paycheck.
Borrowing from Debbie's parents and mortgaging their own beach house, they began purchasing a variety of commercial and residential properties, upgrading businesses, creating jobs and brightening communities in the process. Don and Debbie didn't just provide the vision and funding, they participated in the renovations and often worked for years in the businesses they were developing. In some cases, they mentored employees and eventually sold them the businesses. To this day, each of those businesses continue to thrive.
Don and Debbie have a special relationship with Pacific City. It's where they purchased and remodeled their first grocery store, second restaurant and multiple homes, including several that they've lived in themselves. In fact, they recently acquired and began renovating a family compound so that their daughters and their families can enjoy Pacific City with them.
It was January 28th 2020, that Don and Debbie purchased their latest Pacific City investment, Shops at the Village, an 8,000 square foot mall on Brooten Road. That date is important because it wasn't too many days later that the pandemic changed everything. Probably not the best time to be redeveloping a retail mall. It did give Debbie an opportunity to kid Don – "you just had to buy that shopping center, didn't you," she'd remind him with a smile.
With state mandates severely affecting the ways that businesses could operate, tourism shuttered, and people avoiding shopping trips as much as possible, Don realized that the mall's businesses would all be facing difficult times. "I told them, we get it, and stopped collecting rent for months", he recalls. "Then, as our remodeling caused additional disruption for the shop owners, we offered more free rent, which enabled them to survive very challenging circumstances."
Every square foot of Shops at the Village was eventually remodeled. Bathrooms were added to every establishment. When Don and Debbie first acquired the property, there were just five tenants, who operated their businesses a limited number of hours. Today there are ten with additional shops soon to come. "As we signed lease renewals and brought in new businesses, we asked each of them to raise the bar so that the mall could be open seven days a week with consistent hours," explained Don.
Perhaps the best-known shop in the mall, Lucky Beach Boutique, now occupies more than triple its prior space. Lines often form to get into Cold Water Coffee and Pacific Coast Candy. A popular new shop, Ritual, offers luxury self-care products. Business is also booming at the Blue Nickel, the mall's antiques and collectibles shop. Shops at the Village also houses thriving offices for Rob Trost Real Estate, Ticor Title and Guaranteed Rate, a mortgage broker. "The three real estate related businesses all coordinate well together, which makes it sort of one-stop-shopping for families buying Pacific City area homes," comments Don.
A new day spa is coming soon and two additional offices are being developed upstairs. Don and Debbie hope to attract a restaurant to Shops at the Village and future expansion may include food carts and outdoor dining on the adjacent lot, which they also purchased.
"Our goal is to be a catalyst for community development. I guess the best way to put it is that we believe in Pacific City and we believe in this mall," explains Don. "Our tenants are all locally-owned family businesses and it's exciting to see the mall become a vibrant place again."
Don gives much of the credit to Wing Ridge Construction, a longtime Oregon Coast contractor that assigned a five-person crew to renovate the mall. "They bought into the vision right from the start and are still working tirelessly on the project."
Don and Debbie also have very kind words to say about their bankers at Oregon Coast Bank, who have financed many of their projects over the years. "They're as committed to the community as we are," points out Don. "Oregon Coast Bank continues to loan hundreds of millions of dollars to families and businesses on the coast. Despite the pandemic, it took just one phone call and they were here on site with us in Pacific City asking how they could help. Not every entrepreneur has a true partner, we do with Oregon Coast Bank and we really appreciate that fact."
More Stories
Read the story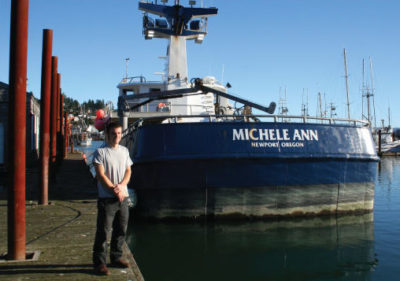 Newport
Poggy Lapham
Born on George Washington's birthday and in the state of Oregon, his parents combined those facts and named him "Georgon"….
Read the story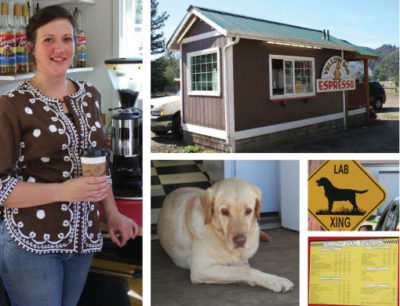 Pacific City
Yellow Dog Espresso
Drive into Hebo and you'll usually find a line at both windows of Yellow Dog Espresso. The business, which will…
Back to All Stories