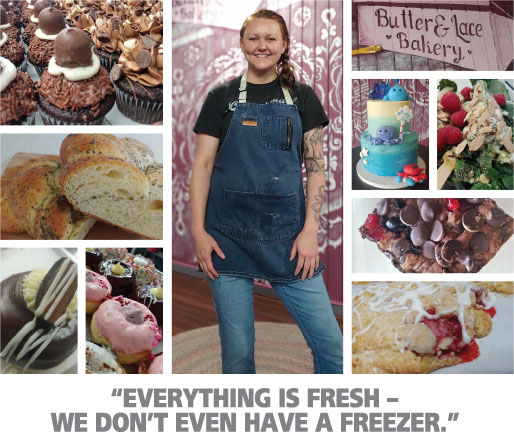 It may not be polite to talk about the odor of a business, but Butter & Lace Bakery in Toledo smells amazing. In fact, that's often the first thing people say when they walk in the door. Then customers tend to linger, because gazing into cases filled with mouthwatering bakery items is one of those experiences that shouldn't be rushed.
Butter & Lace's founder, Sarah Bays, took a rather circuitous, but highly interesting, route to owning a Toledo bakery. Born and raised in Texas, she served six years in the Navy, primarily working on radar systems. The Navy brought her to San Diego, where she attended culinary school. She then managed a bakery in Los Angeles. Through the GI Bill, Sarah earned a Master's degree in Business Administration, before working for NOAA, the National Oceanic and Atmospheric Administration, in Hawaii and Newport. She then took time off, obviously well deserved, to live on a somewhat remote island in British Columbia and ponder her next adventure. After a year of reflection, she decided to follow her childhood dream of opening her own bakery, in a town she had grown to love – Toledo, Oregon.
It was last October when Butter & Lace Bakery first opened its doors. In small towns, word tends to spread quickly, and it wasn't long before the bakery had attracted a steady clientele. In this day and age, when folks like to share pictures of what they're eating, news of Butter & Lace also began to spread rapidly via social media. Those photos attracted more customers, especially people from out of town.
Anything you see in the cases at Butter & Lace Bakery was made that day. "Everything is fresh," points out Sarah. "We don't even have a freezer." At the end of the day, anything that isn't sold is donated.
Another thing that Sarah insists on is that everything is made from scratch. Many of the items start with Sarah's brioche dough. It's definitely hard to choose a favorite. I recommend, or at least fantasize about, trying everything. Perhaps I'll make it my life's work.
Whatever you choose – donuts or pastries, rolls or bread, cupcakes or brownies, scones or butter boats – you won't be disappointed. Everything looks incredible and tastes even better. The bakery has now also developed a thriving custom cake business.
Indicative of Butter & Lace's popularity, it seems that most folks in Toledo now know what a Kolache is – a Czech pastry (which the bakery uses to make amazing sandwiches) that Sarah learned to love in Texas, go figure. Besides the Kolaches, it's the unique and fresh salads that have made Butter & Lace a popular lunch stop. And as long as you're choosing a healthy salad, you deserve a dessert – sounds reasonable, doesn't it?
As for her business philosophy, Sarah explains: "We just work hard and have fun and it seems to be working out." It also helps to have a great team, which Butter & Lace's four bakers definitely are. Citing frequent sixteen-hour days, Sarah candidly says: "It's way easier to work for someone else." As a new business owner, she also feels another concern: "I'm now responsible for other people's livelihoods."
Whenever possible, Sarah sources everything locally. Honey comes from The Beekeeper's Wife, a Toledo farm, and Butter & Lace proudly serves Elk City Coffee. Even the whimsical murals that adorn the bakery walls are by a Toledo artist.
Sarah's desire to keep things local is why she chose to bank with a locally-owned institution, our Oregon Coast Bank Toledo office. She hasn't been disappointed. "They're super-helpful and they all know who I am when I walk in the door." In fact, as Sarah explains, the folks at the bank always have a special request: "They tell me to bring cinnamon rolls."
More Stories
Read the story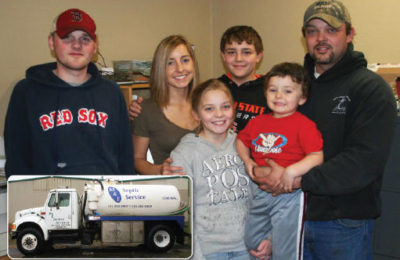 Waldport
M&E Septic Service
If this story sounds a bit like the American Dream, so be it.  Because in their own way, Kris and…
Read the story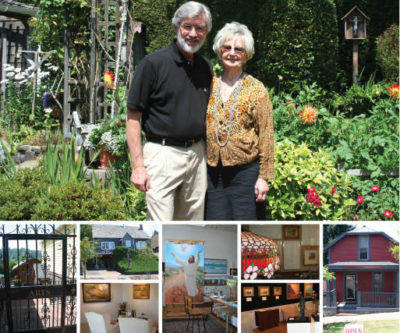 Toledo
Michael Gibbons
With his paintings in prestigious private and museum collections throughout America and abroad, Michael Gibbons is one of the country's…
Back to All Stories